One island paradise. One hell of a choice.

When Ruby Lamont's young son Jake starts telling tall tales about the dad who walked out on them six years ago, she realises that, for her son's sake, it's time to find out the truth. It's not that she wants Kenny back in her life—her best friend, charming commitment-phobe Griffin, has always been more of a father-figure to Jake—but if she can understand once and for all why Kenny broke her heart by leaving her, perhaps she and Jake can finally move on.

Their journey takes them to heart-shaped Sorrel Island, a Caribbean paradise that according to legend was created as an enchanted refuge for lovers. For no-nonsense Ruby, romance is the last thing on her mind. Spoiling for a fight, she confronts her runaway ex, but he's a changed man, or so he claims. Just as Ruby's starting to remember what she saw in Kenny, gorgeous American portrait artist Mac propositions her for a role as his muse, or more…and when Griffin shows up out of the blue, seemingly with more on his mind than friendly moral support, the tropical heat builds to an inferno.

With sparks of lust and jealousy flying in all directions, Ruby has to wonder whether the magic of Sorrel Island is more than just a legend. As the truth of Kenny's departure—and Griffin's arrival—spills out, she seems destined for another devastating heartbreak. Shaken out of her state of romantic limbo, Ruby must discover whether people really can change—or if paradise has been on her doorstep all along.
With another chance at love, what could possibly go wrong?

With another chance at love, what could possibly go wrong? Recovering from heartbreak, unlucky-in-love events manager Cara has vowed to avoid relationships. That is until fate throws her into the path of handsome and kind Henry, who is worlds apart from the men she's dated before. Unfortunately, this encounter is short-lived when Cara misses her coach home—and with it, any chance of seeing him again.

But fate is not finished with the mismatched couple. When Cara quite literally bumps into Henry a second time at a work event, the run-in leaves them with feelings instead of bruises, and they can't wait another day before seeing each other again. Yet it soon becomes clear how deeply different their worlds are: Cara's drama-filled African and Caribbean family couldn't be further from Henry's family of wealthy lords and ladies.

With interfering relatives, problem friends, and an inconvenient ex-boyfriend attempting a comeback, everything seems stacked against the two new lovebirds. This is no straightforward love story—Cara and Henry will have to get creative with romance if they stand any chance of beating the odds to win their happy ever after.

The Second Time We Met is a hilarious and heartwarming romance, perfect for anyone who believes in second chances.
Readers' Reviews

"Uplifting, enjoyable page turning story, highly recommended read."
"I absolutely loved the story! A diverse cast of characters from different backgrounds who are not as unlike each other as first appearance seemed to show. Romantic, funny and dad in equal measure."
"Brilliant holiday read, would recommend this book. Look forward to reading more from this author, fabulous story, great characters, great plot."
"A remarkable story of opposites falling in love and the tangled mess that families can cause in relationships. A very good read."
"Really good story with great characters, enough plot and a happy ending! Loved London descriptions and places mentioned. Great holiday read"
"A lovely uplifting story. 😊"
There are two sides to every story…

In the sun-soaked capital of Ghana, best friends Theresa, Maku and Lyla struggle with the arrangements that define their relationships.Ambitious, single-minded Theresahas gambled everything to move with her loving husband Tyler from London to cosmopolitan Accra. Feisty Maku is desperate for professional recognition – and her dream white wedding. Churchgoing Lyla married Kwesi in haste, but while she battles her growing attraction to the mysterious Reuben, her husband has bitten off more than he can chew with his latest mistress.

Facing lies, betrayal, and shattered illusions, each couple must confront the truth of who they have become and the arrangements they have enabled. Against the backdrop of a shifting culture, each woman must decide what – and who – she is willing to sacrifice for the perfect marriage.
Readers' Reviews

'The queen of romantic dramas is back… this charming read is about the challenges which come with friendship, love, and relationships, and the search for that happily ever after.
(Selected as one of) The Top 20 African Books of 2020, African Arguments
'Williams… weaves in vivid cultural details as she lifts the veil on the realities of marriage, the woes of infertility, and the strain of gender roles. Readers are sure to enjoy this uplifting work.'
Publishers Weekly
'The beautiful, tropical backdrop is the ideal setting for this tale that is crammed with realistic, complex characters. It is an easy-to-read exploration of modern love and relationships. I very much enjoyed this brilliantly written novel.'
Dorothy Koomson, best-selling author of The Ice Cream Girls and Tell Me Your Secret
'In Imperfect Arrangements, Frances Mensah Williams slices through the lives of three couples and presents a witty, true, and, sometimes, heartbreaking portrayal of married life in Accra, Ghana.'
Ayesha Harruna Attah, author of Harmattan Rain and The Hundred Wells of Salaga
'This novel is a celebration of sisterhood. You'll cheer on Theresa, Lyla and Maku as they navigate life in modern Accra, dealing with difficult bosses, feckless husbands and dubious mother-in-laws. You won't want to put the story down till it ends.'
Chibundu Onuzo, author of The Spider King's Daughter and Welcome to Lagos
River Wild (Novella)

Is love the price for living the dream?

Ambitious real estate agent River Osei loves her job and dreams of living in a home as beautiful as those she sells to her clients. Putting marriage to her artist boyfriend Cameron on the back burner, River's only focus is to hit her house fund target.

But River's plan is thrown into turmoil when she negotiates a sale to demanding music mogul, Donald Ayo. He is immediately taken with her, and she is equally taken with his house – a beautiful mansion in the luxurious gated community of Marula Heights. With Donald pressing for a deal that includes more than a house, River is forced to choose between the man she loves and a lifestyle she craves.

But living the dream isn't always what it seems and even the best fantasies come at a cost. Faced with the real-life consequences of her choice, River must learn that a house is not a home and love is not for sale.
Reviews

Escape to Marula Heights again
'A young middle-class woman coming into self, juggling being an employee, daughter and partner. Beautifully crafted, the author masterfully continues creating the marvellous Marula Heights, the neighbourhood to which I'm ready to move!'

Feelgood escapist romantic fiction
'I devoured this novel in the space of two evenings. I really, really enjoyed it – feelgood commercial romantic fiction with a vivid Ghanaian setting. I can't wait to move on to the rest of the series.'

A great read
'I really enjoyed this book and particularly the main character and how she grew as a person during the story, realising that money was not everything! Having just read Sweet Mercy I liked the way the author linked, very briefly, into Mercy's story.'
Sweetness comes at a price…

When sweet-natured Mercy married successful businessman and aspiring politician, Lucas Peterson, she abandoned her media career to focus on her husband and raising her son, Hakeem. But with the country now hurtling towards elections, Lucas's eye is on the ministerial position he craves within the Party and when Mercy's best friend, Araba – the niece of the Party leader – returns to Ghana, Mercy refuses to see what's obvious to everyone.In a desperate bid to regain control of her life, Mercy reaches out to her friend, Max Bamford, a ruthless media boss with a reputation for uncovering corruption.

Armed with devastating evidence that can destroy Lucas's political future, Mercy is torn between protecting her son and taking revenge on his father. Faced with an impossible dilemma, Mercy will have to prove that sweetness can be a strength.
Reviews

Delightful!
'In these times of constant bad news, it was a joy to be transported to another world and to share a slice of Mercy's life in Ghana. Frances Mensah Williams has vividly brought Mercy and the other characters to life in an easy and compulsive read. Just delightful.'

Great read!
'I loved this short novella. It was a great plot and packed with intrigue and I was never quite sure where it was going next. I am looking forward to the next book in the series.'

Empowering
'Read in one sitting. Emotional yet gripping, this novel reminds you of the true power of a woman who refuses to lose! Great read.'
OUT NOW – THE DELICIOUS SEQUEL TO 'FROM PASTA TO PIGFOOT' !!!
From Pasta to Pigfoot: Second Helpings

Pasta fanatic Faye Bonsu is back with another adventure in life and love. Hoping to escape from her suddenly complicated life and revive her wilting romance, Faye returns to sunny Ghana for what she hopes will be the time of her life. But life doesn't always offer second chances.

Available NOW on Amazon and other online sellers in paperback and ebook:http://tinyurl.com/zbvztf9

'Like the first, it had me speechless in places and I just couldn't put it down!'
When pasta fanatic Faye Bonsu's romantic dreams are left in tatters, she is forced to question her alienation from her African heritage. Leaving her cosy middle-class life in London's leafy Hampstead to find out what she's missing, Faye is whisked into the hectic social whirlpool of Ghana where she meets Sonny the pretty-boy womaniser, Edwin her host's America-crazy boyfriend, Baaba of the enormous hips and sardonic tongue, Stuart the British expat who loves all things (and women) Ghanaian, and the handsome Rocky Asante, a cynical, career-obsessed banker with no time for women…until now.
In a world of food, fun and sun, Faye is forced to discover that no matter how far you travel, you can't find love until you find yourself.
| | |
| --- | --- |
| | From Pasta to Pigfoot is a fun, contemporary, multi-cultural novel set in London and Ghana that explores in a light-hearted way the clash of cultures that has become characteristic of our increasingly multicultural society. |
Reviews

'Hooked from the first page….a brilliant read!'

'Brilliant characters...very true to life and you got a glimpse into Ghanaian life and its culture.'

'A joy to read and a story that should not be missed.'

'Would definitely recommend it and a nice length to take on holiday.'

'Fabulous!'
ORDER YOUR COPY NOW!!! - http://www.amazon.co.uk/Pasta-Pigfoot-Frances-Mensah-Williams/dp/1909762202
Inspiring and informative Publications and Reports

www.IWanttoWorkinAfrica.com

'I Want to Work In... Africa'

Moving Your Career to the World's Most Exciting Continent!


Foreword by John Battersby, UK Country Manager, Brand South Africa

"I cannot think of a more timely or practical book for African professionals planning to repatriate their skills and experience or for non-Africans planning to work or invest in the continent which is now poised on the brink of a major economic turnaround."
Are you planning to work in Africa? Whether you want to
accelerate your career, return home or experience working
in a different continent, you need to get it right.
A unique, step-by-step guide to working in the fastest growing continent in the world that offers invaluable advice on the African job market, the industries and professions in demand, how to put in place a winning strategy, write a compelling CV, make the right connections, and find a job in Africa that builds on your career and talents in today's competitive job market.
This highly readable book will help you draw up your personal road map for this exciting step in your career journey; clarify your motivation, assess your skills and develop a compelling case for recruiters and corporations to hire you.
Illustrated with personal stories and full of practical advice from recruiters and from professionals who have successfully made the transition to work in Africa, you will gain the information, insights and inspiration to make the right career move to the most exciting continent today.
"With two decades of experience as a professional coach, skills developer and advocate for African excellence, Frances Mensah Williams has produced an immensely affirmative and practical guide to getting employment in Africa."
John Battersby, UK Country Manager, Brand South Africa

Buy YOUR copy now!

Order your copy from editor@reconnectafrica.com

www.IWanttoWorkinAfrica.com

ISBN: 978-0-9569175-1-5

EVERYDAY PEOPLE, EXTRAORDINARY

INSPIRATION!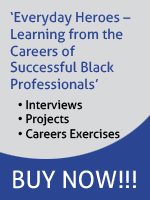 Everyday people, inspirational lessons!
In this inspiring book of interviews, 16 Black achievers share lessons that will motivate anyone to take action to improve their career and their life!
Everyday heroes are people from our communities who have achieved success in their own areas of activity and who inspire us to do better.
The stories of these sixteen achievers will provide education, offer inspiration and promote aspiration in an easy to read format for young readers everywhere.
What does it take to be a successful architect, lawyer, actuary, composer or inventor? What was the best advice ever given to one of the UK's leading black medical consultants? These role models offer invaluable learning, not only about what it takes to succeed in their chosen careers, but also about their own journeys, their influences, and the life lessons they have learned along the way.
Complete with projects and exercises to help young people think about their own career aspirations, Everyday Heroes is an invaluable tool for schools, parents, youth groups and anyone involved in the career development of young people from ethnic minorities.
Contains a bonus section with useful projects and exercises for use by teachers, parents and mentors!
"A fascinating and informative collection of interviews which will inspire younger and older readers alike." Elsie Owusu OBE
Buy YOUR copy now!
Order your copy from editor@reconnectafrica.com
ISBN:978-0-9569175-0-8
PRICE: £12.99 plus P&P

Useful Reports


With more tourists visiting Africa each year, countries can plan and integrate tourism into their economies and compete with other tourist-rich regions of the world. Read More »

Africa's Pulse shows that poverty in Sub-Saharan Africa has also declined. An estimated 58 percent of people in the region were living on less than US$1.25-day around the turn of the millennium. By 2010, the poverty headcount ratio declined by almost 10 percentage points to an estimated 48.5 percent. Read More »
Africa Competitiveness Report 2013

Africa's decade of economic growth has energized the continent with a sense of optimism about its future. But as the Africa Competitiveness Report 2013 shows, if the region is to live up to its promise, the public and private sector must work together on reforms that will allow Africa to compete with the rest of the world and create prosperity for its citizens. Read More »