OUT NOW – THE DELICIOUS SEQUEL TO 'FROM PASTA TO PIGFOOT' !!!
From Pasta to Pigfoot: Second Helpings

Pasta fanatic Faye Bonsu is back with another adventure in life and love. Hoping to escape from her suddenly complicated life and revive her wilting romance, Faye returns to sunny Ghana for what she hopes will be the time of her life. But life doesn't always offer second chances.

Available NOW on Amazon and other online sellers in paperback and ebook:http://tinyurl.com/zbvztf9

'Like the first, it had me speechless in places and I just couldn't put it down!'
When pasta fanatic Faye Bonsu's romantic dreams are left in tatters, she is forced to question her alienation from her African heritage. Leaving her cosy middle-class life in London's leafy Hampstead to find out what she's missing, Faye is whisked into the hectic social whirlpool of Ghana where she meets Sonny the pretty-boy womaniser, Edwin her host's America-crazy boyfriend, Baaba of the enormous hips and sardonic tongue, Stuart the British expat who loves all things (and women) Ghanaian, and the handsome Rocky Asante, a cynical, career-obsessed banker with no time for women…until now.
In a world of food, fun and sun, Faye is forced to discover that no matter how far you travel, you can't find love until you find yourself.
| | |
| --- | --- |
| | From Pasta to Pigfoot is a fun, contemporary, multi-cultural novel set in London and Ghana that explores in a light-hearted way the clash of cultures that has become characteristic of our increasingly multicultural society. |
Reviews

'Hooked from the first page….a brilliant read!'

'Brilliant characters...very true to life and you got a glimpse into Ghanaian life and its culture.'

'A joy to read and a story that should not be missed.'

'Would definitely recommend it and a nice length to take on holiday.'

'Fabulous!'
ORDER YOUR COPY NOW!!! - http://www.amazon.co.uk/Pasta-Pigfoot-Frances-Mensah-Williams/dp/1909762202
Inspiring and informative Publications and Reports

www.IWanttoWorkinAfrica.com

'I Want to Work In... Africa'

Moving Your Career to the World's Most Exciting Continent!


Foreword by John Battersby, UK Country Manager, Brand South Africa

"I cannot think of a more timely or practical book for African professionals planning to repatriate their skills and experience or for non-Africans planning to work or invest in the continent which is now poised on the brink of a major economic turnaround."
Are you planning to work in Africa? Whether you want to
accelerate your career, return home or experience working
in a different continent, you need to get it right.
A unique, step-by-step guide to working in the fastest growing continent in the world that offers invaluable advice on the African job market, the industries and professions in demand, how to put in place a winning strategy, write a compelling CV, make the right connections, and find a job in Africa that builds on your career and talents in today's competitive job market.
This highly readable book will help you draw up your personal road map for this exciting step in your career journey; clarify your motivation, assess your skills and develop a compelling case for recruiters and corporations to hire you.
Illustrated with personal stories and full of practical advice from recruiters and from professionals who have successfully made the transition to work in Africa, you will gain the information, insights and inspiration to make the right career move to the most exciting continent today.
"With two decades of experience as a professional coach, skills developer and advocate for African excellence, Frances Mensah Williams has produced an immensely affirmative and practical guide to getting employment in Africa."
John Battersby, UK Country Manager, Brand South Africa

Buy YOUR copy now!

Order your copy from editor@reconnectafrica.com

www.IWanttoWorkinAfrica.com

ISBN: 978-0-9569175-1-5

EVERYDAY PEOPLE, EXTRAORDINARY

INSPIRATION!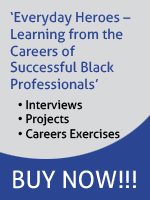 Everyday people, inspirational lessons!
In this inspiring book of interviews, 16 Black achievers share lessons that will motivate anyone to take action to improve their career and their life!
Everyday heroes are people from our communities who have achieved success in their own areas of activity and who inspire us to do better.
The stories of these sixteen achievers will provide education, offer inspiration and promote aspiration in an easy to read format for young readers everywhere.
What does it take to be a successful architect, lawyer, actuary, composer or inventor? What was the best advice ever given to one of the UK's leading black medical consultants? These role models offer invaluable learning, not only about what it takes to succeed in their chosen careers, but also about their own journeys, their influences, and the life lessons they have learned along the way.
Complete with projects and exercises to help young people think about their own career aspirations, Everyday Heroes is an invaluable tool for schools, parents, youth groups and anyone involved in the career development of young people from ethnic minorities.
Contains a bonus section with useful projects and exercises for use by teachers, parents and mentors!
"A fascinating and informative collection of interviews which will inspire younger and older readers alike." Elsie Owusu OBE
Buy YOUR copy now!
Order your copy from editor@reconnectafrica.com
ISBN:978-0-9569175-0-8
PRICE: £12.99 plus P&P

Useful Reports


With more tourists visiting Africa each year, countries can plan and integrate tourism into their economies and compete with other tourist-rich regions of the world. Read More »

Africa's Pulse shows that poverty in Sub-Saharan Africa has also declined. An estimated 58 percent of people in the region were living on less than US$1.25-day around the turn of the millennium. By 2010, the poverty headcount ratio declined by almost 10 percentage points to an estimated 48.5 percent. Read More »
Africa Competitiveness Report 2013

Africa's decade of economic growth has energized the continent with a sense of optimism about its future. But as the Africa Competitiveness Report 2013 shows, if the region is to live up to its promise, the public and private sector must work together on reforms that will allow Africa to compete with the rest of the world and create prosperity for its citizens. Read More »