Check out our listing of free and paid-for events and activities and take advantage of discounts available to our subscribers.
November 2018
1-2 November – The Pharmacy Show, Johannesburg, South Africa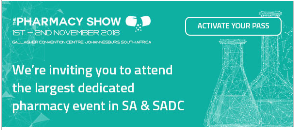 As a visitor to The Pharmacy Show you will have access to:
100+ Exhibitors
2x live conference streams, including a 300 capacity pharmacy business & live clinical theatre.
Listen to over 25 industry leading speakers
Network with over 2000+ like-minded pharmacy professionals.
At The Pharmacy Show you will see 100's of new products and new potential lines to stock for your pharmacy, plus the latest equipment, expertise, advise, and services that will give pharmacy owners and pharmacy professionals a clear idea of how they can drive further profits and incentives through their respective businesses. The Pharmacy Show is the only platform where you will be able to see OTC products, medical equipment, vitamins, healthcare and beauty products, herbal remedies and lifestyle products specifically aimed at the pharmacy sector under one roof over two days.
We have over 40 hours of free to attend conference sessions that are CPD accredited giving you the opportunity to engage with thought leaders working in your industry. The Pharmacy Show has added a secondary conference stream which will have a live clinical theatre over the course of the two days of the event which is also free to attend.
https://www.thepharmacyshow.co.za/event-registration/
2-11 November – Film Africa – London Venues (Various)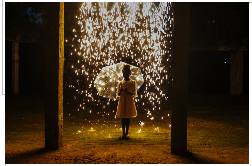 Our annual Film Africa festival returns to screens across London from 2 to 11 November with 40 films from 15 African countries, including 8 premieres, plus special guests. Join us for 10 days of discovery, debate, live music, family fun, festival awards, parties, and more!
Explore this year's Opening and Closing galas and the titles that bring us the programme highlights - AFROBUBBLEGUM: Kenya's Movie Mavericks; Young Rebels; (UP)Rooted; Naija New Wave; Dine & View, Film Africa LIVE! and Film Africa Young Audiences. Browse the full festival programme and book your tickets early to avoid disappointment.
7-8 November - CIPD Annual Conference & Exhibition 2018, Manchester, UK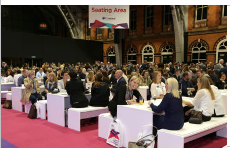 The world of work keeps changing at an unprecedented pace and people professionals will only remain relevant if they re-shape themselves and adapt to constantly evolving environments. It's our time to change now.
The 71st edition of the CIPD Annual Conference has been specifically designed to enable the people profession to change and adapt to the new requirements by helping professionals develop future core skills, learn from innovative people practices, and become a strategic force within their organisations. Understand the biggest professional issues of our time, the impact of new technology and new ways of working, and how to effectively drive good work and good business.
With five content streams delving into all there is to know in the world of HR, OD, learning and people management, eight different session formats to choose from, and thousands of other professionals to connect with, you will have a chance to build your own tailored programme across the two days – to focus on the most pressing issues in your professional life and get ready to succeed as a future people professional.
Join over 5000 people professionals at the 71st CIPD Annual Conference and Exhibition. Explore the biggest professional issues of our time, the new role of the people profession, and how to effectively drive good work and good business.
With 38 expert-led conference sessions, 5 dedicated content streams, 8 session formats to pick and choose, we challenge you not be inspired at the CIPD Annual Conference.
Register for free now and meet with over 200 leading suppliers showcasing the very latest innovations. Choose from over 60 sessions in the comprehensive free learning programme and hear from leading voices in the people profession.
For further details and to register:https://events.cipd.co.uk/events/annual/conference/
8-9 November - The Africa Fintech Summit, Lagos, Nigeria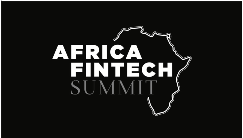 Africa's premier fintech event, the Africa Fintech Summit, will be held for the first time in Lagos, Nigeria. This event comes on the heels of the earlier edition in Washington D.C. which featured leading policy makers, c-suite business executives, start-ups, and investors.
The Summit, organized by Dedalus Global, gathers innovators, investors, policy makers and other key stakeholders in the Fintech sector to discuss technologies transforming finance on the continent, debate regulatory policies, compare best practices, and forge new ventures.
Speakers lined up for the event include Chief Economist of PwC Nigeria, Dr. Andrew S. Nevin; Managing General Partner of EchoVC, Eghosa Omoigui; CEO of Diamond Bank, Uzoma Dozie; Founder of Flutterwave, Iyinoluwa Aboyeji; and CEO of PayStack, Shola Akinlade, whose company recently raised $8 million Series A funding
The Africa Fintech Summit (www.AfricaFintechSummit.com) is a biannual event that brings together leading disruptors, tech and finance professionals, regulators, and investors from around the globe to debate policies, compare best practices, and forge Africa-focused ventures. AFTS leverages the growth of the fintech sector in Africa to bring key stakeholders to discuss the technologies transforming finance on the continent.
For details and to register:www.AfricaFintechSummit.com
11-12 November – Africa Early Stage Investor Summit, Cape Town, South Africa

Africa's early stage investor community will convene on November 11th and 12th, 2018 for the 5th Africa Early Stage Investor Summit (#AESIS2018). This exclusive investor-only event unites key ecosystem stakeholders from across the continent and beyond, to exchange best practices, learn from peers and recent transactions, and do deals. For the second consecutive year, the Summit will be hosted at Workshop17 in the V&A Waterfront, Cape Town, South Africa.
This year, the Africa Early Stage Investor Summit is set to kick off Cape Town's Global Entrepreneurship Week, encompassing several leading industry events and numerous networking opportunities. The Summit organizers Venture Capital for Africa (VC4A) (https://VC4A.com) and the African Business Angels Network (ABAN) (https://ABANangels.org) have partnered with AfricaCom (https://goo.gl/TcU3jh) and AfricArena (http://AfricArena2018.com) to offer a full-week VIP Investor Pass giving access to all three events as well as Investor Cocktail, Industry Leaders Dinner and an Innovation Tour.
The Summit's speakers and guests represent the leading angel networks, VC funds, impact investors, accelerators, corporate venture divisions, industry associations, and public sector agencies. Headlining the Summit are renown international and local investors from Nigeria, South Africa, Cameroon, Egypt, Ghana, Morocco, Kenya, Liberia, Senegal, Ivory Coast, France, US, UK and The Netherlands, amongst many other countries.
For more information and tickets please visit www.AfricaInvestorSummit.com
15-16 November - West African Property Investment (WAPI) Summit, Lagos, Nigeria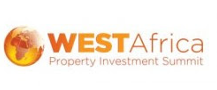 The annual West African Property Investment (WAPI) Summit is the region's most prominent and largest real estate investment and development conference.
According to the summit's host, API Events' Kfir Rusin, this year's theme: RE-Calibrating Supply and Demand for Sustainable Growth is a natural evolution of the previous year's theme, Changing the West African Narrative, which aided more than 400 delegates representing over 200 companies to reposition the sector in a region sparked to a growth footing by Nigeria's exit from recession.
For details and to register:www.APIevents.com
The Agency Gallery | To 17th November 2018 | Opening Hours: 11am - 6pm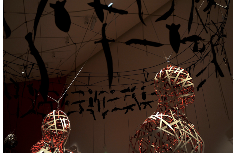 'Divinations' is the second iteration of the Afrokarib series and explores the intersection of art and literature and their roles in our conception of the future. For the first time in London, the work of Francophone Caribbean artists, Hervé Beuze (Martinique) and David Gumbs (Saint-Martin) will be presented. The exhibition will explore the intersection of art and literature, and their roles in our conceptions of the future.
Positioned cartographically and conceptually as heirs to the seminal ideas of Aimé Césaire, Frantz Fanon, and Édouard Glissant these artists address the role of the body in relation to emergent and future technologies.
For more info contact : www.theagencygallery.co.uk or
email: info@theagencygallery.co.uk
20-21 November – Cyber Security Africa, Johannesburg, South Africa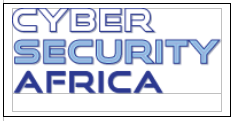 Cybersecurity is an ever-growing concern for governments with 2017-2018 experiencing unprecedented leap forward by governments/organisations/ enterprises on the journey to becoming digital businesses. All leading to a growing range of threats from foreign powers, terrorists and criminals.
In the case of South Africa, its government responded in 2015 with a National Cybersecurity Policy Framework (NCPF), with implementation led by the Ministry of State Security. Clearly, South Africa lags behind advanced economies in cybersecurity legislation, in government coordination, in engagement with business and citizens, and in the supply of skilled labour. Delays have meant it lacks the experiences obtained in faster moving countries, and the improvements they have made to their policies and especially, implementation.
South Africa has been the country most often attacked in Africa and one in ten businesses reported a cyberattack during 2016, this is expected to rise significantly from 2018 when reporting is finally made mandatory, triggering much greater attention to prevention and security, especially because firms can then be held legally liable.
The Cyber Defence & Network Security conference aims to be a journey on stretching the boundaries of the cybersecurity ecosystem and taking a comprehensive look at the country's cybersecurity, risk management and compliance strategies for the public and private sector.
For details and to register:https://cybersecurityafrica.iqpc.com/

21-22 November – East Africa Rail 2018, Nairobi, Kenya

21-22 November – Southern Africa Trade & Infrastructure Finance, Victoria Falls, Zambia

The inaugural Southern Africa Trade & Infrastructure Finance Conference will examine the wealth of trade and infrastructure investment opportunities in markets including Zimbabwe, Zambia, Mozambique, Angola, Namibia and Botswana, and a cutting edge programme will provide the latest business critical information on this exciting region.
Featuring a speaker roster including sovereign and corporate borrowers, project sponsors, risk management experts and leading financiers, the discussion agenda will include key infrastructure projects and sectors, political and sovereign risk profiles, oil, metals and soft commodity market analysis, and the financing techniques and risk management structures being utilised to facilitate investment.

THE CHICKEN CONSPIRACY | Paintings and Calligraphy | Gallery of African Art (GAFRA) | To 24th November 2018
The Gallery of African Art (GAFRA) is pleased to present The Chicken Conspiracy: Paintings and Calligraphy featuring artworks by the Sudanese artist Hassan Musa.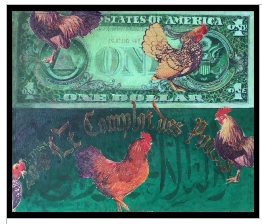 Venue: Gallery of African Art (GAFRA), 45 Albemarle Street, London W1S 4JL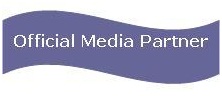 28-30 November - Innovation Africa 2018 – Africa's Official Ministerial Summit, Harare, Zimbabwe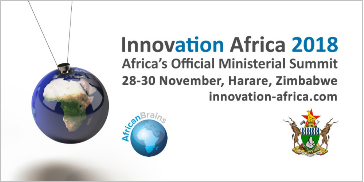 Now in its 8th year, meetings-based summit Innovation Africa 2018 is taking place in Harare on 28-30 November 2018 under the official patronage of the Government of Zimbabwe led by the Ministry of Primary & Secondary Education. Innovation Africa 2018 is firmly established as the continent's number one high level ministerial forum where industry partners enjoy pre-scheduled meetings and committed engagement with ministers and senior government officials from over 40 countries. It is Africa's "must go to" event for education, innovation & ICT. Participants will have the choice of booking meetings in advance of the event with ministers of education, higher education, ICT, science & technology, special government agencies for education, teaching & ICT delivery, universities & technical colleges.
Innovation Africa 2018 offers an outstanding choice of different options to companies, allowing you to select a partnership package that best suits your needs and meets your objectives. Being a partner at our summits is a proven method of raising your company profile and gaining maximum exposure.
For further details and to register: https://innovation-africa.com/2018/register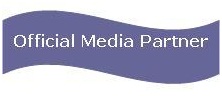 29–30 November | Workshops: 26 - 28 November 2018 – HR Summit and Expo West Africa, Landmark Centre, Lagos, Nigeria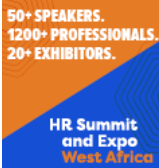 Based on 15 years of legacy experience, HR Summit and Expo West Africa is here to give the region the most advanced learning and networking HR platform. The 2018 event will be part of the HR Summit and Expo brand, the largest Middle East and Africa show dedicated to the subject.
HRSE West Africa has been engineered to bring together top HR leaders from Africa and beyond, to exchange insights on key human capital management challenges, tapping into Africa's growing potential.www.hrsewestafrica.com
Download the brochure to learn more!
https://get.knect365.com/hr-summit-expo-west-africa/brochure-download/?utm_source=reconnectafrica&utm_medium=referral&utm_campaign=ReconnectAfrica+Listing&tracker_id=AZ3235ReconnectAfrica
December 2018
5-7 December – OEB Global 2018 Conference, Berlin, Germany

With over 120 sessionsand 19 separate pre-conference events, this year's OEB Global promises to be the busiest and best ever. Some of the biggest names in global education, training and technology will be heading to Berlin on December 5 -7 to take part in a packed programme of discussions about the future of learning.

The theme of OEB this year is 'Learning to Love Learning' and the programme for the conference features several sessions highlighting the effect of digital transformation and the central role learning is likely to play in everyone's life in the future.

In a thrilling opening plenary session, two of the world's leading innovators and a top economist will discuss how the development of artificial intelligence and other new technologies will change the way we learn and work forever. Anita Schjøll Brede, CEO of Iris.ai, one of the most exciting companies in the world in the field of AI, and Faculty at SingularityU Nordic, will join Geoff Mulgan,Chief Executive of Nesta , the UK's innovation foundation, and Bryan Caplan, Author and Professor of Economics at George Mason University, to examine how employment will change and learning will become a central part of human existence.

If you want to look into the future and understand how learning will shape our lives in an era of constant and increasing change, this session should, on no account, be missed.

The theme of change in life, learning and employment is repeated throughout the conference programme. With sessions on themes including the use of artificial intelligence in learning; skills for the fourth industrial revolution; transformed learning spaces; virtual exchange and collaboration; personalisation and data-driven education; tricks for better learning design; L&D's role in supporting workplace performance; social learning and employee engagement; bots for education; and spreading innovation in technology-driven societies, it is clear that OEB's focus this year is firmly on the future.

For the first time, Learning Technologies Germany will be fully integrated into the event, ensuring a major focus on employment, skills and workplace learning.

This will also be reflected in the accompanying exhibition which will be bigger this year than ever before. More than 100 companies and organisations have already booked space at the exhibition and will be showcasing a range of products, services, courses and solutions.

So, if you haven't already booked your ticket,register today so you do not miss out on securing your place at one of the most exciting and relevant events taking place this year! Join us and learn to love learning.

<

6 December – Tanzania Financial Inclusion Summit, Dar es Salaam, Tanzania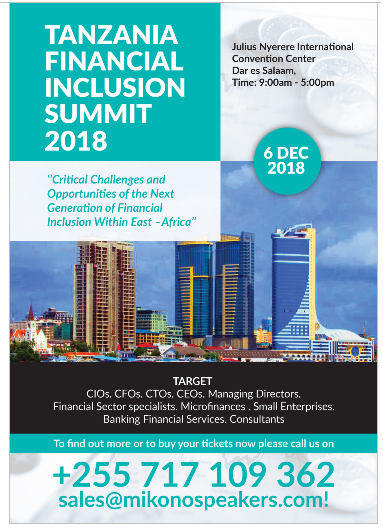 8-9 December – Africa 2018 Forum, Sharm El-Sheikh, Egypt
The Forum will be an opportunity to meet the foremost leaders from business and governments in Africa to originate new projects and strengthen partnerships.
We have had already 5 heads of state confirming their participation and many captains of industry.
The event will take place in Sharm El-Sheikh ok the 8-9th December. Participants from the Forum will be able to join the Intra-African Trade Fair taking place in Cairo immediately after, on the week of 11-17th December. This year's Forum comes at an important time for Africa, with the signing of the AfCFTA and with Egypt taking over the chairmanship of the African Union in 2019
The Africa 2018 Forum takes place at an important time with Egypt taking over the Chairmanship of the AU in 2019. It will be a unique platform to help shape the African agenda in the coming year.
We hope you will be able to join us for this important gathering.
For further information, please contact the organisers directly.
PLEASE NOTE: ReConnect Africa accepts no responsibility for any of the events described above and/or any dealings with the event organisers.
To notify us of your event and discuss advertising and marketing options, please contact us at:
editor@reconnectafrica.com