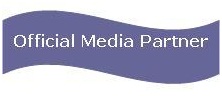 ReConnect Africa is the official media partner for the following upcoming events. Please refer to the event website or contact the event organisers directly for further information about the event and/or to register.
Coming Up.....
May 2018
8-10 May 2018 ICT4D Conference / 11 May 2018 Training Day, Mulungushi International Conference Centre (MICC), Lusaka, Zambia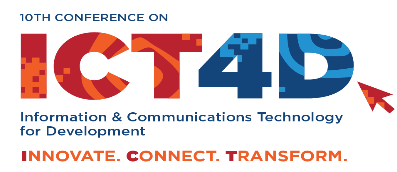 The ICT4D Conference is a dynamic multi-disciplinary gathering of inspiring leaders and thought-provoking speakers from public, private and civil society organizations from across the humanitarian and international development community.
The conference engages participants from around the world to explore how digital technology is making a measurable difference in millions of people's lives and share how they've used those innovations to increase the impact of their work. Highly interactive and hands-on, the conference attracts a diverse audience of technical advisors, senior executives, and others who offer a range of practical insights on applying technology to development, humanitarian, and conservation challenges.

Inspire and Make an Impact. Be a speaker at the 10th ICT4D Conference
The ICT4D Conference are looking for practical case studies and presentations on truly cutting-edge applications and innovation in the use of ICT for development.</p>
The ICT4D Conference Partner Consortium, led by CRS and including NetHope, NRC, DAI Global Health, World Vision, CTA, DIAL, IRC, iMerit, ICRISAT and UNCDF encourage you to submit your speaker application via the website: https://www.ict4dconference.org/participate/call-for-speakers/
Share your know-how, insight or innovation.
Key tracks for 2018:
Agriculture * Digital Financial Inclusion * Humanitarian Response * Health & Nutrition * Collaboration & Openness * Livelihoods and Education
Closing date for submissions: January 15th, 2018. Successful applicants will be notified by February 9th, 2018. The ICT4D Conference particularly welcome applications from women.
Join your ICT4D community of non-governmental agencies, private sector companies, multi-lateral and government agencies, academic and research institutions, and aid and development funding organizations in Lusaka next May.
For more information on the 10th ICT4D Conference and how to register, please visit https://www.ict4dconference.org/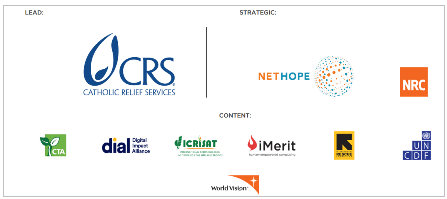 15-16 May – African Real Estate & Infrastructure Summit 2018, CTICC, Cape Town

Join us for the third edition of the award winning African Real Estate & Infrastructure Summit which showcases a collection of Africa's top real estate and infrastructure projects. This exclusive, high-level two-day exhibition and interactive conference is attended by over 800 property professionals, developers, investors, city and municipal planners, offering a platform to explore the future of urban development in African cities. Here we will explore key themes and topics shaping Africa's urban growth and development. The Summit will focus on the following themes.
1. Developing Future African Cities
2. Integrated urban development
3. Transport and mobility
4. Housing and mixed-use projects
The African Real Estate & Infrastructure Summit will be co-located with African Utility Week on 15 & 16 May at the CTICC, offering delegates an opportunity to explore the future of African city development from an energy and built environment perspective.
For more information about attending or securing a premium exhibition stand please contact.
For further details and to register: http://www.african-real-estate-summit.com/
Facebook https://www.facebook.com/realestatesummit/
Twitter https://twitter.com/ARES_Summit
15-17 May – ConMin West Africa, Abuja, Nigeria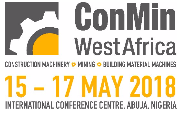 ConMin West Africa provides an unparalleled opportunity to boost a company's brand in one of the most exciting business destinations in Africa.
This event is dedicated to suppliers involved in the construction machinery, mining and building materials industry and offers a unique prospect to get an early foothold in the fast-developing West African market. Exhibiting allows companies to meet the most senior decision makers in the industry as well as showcasing their current products and solutions to clients face to face.
120 exhibitors are expected to welcome an audience of 2500 to the International Conference Centre in Abuja, Nigeria from 15th – 18th May 2018.
ConMin West Africa aims to align itself with the needs of the market and those within it, which is why it has partnered very closely with The Ministry of Mines and Steel Development and Deloitte Consulting, to ensure it acts as the number one networking platform for the region.
With a GDP of $ 518 billion Nigeria is the largest economy in Africa, after a slack phase the figures of importation rates and gross fixed capital formation are also rising again. The population is expected to grow by 50% until 2050. As a result, the demand for further infrastructure development will increase immensely: Projects for construction of highways, housing and hospitals are being encouraged.
With a stable Government focused on developing industries outside of the oil sector, mining has been targeted as a priority for the country, which has been boosted by beneficial customs duties for mining and construction equipment.
Running alongside the exhibition and business forums that make up ConMin West Africa is the National Mining Summit. The Summit was also launched in 2017 to unite prominent figures from Africa's mining and infrastructure sector including investors, mining companies, geologists and other stakeholders from around the world to learn and network, all toward the single goal of advancing mining not just in Nigeria but across the West African region.
The event provides the international stage required to bring all of these parties together, to focus attention and discussion on unearthing what the sector has to offer and this platform will be built upon in 2018.
For more information visit http://www.conminwestafrica.com/
Contact: George Pearson
Tel: +44 (0) 207 886 3008
Email: George.pearson@montex.co.uk
June 2018
1 June - West African Power & Mining Expo - WAMPEX 2018, Accra, Ghana

ACCESS THE MINING HUB OF WEST AFRICA
After 24 years WAMPEX has become a major forum attracting over 1400 professionals from more than 16 countries making it one of the most important industry meeting places. Exhibitors from around the world participate at WAMPEX to showcase latest technologies, innovations and products.
WAMPEX runs alongside the west African mining and power conference WAMPOC where senior government and industry heads and influencers discuss policy, legislation, challenges and market developments.
Together the conference and exhibition, in association with The Ghana Chamber of Mines, The Ghana Ministry of Lands & Natural Resources, The Minerals Commission of Ghana and The Energy Commission of Ghana, provides an unrivalled international platform where opportunities are created and business deals are concluded.
WHY EXHIBIT
Meet face to face, grow your brand and sell direct to 1,400+ qualified professionals from 21 countries.
More than 43% of visitors to WAMPEX have direct purchasing responsibility
Over 40% are influencers in the procurement process
WHY VISIT
WAMPEX is the most prominent forum in West Africa for the international mining and power industries. For 24 years, it has attracted exhibitors from around the world.
WAMPEX is the most important meeting place for senior mining and power professionals, government representatives and stakeholders, allowing them to keep abreast of the latest industry developments, discuss key challenges and understand future opportunities.
Organiser contact details: Contact person: Knowledge Tenza
Email: knowledgetenza@dmgeventsme.com
Tel: +27 11 783 7250
website: https://www.wampexghana.com/
18-19 June - 3rd West Africa National Security Conference, Kempinski Hotel Gold Coast City, Accra, Ghana.

West African countries face evolving challenges that greatly threaten their national stability. Cyber threats as well as the effects of transnational crime and illicit smuggling are key issues these nations are investing millions into eradicating.
West Africa National Security & Armoured Vehicles will gather regional infantry commanders, armoured regiments, directors of national intelligence, inspector generals, commissioners of police, immigration and border control authorities and directors of procurement to improve the resilience of homeland security across Africa.
For further details and to register: https://bit.ly/2J3C3n3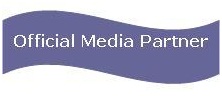 29 June – Real Estate Development Summit, Nairobi, Kenya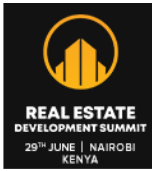 The Real Estate sector in East Africa continues to accelerate at a rapid pace due to increasing urbanisation and consumerism increased spending on infrastructure, foreign investment, as well as on-going infrastructure improvements. Rapid urbanisation, a rapidly growing middle class, Re-location of business and travel to Africa for business and tourism are driving demand for modern offices, hotels and retail malls.
There is a great demand for a variety of solution providers in the East African market, the region not only requires high-end suppliers but also affordable as well. However, the greatest challenge faced by developers and investors is to find suitable and sustainable suppliers while still maintaining their international standards and practices.
To assist with this endeavour GBB is hosting the REAL ESTATE DEVELOPMENT SUMMIT-2018 East Africa Edition on 29 th June in Nairobi, Kenya where we gather the top Project holders as well as Solution Providers and provide a common platform where they will engage and interact amongst each other, exchanging their views and knowledge about the problems related to the industry. Not only that, they will also engage in Face-To- Face business meetings so that the project holders could source quality products from their desired supplier, in turn fuelling the development in East Africa.
For further details and to register:https://www.redevelopmentsummit.com/
July 2018
10–12 July – West Africa Water Expo (WAWE), Lagos, Nigeria
WAWE EXPO offers unique value to companies, associations and other industry players connected with Water Expo and serve them through our huge national and international network and resources which offers access to foreign embassies, chambers of commerce, industry associations experts and consultants, construction companies and water project contacts, as well as downstream industry matches.
We offer unique value to companies, associations and other industry players connected with Water Expo and serve them through our huge national and international network and resources which offers access to foreign embassies, chambers of commerce, industry associations experts and consultants, construction companies and water project contacts, as well as downstream industry matches.
During the show you will have Match Making Service as well.Contact us on: info@elanexpo.nethttp://www.elanexpo.net
10–12 July – West Africa HVAC Expo, Lagos, Nigeria

WAWE EXPO WEST AFRICA HVAC 2017 event attracted 72 exhibitors, representing companies from 16 countries , Nigeria, Turkey, China, Egypt, India, Iran, Tunisia, U.A.E, Germany, Poland, Tanzania, USA, S. Korea, Japan, France, Switzerland, as well as more than 3800 visitors throughout Africa such as Kenya, South Africa , Ghana, Tanzania, Egypt, Turkey ,India ,Lebanon, Ethiopia.
Top global brands such as Siemes, York, Carrier, LG, Panasonic, Daikin, Bluaberg, Emerson, China Fore, Baymak, Wiloand etc. were present and all reported excellent contacts and business conducted across the 3 days of the event.
In addition to the exhibitors, HVAC Expo played host a comprehensive educational programme of workshops.
Contact us on: info@elanexpo.nethttp://www.elanexpo.net
29–31 July – MENA Innovation 2018 – Cairo, Egypt

Official Ministerial Summit for ICT Innovation in Education & Digital Inclusion
MENA Innovation 2018 is the must attend event for industry solution providers to engage with clients, government partners and to develop future business prospects in the region. Organisation of MENA Innovation 2018 was confirmed in a signing ceremony at the Ministry of Communications and Information Technology.
MENA Innovation 2018 will take place in Cairo under the official patronage of H.E. Yasser El Kady, Egyptian Minister of Communications & Information Technology. The full weight of the Egyptian Government is behind the organisation of the summit that will also include ministerial participation from the Ministry of Education and Ministry of Higher Education & Scientific Research. This high-level meetings-based forum will bring together ministers, senior government officials, universities and civil society stakeholders from across the MENA region and African countries to engage with leading industry operators and solution providers.
The organisers, Brains Innovation Summits, have established the most successful meetings-based format between industry and government decision-makers across the Middle East and Africa. This official ministerial summit represents the perfect opportunity to do face-to-face business by booking pre-scheduled meetings and enjoying a wealth of content dedicated to education, ICT and innovation.
This landmark event will bring together ministers and senior officials for education, ICT, higher education and science & technology from all participating countries with personal invitations being extended by the Egyptian Government.
For further details and to register: http://mena-innovation.com/2018
August 2018
1-2 August - 7th Annual Customer Experience Management Africa Summit, Cape Town, South Africa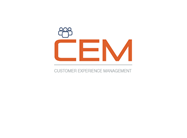 Business Led Customer Experience
CEM Africa is a meeting place for CX professionals and innovative CX solution providers. The show takes place on the 1-2 August 2018 at the state of the all new CTICC 2 in Cape Town, where like-minded customer experience experts and the top CX solution providers gather for an informative and educational summit with the common goal of improving customer experience across Africa. The event will provide a platform for like-minded CX professionals to showcase their industry knowledge as well as solutions to better the customer's perception of the brand.
Generating a real return on CX initiatives
The 2018 edition of CEM Africa will focus on customer experience from a business led perspective. Understanding the need for clear and measureable returns and an accelerated impact on revenue growth, the summit themes are framed to facilitate these outcomes.
Driving Customer Emotions
Although brands may be liked or trusted, most fail to align themselves with the emotions that drive their customers' most profitable behaviours. Some brands by nature have an easier time making such connections, but a company doesn't have to be born with the emotional DNA of Disney or Apple to succeed. This session will investigate best practice applications of emotional motivators, story-telling to link emotions and creating consistency and relevance when driving customer emotions.
Outside-In CX
Customer centricity is an organisation wide prerogative and responsibility. True outside-in-cx is authentic, relevant and bound to the company purpose. This session dives into the practical application of customer centricity, how to tie emotion, measurement and data together in a workable strategy and how to prepare your employees to handle it all.
Extracting Value from Data
The rapid development of technology in CX has failed to produce a corresponding return. Much of this has to do with an over-prioritization on technology as opposed to the insights that it generates. Extracting value from data will examine how to draw the most out of your data and bring your CX strategies to life. This session will cover best practice case studies and how to leverage technology intelligently to get a more efficient and valuable return on investment.
Calculating Experiences
It is clear that measurement is a key factor in allocating company resources and justifying investment in CX. Knowing where to focus and how to construct measureable initiatives is a major pain point for CX professionals. This session will explore what to measure and how to identify correlations between CX initiatives and business objectives to create a measurable customer experience strategy that delivers real business results.
For details and to register: Website: www.cemafricasummit.com
Twitter handle: @CEMAfricaSummit & @KineticEventsSA
Facebook: https://www.facebook.com/CEMAfrica/
LinkedIn: http://bit.ly/CEM_Group
Youtube: http://bit.ly/CEM_Video
September 2018
18-20 September – Propak West Africa 2018, Lagos, Nigeria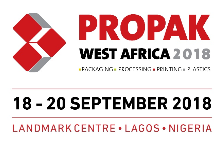 Propak West Africa is the region's largest exhibition and conference dedicated to packaging, plastics, processing and print. Taking place in West Africa's central hub; Lagos, Nigeria, the exhibition will be held between 18 – 20 September 2018 at the Landmark Centre.
3,261 senior industry professionals came together in 2017 to discover a wide range of products and solutions from over 135 exhibiting companies. In 2018, this established trade show will mark its 6th edition and is set to be the largest to date, with up to 4,000 attendees expected and more than 150 brands on display.
Discover business solutions from across a wide range of different market sectors including plastics, packaging, food processing, manufacturing equipment, printing, chemicals, pharmaceuticals, publishing and many more.
Enjoy unique networking and learning opportunities over three days with numerous product launches, live equipment demonstrations from the industry's leading brands and a daily free-to-attend conference. Running daily sessions of prominent presentations, technical classes and panel discussions from expert representatives and government officials, learn about the latest issues surrounding the market and understand how you can apply this knowledge to your business.
With sister shows in Kenya and South Africa, the exhibition is West Africa's most convenient platform for business, innovation and knowledge in the industry. Join thousands of senior packaging managers, consultants, suppliers and printers as they collaborate in sharing important insights and crucial experience at the industry event of the year.
For more information visit:http://www.propakwestafrica.com/
Contact: Abby Cairns
T: +44 (0)20 7886 3032
26–28 September – eLearning Africa 2018, Kigali, Rwanda

The 13th edition of eLearning Africa, the International Conference on ICT for Development, Education and Training, will take place on September 26 ' 28, 2018 in Kigali, Rwanda. The conference, which is being jointly organised by ICWE GmbH and the Rwanda Convention Bureau under the patronage of the Rwandan Government, usually attracts well over 1,000 participants from all over the world. They are not only teachers, academics and learning experts, but political leaders, policy makers, investors, technologists, business leaders and entrepreneurs too. The conference is also the occasion for an annual round table meeting of African education and technology ministers.
eLearning Africa is the key networking event for ICT supported education, training and skills development in Africa and brings together high-level policy makers, decision makers and practitioners from education, business and government.
Serving as a pan-African platform, the eLearning Africa conference is a must for those who want to develop multinational and cross-industry contacts and partnerships, as well as enhance their knowledge, expertise and abilities. eLearning Africa has taken place in a different African country each year since its inception in 2005, and the conference languages are English and French.eLearning Africa attracts education professionals, investors and providers of education and training.
eLearning Africa 2018 will take place from 26 ' 28 September in Rwanda's capital city, Kigali, which has gained a reputation for its ICT-based initiatives in a variety of sectors. So great is its apparent enthusiasm for new technological solutions that some observers have referred to it as the "Innovation City of Africa."
Under the overall theme of 'Uniting Africa', conference participants will discuss how the benefits of technology can be shared and help to improve education across Africa, making a reality of the African Union's 2063 Vision of a "transformed continent." Over 12 consecutive years, eLearning Africa has hosted 16,228 participants from 100+ different countries around the world, with over 85% coming from the African continent. More than 3,300 speakers have addressed the conference about every aspect of technology enhanced education and skills development.
Contact: Rebecca Stromeyer, info@elearning-africa.com, http://www.elearning-africa.com
eLearning Africa News Portal: http://ela-newsportal.com/
MENA Innovation 2018 – Event Info
October 2018
2-4 October - Africa Hotel Investment Forum, Radisson Blu Hotel, Upper Hill Nairobi, Kenya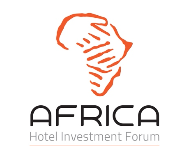 The Africa Hotel Investment Forum (AHIF) is the only annual hotel investment conference that connects business leaders from the international and local markets. The event brings together the who's who of the hotel investment community that drive investment into tourism projects, infrastructure and hotel development across Africa.
AHIF has proven to be Africa's annual meeting place for the region's most senior hotel investors, developers, operators and advisors. It is the annual conference that connects business leaders from international and local markets to do deals across the region.
For more information visit:https://www.africa-conference.com/
PLEASE NOTE
: ReConnect Africa accepts no responsibility for any of the events described above and/or any dealings with the event organisers.