If you're struggling to manage your team, Career Coach Vera Ng'oma sets out some simple strategies to improve your management.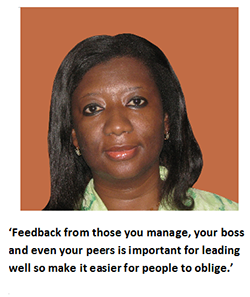 Career Coach Vera Ng'oma sets out some simple strategies to improve your management style
As a manager with a thousand to-do items on your plate each day, how do you bring your best? In the end, it boils down to choosing the right processes and tools to help you manage your workload and get a high return on your time.
Here are three processes you can use as a manager to develop your team and get work done at the same time.
One of the most helpful things you can do as a manager is not pass on work at short notice or leave your team in the dark about what's important. They will of course make their own judgment based on their workloads but there are real benefits to taking a joint prioritisation approach.
Go beyond the important vrs urgent mantra
How do you decide what's really important? By assessing the value of an activity and determining what benefit it delivers compared to the others. Another way is to consider the implications/consequences of not doing a task at a particular time. It's important however to be flexible as priorities may change and you need to be nimble enough to adapt accordingly.
Agree what matters with the team
Spend some time at the beginning of each week to agree priorities. Having a short meeting to do this will provide the opportunity for you to explain why these are priorities, to have them input their views and for all to agree a prioritised work plan for the week. It will also help you all see how each person connects or contributes to bigger outputs or goals.
Develop their sense of the strategic
As manager, you see things from a higher vantage point which can benefit your team. When you collaborate on prioritising, you bring to bear your broader, more strategic perspectives. It also helps to provide the context for assessing what's key. A joint session also offers an opportunity to discuss any uncertainties or challenges that might undermine task implementation and agree ways to address them.
Delegating can be a lifesaver if you do it with focus - that is ensuring that more right, important tasks get done on time.
.
Giving feedback regularly is part of your responsibility to your direct reports but receiving feedback on your own performance can be a different kettle of fish because this is something that others can to choose to give or not. Feedback from those you manage, your boss and even your peers is important for leading well, so make it easier for people to oblige. Here are some suggestions.
Ask for it and assume positive intent
People will not give feedback voluntarily most of the time, so you have to ask and be specific. Proceed on the basis that you believe whatever anyone chooses to share is in good faith. This is what you expect of them when you give them feedback, so this is your opportunity to set an example of how to manage feedback. Thank whoever gives you feedback and take time to process what you receive.
Suspend any defensive responses
The temptation to get defensive is natural, especially if you don't see the feedback given you as positive or objective, and it's important to hold back from retorting, justifying, explaining or saying anything that may make the other person regret speaking up. Ask questions that they can respond to if you're not clear you understand what they've said. One poor reaction can ruin any chance of receiving any feedback in future.
Read the non-verbal signs
Anyone giving feedback to their manager is likely to have the jitters and may end up not saying everything they're thinking, so also pay attention to the non-verbal cues. A nervous expression, avoiding eye contact, speaking in parables are all signals that you need to read between the lines. Probe gently because it's important that you avoid the risk of misinterpreting what's been said and unsaid.
Bull's eye delegation
Find the motivation to delegate - doing everything yourself is never feasible as quality will suffer and you'll likely suffer burnout. Delegating can be a lifesaver if you do it with focus, ensuring that most important tasks get done on time.
Align work to talents
You need to be intentional about passing stuff on to others. If you gave an assignment to someone and they learn by doing it, you'll not have to worry about doing that task yourself again as they would have learnt the skill. Look at those who have the talent and capabilities to take on specific projects and show your confidence in them. They are likely to find this motivating and it will give them a chance to shine.
Plan and prepare for delegation
Sometimes tasks come up and impromptu delegation works. However, as a regular approach, prepare for delegation because the job will not be done well if you haven't thought it through properly. Be clear on when you need tasks completed and any checks you'd like to make to ensure the delegated work is going according to plan.
Ensure commitment and accountability
Delegating will not work if the person you are engaging is not keen or prepared to do this well and in line with what you need. Check that the person is committed to delivering what's required and is clear on the implications if the work doesn't get done. Be absolutely clear about the support you'll provide so they find it easier to commit.
Vera is a communications specialist, a leadership facilitator and mentoring coach with over 12 years' experience in communications includes roles in the print media, Corporate communications, PR and international communications across public, private and Global organisations. She currently works for the Department of International department in Malawi as Education Adviser. Prior to this she worked with the British Council Malawi as Deputy Director and also had responsibility for leading communications across 8 African countries. Her company LIVEXCELLENCE', a leadership and personal development outfit helps organisations and individuals to effectively apply a 'can-do' spirit, greater leadership literacy and purposeful action to achieve visibility, improve performance and fulfil potential. Vera Ng'oma can be reached verangoma@gmail.com