In a memorable conversation, we spoke to acclaimed African-American artist Ben Jones about the influence of Africa, Cuba, the Civil Rights struggle and what Black Consciousness means today.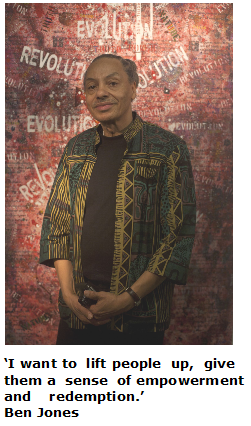 In a memorable conversation, we spoke to acclaimed African-American artist Ben Jones about the influence of Africa, Cuba, the Civil Rights struggle and what Black Consciousness means today
By Frances Mensah Williams
Ben Jones is a fascinating man and an inspired artist and our recent conversation covered a wide range of issues.
An intelligent, informed and widely travelled man with a strong sense of solidarity with Africa and Africans, Ben Jones's ability to cut through to the core of an issue and to observe compassionately, with insight and without judgement, made for a memorable conversation.
Ben Jones
Born in New Jersey in 1941, Ben Jones has conducted over 50 art-related and cultural exchange visits to Cuba since the 1970's, along with frequent exhibitions throughout Europe, Africa, Asia and Latin America.
For nearly five decades, Ben's multimedia installations have reflected his travel and research in Africa, Europe, South America, United States and the Caribbean, including the Museum of Modern Art (New York, NY), Studio Museum of Harlem (New York, NY) and Museo Nacional de Bellas Artes (Havana, Cuba).
Ben Jones has lectured at universities, museums and cultural institutions worldwide including, Harvard University (Cambridge, MA), Howard University (Washington, DC), Savannah College of Art and Design (Savannah, GA), Wilfredo Lam Center (Havana, Cuba) and the University of Ghana to name a few. He holds degrees from MFA, Pratt Institute, Brooklyn, New York University (MA), and William Paterson University, Wayne (BA) and his exhibitions include: WASHED in the BLOOD, Southern Alleghenies Museum of Art, Altoona (2010); Chango-Change, Siguaraya Gallery, Berlin, Germany (2009); Deliverance, Jersey City Museum (2009); People I Love, Agape International Spiritual Center, Los Angeles (2008); El Espiritu de Los Abanicos, Centro Civico Las Sirenas, Seville, Spain (2007); Hammonds House, Atlanta, (2004), and The Havana Biennial, Havana, Cuba (2000). Ben currently lives and works in Jersey City
Ben has been cited by the Granma International of Havana, Cuba as one of the most important African-American artists of his generation. Having come to prominence during the Black Arts Movement of the 70's, Jones fast became known for his ability to balance the political with the spiritual. His practice is routed in social activism and an enduring commitment towards imploring his viewers to seek and attain a higher level of consciousness and worldly awareness. As New York Times writer Benjamin Genocchio wrote, "Ben Jones has chosen to spend the better part of his career making art according to imperatives that have nothing to do with artistic fashion. That takes dedication." 
From Evolution to Revolution
The recent exhibition of Ben Jones's work 'Evolution – Revolution' held at London's Rich Mix Gallery, consisted of nine large-scale acrylic paintings and twenty drawings on paper.
With this exhibition, Ben referred to his diverse sources of inspiration with a new wallpaper series that examines contemporary political realities against the backdrop of the planet's mounting ecological concerns. From a distance, the panels appear typically warm and repetitive in nature, but up close, they delve into serious topical issues. Thank you BP (2010) playfully documents the grim conflict between nature and big business; and Clear Truth Wallpaper (2010) is a prophetic and philosophical representation of potential and hope. Collectively, these images challenge current greed-derived inequalities that simultaneously harm rich and poor alike. They are a call for justice and greater concern for life on this planet.
"Ben Jones has chosen to spend the better part of his career making art according to imperatives that have nothing to do with artistic fashion. That takes dedication."
Ben Jones is known for his striking use of colour and many of his paintings use bloody shades of red as a metaphor for the cleansing and purification of our decayed political and sociological thinking, contrasting with the literal and figurative greens and blues, which represent nature and the environment.
These powerful pieces castigate BP for the Gulf oil spill and the destruction of the environment, melding slogans of power and poetry with dramatic paintwork and dense layered colours. Ben weaves the words of poets and historical figures into the paintings, echoing voices from the past.
This collection demonstrates Ben Jones' vision: 'I want to lift people up, give them a sense of empowerment and redemption.'
In Conversation
On first starting to express himself through art...
I come from a family of 15 children and, being from the South, we constantly had relatives coming from other places to visit us in our house. As a little boy, I found myself drawing them all the time and by the age of 8 or 9, I was regularly doing drawings of the family. One day at school my teacher said 'You can draw!' and I just enjoyed doing what I was doing and carried on.
On growing up at a pivotal time for Black people in US history and its influence on his art...
Sometimes when you look back, you see patterns that tell you who you are. As a little boy, my goal was always to be successful, so I used to organise stuff. In the summertime I would sell lemonade and organise everything to make it happen. At high school, I was involved in different types of clubs, again organising.
Looking back it's clear now that I was always going to be an activist. In my last year of college, I had to attend a private institution to be able to take the Art History class that I needed in order to graduate. I loved to get there early to eat the food that the Black Southern cooks made and I would see Black students sitting around and talking about politics.
In 1963 I was one of the few Black students at Patterson State College, as it was at the time. A turning point for me was when I asked why we were only learning about White artists and was told that if Black artists were important enough, they would be in the text books. That offended me so much even though, at the time, I hadn't made the link between art and politics.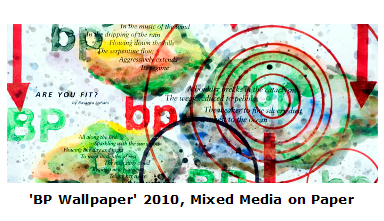 In that same year, Martin Luther King was killed and that changed my life. I started getting involved with black organisations just as the US was going through a racial revolution with Black people and organisations challenging the racial status quo. Young people were at the forefront of these activities and I got involved with all of that. After I graduated from College and got my Masters degree, I started teaching at high school until 1967 and then at university (at what is now New Jersey City University).
While there, I was approached by some Black students to be an advisor for the Black Freedom Society, a Black student organisation that they wanted to set up, and a role that I played for 20 years. New Jersey is a predominantly Black city and I worked with young children's organisations helping young people to understand their history.
In the 1960's everything was connected – whether it was politics, art, education or music. I started using popular Black entertainers and political figures in my art. I first started with Africa and introduced classes on African and Caribbean art, running Black workshops and taking Black students to art institutions.
On Black Consciousness and the Diaspora...
The poet Amiri Baraka started an organisation that I joined back in the 1960's and that time was all about consciousness. The times created a consciousness that came through into everything and it's something you don't really see today in the same way. Today we consume but we don't make the sacrifice necessary to have our own.
The African diaspora has a challenge to organise. Elijah Muhammad once said "You have to have your own." If you want people to meet you as an equal, you have to have your own – your own business, your own assets. Until you have your story, have your own businesses and know who you are, you can't fully appreciate yourself or other people.
I always say that Africa is the basis of my work. With Africa, I think of natural things, things of the spirit. Rarely do you see Black people saying they don't believe in a spiritual force.
Being conscious empowers you and makes you responsible for who you are and for your history.
This is what I appreciate about Cuba. With all the problems they have there, they have learned that you have to be more self-reliant. I've visited Cuba so many times over the years that it is like a second home. The young people I meet there aspire to be something because the revolution made them have that mindset. If we don't try to make the sacrifice and not get distracted, we won't succeed. This is where consciousness comes in; whether it's about our consumption, our health, our lifestyles, we need to be conscious of it and act upon it. If you don't have this, you fall prey to those things that hurt us.
I don't know if our people understand how power works in this world. To have power, you need to have control over the means of production, not just consume. You have to own your own and it's all about consciousness.
I don't think I'll see this in my lifetime, but I am clear about what's in my head.
On the pieces that reflect the observation by poet Amiri Baraka that Jones's work connects spirituality and politics (social life)...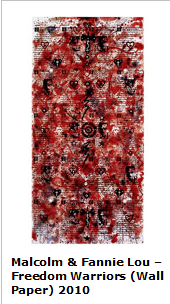 In my exhibition 'Evolution – Revolution', all the politics and spirituality are connected. In traditional Africa, there wasn't a separation. Frequently, in traditional African sacrifices, blood was meant to be cleansing, purifying and a sacrifice.
Politics today, though, is about making deals. One of the pieces has 'blood' running through it and is the most representative of that connection in this collection. When the Iraq war was taking place, I was so incensed at the killing of innocent people that I wanted to use this piece to reflect that. I wanted to get the effect of blood on the canvas with red liquid. I used images of conscious Black figures and African symbols of spirituality.
On religion...
Wherever I am in the world, I have to go to church on Sunday. But religion is just a structure. Spirituality is at a higher level and you are just using those structures to get up to reach that level of spirituality.
On believing he could be what he has become at a time when most people said he couldn't...
When you look back at your life and see certain patterns, it tells you who you are. As a little boy I was raised in the Catholic Church and one day when I was about 11, a White boy called me a 'nigger'. I just replied: 'Thank you, because I'm going to be better than you.'
I've always been an achiever. Coming from a family of 15 children, you have to fight for your place. Being poor, I always felt I had to prove myself; taking jobs here and there so I could buy good clothes and look like the other middle class kids.
But at college I was exposed to other influences and I found more clarity about my values through some of our Black role models like Aretha. She is to me a symbol of someone who knows who she is. She doesn't need to articulate anything; you just have to look at her! She was born and raised in a home where her father was a preacher and was part of the community. She was exposed to the values of those around her. She is our real voice - and she knows where her power comes from.
On the influences in his life...
My parents really pushed education. My mother was a domestic and had only a basic education but my father had gone to college. My mother taught us about sacrifice. Whenever I would ask her to buy me things that I had seen and wanted, she would say 'Sure, you can have it – go work for it.'
And sometimes you need someone to bring you to where you need to be, even when you don't see it. I had a White professor who brought me to teach at university. Although I was alarmed at the idea of teaching at university level, I realised that the other people there didn't have more talent or ability than me.
On his message to aspiring Black artists...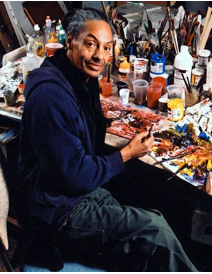 First, clearly know who you are. You have responsibilities and this means you have to know your history and world history and how world history impacted on your history. You have to know your connection to your people and to the world. Young people have to know that it's not all about them – we are interdependent not just independent.
The other thing is the importance of hard work and sacrifice. Try to see the world, especially our people in the world, and see what you have in common and what's different.
You have to go out and explore because you need to see the connections between your ideas and your life to your people and to the peoples of the world.
You also have to realize that we're in a struggle to make sure that Africans, as a people, have our rightful place in the world.
On retiring from a teaching career of 44 years and approaching 70 years of age...
I feel like I'm just beginning as an artist and that I have to get deeper. In May I will be 70 and I was so incensed at the Gulf spill and at BP for causing it that I feel I have to spend the next two or three years dealing with these things. The issues are really complex and very deep.