Moving to Ghana after a lifetime in the UK has brought its challenges and triumphs. Elvina Quaison reports on her journey thus far.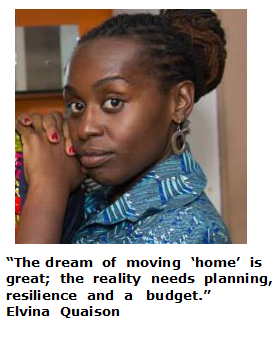 Moving to Africa after a lifetime in the UK was never going to be easy. Elvina Quaison shares some of her experiences as she settles into life in Ghana.
2 years, 2 months and 2 days today (as I'm writing this) I arrived in Ghana with the vague idea that I was now home and was going to make a new life for myself. On reflection, there were a few circumstances that made the first phase quite challenging:
I had a lot going on personally at the time, which made it hard to focus;
I moved and started working for a client straightaway so had no breathing or settling in time; and
I hadn't really done much (any) financial planning, so money was constantly a consideration
Still I knew, and know, that moving was the best thing I did, and straightaway my thinking was being re-orientated as I had to start dealing with my situation. There was no safety net as such, other than adjusting my return ticket and heading back to the UK and, funnily enough, even at the most challenging point, I didn't consider that. And this shaped the basis of my attitude during the emotional roller coaster ride that has been my move to Ghana.
This letter is a bit of 'a lessons learned and tips to share' because as I tell everyone, the dream of moving 'home' is great, but the reality needs planning, resilience and a budget to make your move as smooth as possible.
Family, Friends and Others
Being brought up in the West you get used to being quite self-sufficient; there is not much need to rely on people or have to interact that much with people in your day to day life. Banking online, shopping online, staying in touch with friends and family online; even down to making new friends…online you go. So it can be a bit disconcerting to have to suddenly become a people's person.
This letter is a bit of 'a lessons learned and tips to share' because as I tell everyone, the dream of moving 'home' is great, but the reality needs planning, resilience and a budget to make your move as smooth as possible.
In Ghana, if you need a plumber, security, a cleaner, a reliable taxi, it all takes asking around, trying out a few and then developing something of a relationship with your service provider so they remain reliable and thorough when interacting with you. If asking for help or assistance is not your strong point, it soon will be. Family, friends and others you come into contact with will all become an information resource as trial and error can prove expensive and dangerous. This is when you are on the ground. In the process of your move in the initial stages, yes, ask family and friends for their opinion, advice, opportunities. But then, turn to the professionals. This is when that budget I mentioned comes in. I bet you were thinking it was for your container to move your stuff, or to purchase your house? Yes, which all comes into it, BUT initially you have to invest in ACCURATE and OBJECTIVE information.
Invest in your decision to make a move and:
Attend talks, conferences and workshops on the state of the country, areas to invest/ or work in, the sector or area in the country that you wish to work or start a business in;
Speak to someone who can advise you effectively on your decision to move. If there is a professional organisation to support this, then pay for some time with them so you can ask all the questions you have and they can answer questions you didn't even know you should be asking.
If no-one is available professionally, find a professional who has done what you want to do and take them out for coffee, lunch or dinner - tell them why in advance - and then listen to what they have to say. As much as you may feel it doesn't cost anything for the person to share information with you; it actually really does. As it's someone's time, experience and knowledge you are asking to tap into, show you value it.
Plan Your Move
Though I had been 'planning' to move to Ghana for about 12 years, I hadn't really been planning; I just knew I wanted to be there. I knew I would need a car as transport can be challenging, a place to live as living with friends and family can be difficult, and I needed an income because living without cash money would be impossible. Yet, with all this, I still didn't plan with action or foresight. The company I started, Silk Solutions, stemmed from my learning about the information gaps that were evident to me once I was in the Ghana system. Silk's mission is to fill those gaps to help others walk a smoother path. The problem? It seemed that the people I initially wanted to help did not see the value of paying appropriately for the service. There seems to be a belief that 'once I have moved, I can work it out'. Yet I know that the information is important because when I ran events that were greatly discounted, or free, the numbers were impressive. The result is that these are services I no longer provide as it is not sustainable. So people are still going to another country to 'work it out' and wasting hundreds and thousands of pounds when they get it wrong. For those serious about making the move, there's a real need for a thinking adjustment on spend and value!
In any case, here are some of my tips on planning to make your move:
Give yourself a minimum of a year to start planning your final move, in that time

a. Work out your financial needs

b. Visit the country at least twice at different times of year and observe key things: i) Areas you may want to live and the cost of renting/ buying; ii)Local amenities and their cost; iii) What can be bought locally and what you should plan on buying to ship across

c. Decide if you are going to work or start a business. This is definitely an area where you need professional advice as there are many things to consider and both come with benefits and challenges.

Seek financial planning advice – there are many savings options that you can be thinking about based in Ghana that will give you attractive returns in as little as a year, and will give you a cushion when you move
Are you in a relationship? Do you have children? Are you single? Think about how these factors will affect your move and your future plans.
There is so much more and perhaps I have nearly reached that point where I can write the book people keep saying I should write. Two years, two months and two days later I have no regrets. I have battle scars and fabulous memories; I have grown incredibly from my experiences and I know they are not over as Ghana opens up more and more opportunities and possibilities to me and for me. I am not as gung-ho as I once was about encouraging people to up-sticks and move; however I still feel it can be a brilliant decision. I also know there are other ways for people to connect with Ghana or another country in Africa. The key thing is to be appropriately advised, plan, plan and plan and then finally make the decision that is 100% right for you. Life is to be lived as happily as possible and for me that is here in Ghana. For you…who knows!
Elvina is an entrepreneur who is paving her way in the world of international business.