What's on in September and October? Take a look at our listing of free and paid-for events and activities and take advantage of discounts available to our subscribers.
The following is a listing of events taking place in the UK and overseas in September and October 2016.The following is a listing of events taking place in the UK and overseas in September and October 2016. For further information, please contact the organisers directly.

PLEASE NOTE: ReConnect Africa accepts no responsibility for any of the events listed and/or any dealings with the event organisers.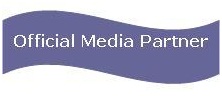 1-2 September – 4th Africa Palm Oil Value Chain, Abidjan, Cote D'Ivoire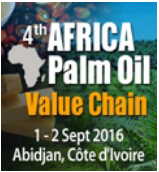 Centre for Management Technology, a global conference organizer is organizing the 4th Africa Palm Oil Value Chain on the 01-02 Sep, 2016 in Abidjan, COTE D'IVOIRE
Themed: "Transformation of Africa's Oil Palm Industry to Improve Smallholder's Competitiveness" "Expansion plans and downstream developments of industrial players"
Highlights:
Round table of downstream producers / major palm oil users from food to personal care manufacturers
Smallholder development schemes, perception on high yielding materials
Perspective from Dekel Oil and their future expansion plans
Large Scale Plantations in Liberia, Cameroon, Congo, Nigeria
Zero deforestation policy – implementation challenges in Africa
For more information please click on the link to view: http://www.cmtevents.com/main.aspx?ev=160931&pu=267432OR contact – Ms. Hafizah Adam-hafizah@cmtsp.com.sg - +65 63469218
5-6 September - Global African Investment Summit, Kigali, Rwanda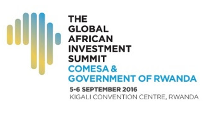 Global investment experts are lining up to participate in September's landmark Global African Investment Summit - COMESA & Government of Rwanda, taking place 5-6 September in Kigali, Rwanda.
Expert speakers will take to the stage at Kigali's brand new Convention Centre to explore, in-depth, how the private and public sector can work together to realise the aspiration of Africa's largest single market.
| Hear from Heads of State including: | Hear from business leaders including: |
| --- | --- |
| H.E. Paul Kagame, President, Republic of Rwanda | H.E. Ato Hailemariam Desalegn, Prime Minister, Federal Democratic Republic of Ethiopia & Chairman, COMESA |
| Sindiso Ngwena, Secretary-General, COMESA | Colin Coleman, Managing Director, Goldman Sachs |
6-7 September – Africa Pharmaceutical Summit (APS), Lagos, Nigeria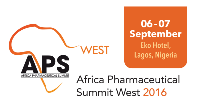 The 4th edition of the Africa Pharmaceutical Summit (APS) will be held on 06 – 07 September 2016 at the Eko Hotel Lagos, Nigeria. With the theme: 'Driving Improvement in the Pharmaceutical sector: A clear Investment Framework', APS West 2016 will bring together key stakeholders to debate on the most pressing issues the Africa pharmaceutical industry is facing. The Summit will be attended by industry leaders, policy-makers, regulators, academics, investors, scientists, patient representatives.
APS has priority to build a healthier Africa by:
Recognising that medicines are essential to improve patient outcomes and equity of access to healthcare across Africa
Supporting a more sustainable business environment and incentivising the pharmaceutical industry to invest in bringing better and more cost effective treatments to patients
Fostering an environment that will make Africa an attractive destination for pharmaceutical manufacturing.
Join the industry stakeholders to address Africa pharmaceutical industry healthcare and competitiveness issues.
APS West 2016 will feature a 100 per cent pharmaceutical focussed exhibition attended by local and international companies from across the pharmaceutical value chain specialising in formulations, raw materials, active ingredients, processing machinery, packaging machinery and equipment. This is a great opportunity to network with your core audience and to generate key business leads for your business.
http://africapharmasummit.com/west/summit-registration/
7 September - The Uganda Museum and the History of the Heritage: Professor Derek R. Peterson (University of Michigan), Robinson College Auditorium, Cambridge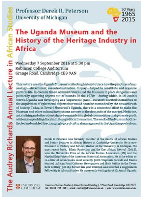 This lecture uses the Uganda Museum's collecting history to trace how the practices of museology - detachment, recontextualisation, display - helped to constitute and organise political life. In colonial times, administrators used the Museum to place dangerous and politically upsetting objects out-of-bounds. In the 1970s - during which, in Idi Amin's words, Uganda was developing at a 'supersonic' pace - curators devoted themselves to the acquisition of ephemeral objects that would soon be outmoded by the onward rush of history.
Today, in Yoweri Museveni's Uganda, there is a concerted effort to make the Museum and other cultural institutions answer to the demands of the market. Medicine, art, clothing and other objects have been made into global commodities that generate profit while also upholding discriminatory political hierarchies. The work of the Museum both reflected and enabled the changing logics of cultural management in the Ugandan postcolony.
Contact Telephone: 01223 334396
Contact Email: centre@african.cam.ac.uk
Centre of African Studies, Alison Richard Building, 7 West Road, Cambrdge, CB3 9DT
8 September – 2016 Fashion Africa Conference, Rich Mix, London

In September 2016 Social Enterprise Africa Fashion Guide turns five and we will celebrate by hosting our yearly annual Fashion Africa Conference!
The 2016 Fashion Africa conference will act as a vehicle to create a social forum for all those attending to talk openly and share ideas, information and expertise, to raise awareness and elevate the perception of design from the continent. It acts as a means to discuss and promote the full supply chain of African Fashion Design, Textiles, and Manufacturing and thus communicate this to a larger, global audience through media.
This event is a must attend event where there will be a mix of press, brands and industry influencers and insiders with a mutual involvement and/or vested interest in elevating African trade, design and production, and who want to be part of the wider solution to raise Africa as a trailblazer in quality design and production.
10.00am – 5.00pm (doors open 9.30am for registration). VENUE: Top floor, Rich Mix, 35-47 Bethnal Green Road, London, E1 6LA PRICE: £79 - includes tea, coffee and biscuits.
Register at:http://www.eventbrite.co.uk/e/fashion-africa-conference-2016-london-the-african-market-tickets-26423913637
8-9 September - 4th East Africa International Arbitration Conference (EAIAC), Kampala, Uganda

Now in its 4th Edition, East Africa International Arbitration Conference (EAIAC) has grown to become an authoritative platform in East Africa promoting the region's legal capacity, and highlighting Arbitration as an alternative investment dispute mechanism.
EAIAC 2016 will highlight the importance of international arbitration as a tool for promoting foreign investment on the Continent, look at arbitration case studies from Uganda and the region focusing on infrastructure, natural resources and Energy projects.
Uganda's is increasingly gaining recognition as a leading Infrastructure and natural resource player in the Eastern African market, and the organizing committee considers Kampala as a natural choice for hosting EAIAC 2016.
Organised by GBS Africa, the Conference is supported by regional law societies, Private sector bodies, development agencies, regional governments and Investment community with an interest in East Africa. The platform brings stakeholders together to share best practice, network and chart the way forward for East Africa's Arbitration practice.
EAIAC Kampala 2016 will build on the success of the previous conferences held in Addis Ababa (2013), Nairobi (2014) and Dar –Es Salaam (2015)
For details and to register: www.EAArbitration.com
9-10 September – Africa Fashion Week London, London, UK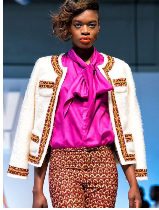 Africa Fashion Week London (AFWL) is Europe's largest catwalk event of African and African-inspired design.
A collaborative catwalk and exhibition, highlighting the industry's established and emerged African designers, AFWL is at the forefront of capturing the surge of the African inspired trends in the fashion industry. Our annual event aims to celebrate the work of African and African inspired designers in the UK and worldwide.
Africa Fashion Week London 2016 will host a conference designed to attract foreign investments to the continent's fashion industry, in addition to the familiar catwalk shows and exhibition.
FEATURED TOPICS:
Place of African fashion in the global market: Problems, prospects and perspectives.
Youth empowerment through the fashion industry.
The growth of the African Garment Industry: why multinationals are using Africa in their supply chain.
Exploitation or Big Business?: the use of African artisan craft in major fashions without credit.
Hear keynote speaker's views on why African fashion has such an impact on global fashions.
Hear from major clients on why Africa is being heralded as the next major exporter of finished garments for the world market.
Pinpoint which areas of the sector will be the focus of investment.
Draw out lessons from current projects and the importance of collaboration to the delivery of future developments.
For information and to register:http://www.africafashionweeklondon.com
9 September – Joseph Bologne: Black Mozart in the White Wig, London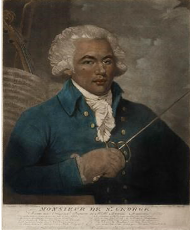 Chevalier de Saint-Georges, aka Joseph Bologne (1745 – 1799), was a champion fencer and virtuoso violinist and composer.
Bologne was an acquaintance of the composer Mozart, and close friend and music companion of Marie Antoinette, wife of Louis XVI. Born in Guadeloupe in the Caribbean, Bologne was the son a wealthy planter and Nanon an enslaved African woman. During the French Revolution he was colonel of the Légion St. Georges, the first all-black regiment in Europe.
Through music, poetry and exposé explore Bologne's life with an introduction by Chi-chi Nwanoku MBE, principal double bass, and a founder member of the Orchestra of the Age of Enlightenment, a historian's overview of the life of Bologne, classical music by members of the Chineke! Foundation, and a performance by poet Adisa,The Verbalizer.
http://www.chi-chinwanoku.com/chineke-foundation/
http://www.applesandsnakes.org/page/84/performance+poets/24
In celebration of the opening of the new Europe 1600 – 1815 Galleries
Fee:£5, no concessions 18.30-21.00
To book call the Bookings Team on 020 7942 2211
Image: Monsieur de St. George' (Joseph Bologne, Chevalier de Saint-Georges, 1745 – 1799)
14-15 September – GRI Europe Summit, Paris, France

Unlike conferences, GRI Europe Summit has no speakers, no panels, no presentations. What we have is simultaneous discussions in small groups, where everybody participates. Senior real estate professionals find this useful to identifying possible business partners and investment opportunities.
"It is a dedicated discussion among experts...it brings a lot in a very short time." Frank Billand, Member of the Management Board, Union Investment Real Estate

Global investment * Debt Markets * ​Country Analysis * ​Residential Offices * Industrial * Logistics * Student Housing * Emerging Sectors
19 September (Brighton)/20 September (London) – Eritrea Education, Youth Migration, Challenges and Opportunities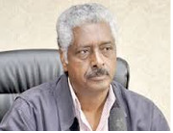 Keynote speaker Professor Tadesse Mehari, Executive Director of the National Commission for Higher Education, Eritrea
Presenting higher education, leadership, research, and real life case studies, this seminar will discuss the most pressing issues in Eritrea. A Q&A session will be held to address your important questions.
Time: 3pm-6pm Venue: University of Brighton, Business School, Room 218, Mithras House, Lewes Road, Brighton, BN2 4AT To book your place please
Email: cupp@brighton.ac.uk
Date:
20th September 2016
Time:
6pm-9pm
Venue:
Birkbeck University, 421 Malet Street, London WC1E 7HZ
To book your place:http://www.eventbrite.com/o/diversity-resource-international-11131682114
20 September – TMT Finance Africa, Lagos, Nigeria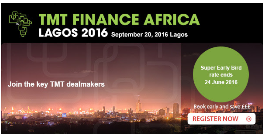 In partnership with IHS Towers, the largest mobile telecoms infrastructure provider in EMEA, TMT Finance Africa in Lagos 2016 will gather the key industry, government and finance leaders.
TMT Finance Africa in Lagos includes key sessions on African Telecom Investment Strategies, West African Government Telecom Leadership & Digital Africa. The event is exclusively for senior executives active in investing, advising and financing critical telecom, media and technology investments in Africa.
Meet all the key African & international players driving large scale investment, M&A activity & financing in Africa TMT
Gain the latest strategic thinking on deal activity and strategy
Assess Assess new scenarios, ideas and operational strategies
Establish partnerships and syndicates with the most active operators
Featuring one full day of opportunities:
6 Leadership Panel Debates 4 Visionary Keynote Presentations 10 Peer to Peer Round Table Sessions 5 Hours of Networking Breaks - Breakfast, Lunch, Cocktails
Find out more at www.tmtfinance.com/lagos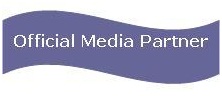 20-22 September – Propak West Africa 2016, Lagos, Nigeria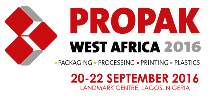 Propak West Africa is the largest Exhibition dedicated to the packaging, printing and plastics industry in West Africa.
2016 is expected to attract 3000 attendees over the three days, who will come to discover and discuss the latest technologies and solutions available for their sector from the 130 exhibitors who will take their stands in Lagos come September. With Nigeria leading the growth in the manufacturing sectors as it moves away from oil for its future growth, the food manufacturing, pharmaceutical packaging and printing sectors are viewed as key to reach the targets laid out in the budget.
Alongside the exhibition a high level conference program will run with presentations, technical classes and panel discussions from the leading minds in the sector from the region and around the globe. The conference is being constructed with close collaboration from the leading Industry Associations, Commercial Partners and Ministries so that it focuses in on the issues that are pertinent for West Africa.
Propak West Africa will also act as host for the Afristar Packaging Awards which showcases the very best of the African packaging industry.
2016 will be the fourth instalment of this continent wide exhibition, with sister shows in South Africa and Kenya. The Exhibition takes place at the Landmark Centre, Victoria Island, Lagos from the 20-22 September 2016 and it promises to continue its place as the paramount platform for the sectors.
For more information visitwww.propakwestafrica.com
Contact: Othello Rolet
Tel: +44 (0) 207 886 3028
Email: othello.rolet@montex.co.uk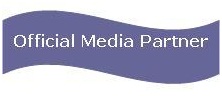 20-22 September – Innovation Africa 2016, Nairobi, Kenya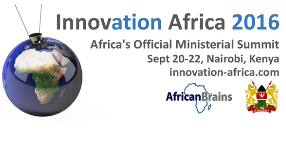 Now in its 6th year, meetings based summit Innovation Africa 2016 is taking place in Nairobi, on 20-22 Sept 2016 under the official patronage of the Kenyan Ministry of Education, Science & Technology and hosted by Cabinet Secretary Hon Fred Matiang'i.
Innovation Africa 2016 will leverage its position as the continent's number one high-level ministerial forum to ensure the participation of over 40 countries with 90 ministerial invitations. We aim to exceed all previous attendance records. It is now Africa's 'must participate' event for education, innovation and ICT.
Participants will have the choice of booking meetings in advance of the event with ministers of basic and higher education, ICT, science and technology together with special government agencies for education, universities and technical colleges.
Innovation Africa 2016 offers an outstanding choice of different options to companies, allowing you to select a partnership package that best suits your needs and meets your objectives. Being a partner at our summits is a proven method of raising your company profile and gaining maximum exposure.
For details and to register:www.innovation-africa.com/2016/register
Enquiries to:events@africanbrains.org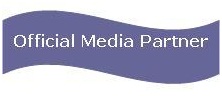 21-22 September - 2nd Annual HR Winners Africa Conference, Nairobi, Kenya

This two-day event will gather the top level HR Professionals in order to crack Africa's talent challenges. It will offer a great opportunity to take a closer look at current talent management, engagement and leadership development challenges, exchange fresh ideas and network.
Participants will discover what are the macro trends impacting the workforce, listen about the Human Resource Management Professionals Act and how it has transformed the HR profession in Kenya, hear what engages employees the most and grasp what it takes to become the top organisation for leaders, and much more!
Link:https://fleming.events/en/events/hr/hr-winners-africa-conference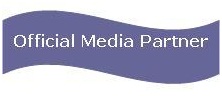 22-23 September – NigeriaCom, Oriental Hotel, Lagos, Nigeria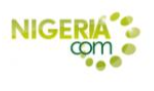 The 6th edition of NigeriaCom will take place at the Oriental Hotel, Lagos, this 22 – 23rd September, attracting 750+ decision making attendees; 43% C-Level and 54% operator attendance.
If you are active in the digital and communications sector within Nigeria or West Africa this presents the only show of significant scale where you can engage with Nigeria's knowledge economy. Anyone with a stake in the region's digital landscape understands the opportunity combined with complexity that Nigeria's unique development story presents. Don't miss out on the unique business networking opportunities NigeriaCom provides.
Critical discussion will take place at the Telecoms leaders' roundtable, where figures from the NCC and Ministry of ICT working with the network operator community delve into discussion on MBB and FBB penetration. There are a lot of challenges and queries ahead of commercial roll out of 4G LTE services in 2017. If you are invested in Nigeria's communications networks and want to join the leaders driving universal access this is the key session to attend.
As well as broadband coverage the expert panel of speakers will touch on other critical themes including spectrum as the key enabler and updates on the proposed Communication Service Tax Bill.
The ICT Leaders forum has been created to uncover the best solutions and future steps towards ICT excellence. The role of CIOs and CTOs, Heads of Technology and IT Leaders is evolving rapidly. Responsibilities now extend far beyond IT troubleshooting to include a complete overhaul of business processes enabling institutions and SMEs to compete digitally.
For details and to register: https://tmt.knect365.com/nigeria-com
25-27 September - FIDIC International Infrastructure Conference, Marrakesh, Morocco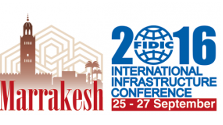 The FIDIC International Infrastructure Conference is the major international event that is dedicated exclusively to the infrastructure sector. Its participants are decision makers of the major consulting engineering firms, contractors, clients, governments and financial institutions working for the development of infrastructure. The FIDIC 2016 Conference program has been designed for CEOs by CEOs and leaders from the International Infrastructure Industry.
This year, FIDIC's International Conference, "Engineering for the Challenges of Climate Change", invites business leaders and decision makers to Marrakesh to explore the many business and financial matters impacting on our living and working environment, particularly as a result of Climate Change.
Kkey issues impacting on consulting firms will be examined and discussed. Participants will gather in Marrakesh to explore Scenario Based Planning, COP22 and the role of consulting engineers, Building Information Modelling (BIM), Stakeholder Engagement, Consistency in Design and other criteria, Integrated Resource Management (solving multiple problems simultaneously), Risk and Liability, and the looming Water Crisis. Renewables and Clean Energy will also receive close attention.
For further details and to register:www.fidic2016.org
October 2016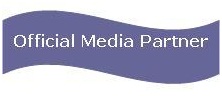 4-6 October - Africa Hotel Investment Forum, Kigali, Rwanda
AHIF is attended by the highest calibre international hotel investors of any conference in Africa. It is the leading hotel investment conference that connects business leaders from the international and local markets, driving investment into tourism projects, infrastructure and hotel development across Africa.
Government of Rwanda through the Rwanda Development Board, will host the Africa Hotel Investment Forum (AHIF) in October 2016 in Kigali.
Rwanda's tourism sector has positioned itself as the leading foreign earner for the country. For the financial year 2013 to 2014, the sector registered a 3% increase in the number of visitors to Rwanda. These numbers grew from 1.14million visitors to 1.2 million visitors also accounting for an increase in revenue from $293.4m in 2013 to $303m in 2014.
Leisure has been a major driver of Rwanda's tourism industry. The country is now focusing on Meetings, Incentives, Conference and Exhibitions/Events (MICE) tourism, capitalising on safety, developed infrastructure, accessibility and new entrants to their hotel industry.
AHIF 2016 Rwanda will provide an opportunity to meet local organisations and forge partnerships in the Land of a Thousand Hills and also provide an opportunity to experience some of the renowned attractions the country has to offer.
For further details and to register: http://bit.ly/1LDUQiV
4 October – AviaDev Africa, Kigali, Rwanda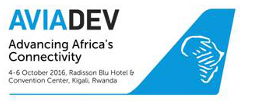 AviaDev Africa is a unique platform bringing together airlines, airports, hotel and hospitality investors for the first time, is being launched this year in Rwanda.
The inaugural forum on aviation route planning and development will run in parallel with the prestigious Africa Hotel Investment Forum (AHIF), providing government and industry with a valuable opportunity to take a strategic approach to the expansion of travel across the continent.
Leading airline, airport and hotel executives, alongside government representatives, will be able to explore the crucial link between aviation and hotel investment and discuss potential new airline routes in exclusive one-to-one meetings.
The conference is timely. 7 of the 10 fastest growing passenger markets over the next 20 years will be in Africa, according to a 2015 IATA report, and Rwanda, the host country, is among them.
The event will include workshops on the rise of the "airport city" in Africa, organised by leading experts WiedemannConsultants GmbH, as well as the environmental factors needed for success. International consultants, InterVISTAS, will also run a route development masterclass. Delegates will have the opportunity to organise route development meetings with a range of airports and airlines to help realise Africa's full potential.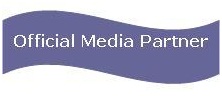 5-6 October - GTR Africa Trade & Infrastructure Finance Conference 2016, Park Plaza Hotel, London

The GTR Africa Trade & Infrastructure Finance Conference will bring together high-level participants from across the trade finance community for topical discussion and unrivalled coverage of the African trade, export and commodity finance markets.
The event will offer timely updates through analytical conversations and insightful case-studies with the aim to develop strategies for growth across different parts of the region.
Dedicated networking sessions will be held through-out the two days allowing delegates the chance to become re-acquainted with old contacts and foster new working relationships with those keen to do business across Africa and beyond.
Reconnect Africa has secured a limited amount of corporate passes (available for exporters, importers, distributors, manufacturers, producers and traders of physical goods only) these passes will be available on a first come first served basis. In addition, any other registrations made will receive a 15% discount with code RCAFRICA15. Please keep in mind that these offers are not available in conjunction with any other offers and are eligible for new registrations only.
In order to register for the corporate passes and benefit from the discounts please contact Elisabeth Spry at espry@gtreview.com, or visit the GTR website. All attendees must be registered prior to the event.
15% Discount Code: RCAFRICA15
For details and to register: http://www.gtreview.com/events/africa/gtr-africa-trade-infrastructure-finance-conference-2016/?utm_source=Reconnect%20Africa&utm_medium=Banner%20Link&utm_campaign=GTR%20Africa%20Trade%20%26%20infrastructure%20Finance%20Conference%202016
5-6 October – The African Legal Network (ALN) 3rd Annual International Conference, Park Hyatt, Dubai, UAE

The ALN Annual International Conference is held annually with the aim of connecting Africa to international markets. Each year the conference brings together top business leaders and professionals with a deep experience and understanding of working in Africa. This event brings together business leaders and professionals to discuss the greatest opportunities for foreign investment in Africa.
The invite-only event will bring together more than 500 business leaders, senior government officials and leading members from the international investment community to discuss the greatest opportunities for foreign investment in Africa. Topics discussed at the conference will include raising capital in Africa, talent in Africa and risk management.
Key speakers/panellists include:
Former Malian Prime Minister and ALN Chairman Dr. Cheick Modibo Diarra, said:
UAE Minister for Culture, Youth and Social Development His Excellency Sheikh Nahyan bin Mubarak Al Nahyan
International Enterprise Singapore Director Jaya Gopalakrishnan
Former US Assistant Secretary of State for African Affairs Jendayi Frazer
Centum CEO James Mworia
Contact: For further conference enquiries,
visit:www.africalegalnetwork.com/aln2016/
8 October – Black and Asian Writers Conference 2016, Manchester, UK
The 8th Black and Asian Writers Conference and Festival will take place on the 8th of October 2016.

The Festival and Conference will take place in Central Manchester from 10am til late with the day packed with panel sessions, workshops, live spoken word, theatre shorts and an after party.
Panel sessions and conversations will include: Writing in Translation; Mental Health in BAME Writing; Digital Writing; The Future of BAME Theatre & Poetry; How to Pitch Yourself; Writing with Resistance.
http://www.cultureword.org.uk/black-and-asian-writers-conference-and-festival-2016/
16-18 October – Brexit and Global Expansion Summit, London

The Global Expansion Summit is a unique event on corporate global expansion and foreign direct investment. Focusing on organisations undergoing digital transformation, it is designed to help corporate decision makers find the best markets and business partners as they expand internationally.
The event will take place on 17-18 October, at the luxurious Intercontinental O2 in North Greenwich. This leading market conference will be focused on three sectors: ICT, Business Process Outsourcing and Financial Services. Included in the programme are IN3 and SourceSmart, which are two unique platforms in the summit.
IN3: Innovation | Investment | International
This platform will bring corporates and governments together with the global startup community to make the connection between open innovation and globalisation. Watch Dragon's Den style pitch presentations and join workshops and roundtables about expanding startup businesses abroad.
SourceSmart
This forum will delve into how organisations can evolve to capture the full potential of Global Business Services, identify outsourcing best practice, leverage emerging digital technologies and ultimately grow and expand internationally. The forum programme will cover a variety of topics from defining and delivering global business services, the impact of emerging digital technologies such as automation and robotics, data analytics for process excellence and the evolution of global talent strategies.
Register now
17-19 October – 2nd Annual Board Secretaries & General Counsels Africa, Cape Town, South Africa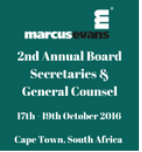 This 3-day event provides you with a wealth of intelligence on "Strengthening Your Governance Chapter" and "Commercial Awareness of Board Wide Issues" in the sunrise plenary sessions. It also features a regulatory dialogue and directors" box of insights session that engages you in high-level discussions on regulator's shifting focus in Africa and building the right synergy with board members.
Do not miss out on the spotlight thought leader keynote on "King IV Report-Bolder than Ever!" by Professor Mervyn King. You will also get access to participate in customized boardroom banter emulation on conflict of interest, scenario analysis stimulation on crises and best practice think-tank that challenges you to think outside the box. Bring these essential aspects to bear in the one-day post-conference brain-based technique workshop on "Play to Your Strength and Recharge Your Thinking in the Boardroom".
For more information, please visit event website: http://events.marcusevans-events.com/2nd-annual-board-secretaries-general-counsel-reconnectafrica/
29 October – Baraza Swahili Conference at SOAS, University of London
Our second annual day conference will address the language, literature, translation, culture, philosophy and diaspora of the Swahili speaking peoples of the world. The aim of the meeting is to foster academic interaction and exchange about new or emerging research, developing ideas and interests for mutual benefit among Swahili scholars and students.
Free registration will take place on the day of the conference, but a preliminary programme will made available before the conference.
his conference is organised by the Department of the Languages and Cultures of Africa in collaboration with the Centre of African Studies, SOAS, University of London.
10am-5pm | Room G3, Russell Square: College Buildings
Contact emails:cg17@soas.ac.uk andih11@soas.ac.uk
For further information, please visit the website
PLEASE NOTE: ReConnect Africa accepts no responsibility for any of the events described above and/or any dealings with the event organisers.
To notify us of your event and discuss advertising and marketing options, please contact us at: editor@reconnectafrica.com