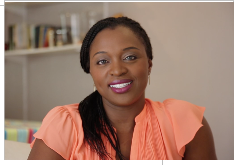 …New York University.
…working as a waitress and Sales Consultant while I was in high school. I then became a host on Channel O, on DStV.
Mimi Kalinda
is the Co-Founder and Managing Director of the Africommunications Group (ACG), a pan-African public relations and communications agency based in Johannesburg, South Africa. She is also the Director of Communications for the African Institute for Mathematical Sciences (AIMS), a network of centres of excellence incubating STEM education for Africa's brightest students while searching for the next Einstein in Africa.
Originally from the DRC and Rwanda and raised in South Africa, Mimi has held senior PR roles with FleishmanHillard and Weber Shandwick, leading pan-African business efforts, developing partnerships in new markets and managing social impact accounts, including the Innovation Prize for Africa, the Bill and Melinda Gates Foundation and the Michael and Susan Dell Foundation. She also worked to raise visibility of Samsung's CSR initiatives during the 2013 African Cup of Nations, and led content creation for the African Union's CAADP framework and Nigeria's Ministry of Agriculture.
Mimi worked in New York with director Spike Lee as a Production Assistant on the film Inside Man and produced and directed Miseducating the World, a documentary about the effect of negative US news media portrayals of Africa on Africans living in the diaspora. In 2000, she was the first African woman to host a show on MTV in 2000. Mimi's passion for positively shaping the African narrative through communications and behaviour-change initiatives has won her worldwide recognition. She was the recipient of the Emerging Producers Bursary from the World Congress of Science and Factual Producers (WCSFP). Mimi sits on the Africa Brand Counsel, and is the Rebranding Africa Champion for Africa 2.0. She was nominated for the Women4Africa Awards 2016 as a finalist in the International African Woman of the Year category.
…I am the Co-founder and MD of Africommunications Group, a pan-African PR and communications agency serving on a global scale.
As an advocate of the African continent and its growth, I also regularly write and speak about how shaping Africa's narrative positively is vital for the continent to fulfil its potential. I have recently written an eBook called "Talking to Africa", which reviews how understanding the cultural dynamics of four major African markets (Nigeria, Kenya, Ethiopia and South Africa) can lead to the development and more successful implementation of communications strategies that are results-driven.
I am also the Director of Communications for the African Institute for Mathematical Sciences (AIMS), a network of centres of excellence incubating STEM education for Africa's brightest students while searching for the next Einstein in Africa.
Additionally, I am a mom of three; two boys and a girl. I am also an Archbishop Desmond Tutu Leadership Fellow.
Whew!
What I learned along the way is…
…while I was working on set with Spike Lee, my mentor at the time, on the film 'Inside Man', one of the biggest lesson I learned is that excellence is not innate; it is cultivated with effort and supported by passion. Even one of the greatest filmmakers of all times is constantly working at becoming better at his craft. Understanding that had a major impact on me.
My greatest influence has been…
…my grandmother. Her story from living in exile due to genocide and discrimination in Rwanda, rebuilding a life for her and her children as a widow in a patriarchal society, her faith, and her ability to rise from the ashes and succeed without losing her self-worth or dignity, are inspirational qualities to me.
The best advice I ever received is...
…that the world is full of contradictions and happiness can be found in the grey areas. Life is not black or white. It is and/and. Just as there is light and darkness, there is sunshine and there's rain, there are floods and droughts; life is not linear or one-dimensional. Neither are people. Accepting the contradictions creates compassion for self and others. This is the most memorable advice I have ever received and it came from Dr Nkosana Moyo, a great scholar, thought leader who leads the Mandela Institute for Development Studies (MINDS). He shared this with Tutu Fellows at a recent workshop.
My top tips for my career are…… Have a great team: As the saying goes, if you want to go fast, go alone. If you want to go far, go together. Achieving great things is always a result of team effort.
Trust your intuition: consulting with others is an important part of the process but we sometimes do it for validation. More often than not, we already know what we need to do. Trust your intuition.
Be a realistic dreamer: dream big but remain aware that achieving your dreams may not be straightforward or without obstacles. Remain committed to the dream while you overcome inevitable challenges.
Focus: See things through to their completion, be results-driven and put your best foot forward in every situation.
Learn: never stop learning.