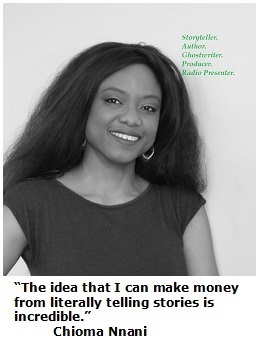 Chioma Nnani is a self-employed ghost writer who uses her creative talents to give a voice to individuals and organisations that need her persuasive communication skills
The author of the book,
'Forever There for You'
, Chioma describes herself as 'born to write, God-hungry and a storyteller'
ReConnect Africa spoke to Chioma about her exciting portfolio of creative projects
ReConnect Africa (RCA): Can you tell us about yourself?
Chioma Nnani: This question has a way of unnerving me; mainly because I am never really sure what to say. Many people go, "I'm just your regular girl, next door" - but I wonder, who isn't? Every woman is a girl next door, whether she grew up in a mansion or a trailer. I was raised in Port-Harcourt (in Nigeria) and went to boarding school in Calabar (also in Nigeria) at the age of 10. One of the things that have really stood out for me is just how much I hated boarding school.
RCA: When did you first appreciate that you were 'born to write'?
Chioma Nnani: I've written from about the age of 8. It was just 'something I did' – especially when I was bored. As a child, I was really introverted/painfully shy, so I would just sit back and watch people. Then, when I was alone, those events would replay themselves in my mind, and I would find myself re-writing some of them and adding my own bits – like things that I thought one person or the other could have said better.
English Language and Literature were my favourite subjects – but I was really appalling at Math (still am, except when I'm counting money). I remember that even with folktales and bedtime stories I was told or that I read when I was younger, I was constantly adding to them, thinking of ways they could be better. There was this book by Enid Blyton – it was called Naughty Amelia Jane. It was about this really naughty doll that gained an inordinate amount of pleasure from terrorising all the toys in the nursery, where it lived. Kinda like 'Chucky' but without actually killing anyone. I remember reading it when I was about 9 years old, and writing down what I thought might be a good continuation of the book.
I also found that I could 'predict' movies. I could tell what the characters would say, before they actually said it. I remember watching a movie one time with my dad, and he was like "Have you watched this before? Why are you able to say the exact words?" I could also watch a movie once, and remember every single word, nuance, gesture, the characters' make-up, and clothes. Now, I have an above average shot at being able to predict storylines; and write some pretty decent ones.
I think that sometimes, what you're really meant to be doing, just … chooses you, instead of the other way round.
I'm fine with public speaking, but just feel totally in my element when I'm writing. When I'm writing (especially fiction), I feel like a mini-creator, because nothing can happen without my say-so. I realise that may sound a bit narcissistic, but I try to make sure that characters that I have created don't do anything without a reason. So, I create back-stories for them (even when I don't reveal their back-stories to readers). When I'm doing that, I feel like I'm doing part of what I was born to do. Being a storyteller, for me, is so much more than 'just writing'.
RCA: What did you study and how did your career as a professional writer develop?
Chioma Nnani: I actually hold a Law (LLB) degree from the University of Kent, Canterbury. I also have a PgCert in Food Law from the De Montfort University, Leicester. I wanted to be Corporate Law's answer to Fiona Shackleton, Prince Charles' lawyer in his divorce from Princess Diana.
I had initially started out wanting to specialise in Family Law, but a mini-pupillage with a set of law chambers made me think again. The barristers were nice to me, but the clients … the hatred that some of them displayed towards each other made me wonder if I wanted to be around that for the rest of my life
I love entrepreneurship and have an understanding of how the corporate world works. So, for me, the next best thing was to go down the Corporate Law route. But during my final year examinations, I woke up one day, and knew something had 'gone wrong'. The burning passion I had had for Law had just vanished. I loved Law (still do) but when I tried to envision my future as a lawyer, I didn't like what I saw. After I graduated, I didn't even know what I wanted to do with my life. To be in a position where I didn't know what I was doing is one of the most vulnerable positions I've ever been in. And I really hated it.
I think that sometimes, what you're really meant to be doing, just … chooses you, instead of the other way round. I've written for years. But I had never taken it seriously. Maybe, it was because of my culture, where a lot of emphasis used to be placed on being a doctor, lawyer, or engineer. I just don't remember there being a time when becoming a writer was an aspiration for anyone in my generation. Obviously, times have changed and people are now more open to the creative industries. But growing up, I didn't. So, in a way, I needed a push.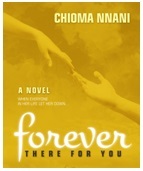 Someone who had read my blog said to me "I know you studied Law, and you don't see your writing as a big deal. But jet off to Nigeria with your writing; maybe God is trying to tell you something about the writing." I found my publisher (Word2Print) and a year and a half later (I had to re-write the entire manuscript, seven times), Forever There For You was released
Before then, I had encountered many rejections from traditional publishers, and literary agents; but knowing that people who weren't trying to humour me or spare my feelings actually connected with my writing – made me continue searching for the right publishing deal
Also, knowing that I can get under someone's skin, into their heads, and write down exactly what they're feeling – gave me the encouragement to become a ghost-writer. Because I know there are so many people who want to tell their stories but don't have the time or the expertise – it's an amazing market. The idea that I can make money from literally telling stories is incredible
RCA: As a ghost writer, what are some of the projects that you have worked on or are currently involved in that you can share?
Chioma Nnani: I am not at liberty to go into the specifics of my ghost writing projects, but the variety of work that's been made available to me is astounding. Some of the stories are heartbreaking. One of the best things for me is being in a position where I am constantly learning. Some of the stuff I'm told, or that I have to research as a result of working on a ghost writing project, are soooo far out of my comfort zone. They are things that I wouldn't ordinarily hear or read about. Even when the books are published, I wouldn't ordinarily have any reason to purchase or read them.
My clientele is varied – from the pastor who wants to transcribe his/her messages and turn them into a book; the housewife who wants her voice to be heard; the war veteran or battle-scarred business tycoon who wants his memoirs recorded; the beautician/TV presenter who wants to publish a 'How To' book; or a person who wants to tell a story but isn't sure how to put it together. Sometimes a company wants to re-brand and they want literature that reflects the new image they're trying to portray. Or a new start-up wants the spirit of their company captured in words.
The scope of work is really wide. At the moment, there are a few areas of work that I won't ghost write or work on. I won't do porn, or material that is sexually gratuitous for the sake of it. I won't do misogynistic material. And I appreciate that many people have their own interpretation of 'Christianity' (and they're entitled to it), but I won't do anti-Christian material.
RCA: As a ghost writer, you have to really inhabit the mind of the person on whose behalf you are writing. What helps you to do this successfully?
Chioma Nnani: It's fantastic! It's like being a shrink without a Psychology degree, or any kind of psychiatry experience; and you've got permission to operate.
I start with a paid consultation. The consultation, among other things, enables me to 'hear' a person's voice. I don't just mean literally. I believe that everyone has a voice that they may not even be aware of. Because I've been writing for a long time, there are people who are able to recognise my writing, even when my name isn't appended. They say that there is an unconscious stamp that accompanies all my work. If someone says they want me to write for them, then, it's their story, it's their 'baby'. So, I don't consider it to be fair for my stamp to be on their work. The only way to minimise or even eliminate my own stamp is to capture and reproduce their voice. My initial consultations usually last for an hour. If by the time 45 minutes of that time has elapsed I don't have a person's voice in my head, there's a good chance it won't happen.
Even if they are in the public eye (so have made a number of speeches), I put away any pre-conceived notions and listen to the human being.
During a consultation I will listen for more than just grammar. The consultation is usually when I figure out, not just the voice, but the angle from which to tell a person's story
RCA: How has your African heritage impacted the work you do and your choice of projects?
Chioma Nnani: My heritage has a pretty massive impact on the work that I do, and my choice of projects. While I believe that my writing has a cross-cultural (or even global) appeal, I tend to write things that are Afro-centric in nature; especially if it's work that's got my name on it. I can't apologise for it, because I am what I am. I very much doubt that anyone would see my very un-American name on the cover of something, and expect something from Jackie Collins. Or that someone wanting to read something by Cecilia Ahern would pick up my work
That is not to say that I remain ignorant of other cultures – after all, the world is a global village. My African heritage just means that I see, understand, and appreciate certain things that may not be obvious to some. It also means that I can tell certain stories with more authenticity than a spectator.
The impact of my African heritage also means that I will not consciously take on work that's intended to diss Africa – especially when workable solutions are not being suggested. While Africa has her problems, and I'm a strong critic of stuff that's not right with Africa, I won't kowtow to hypocrisy. Hypocrisy is a spectator telling me that there's a problem with Africa (we all know that), and conveniently failing to see that problematic situations are not endemically African
RCA: You also blog and write articles and scripts under your own name. Are there particular issues or topics that you find yourself drawn to writing about?
Chioma Nnani: Relationships. I'm fascinated, almost to an obsessive degree, by relationships. What makes people behave a certain way? Why do A and B work better than B and C? How is their ability to mesh, impacting their society?
If you'd asked me this about five years, I may have said that I am drawn to material with a feminist slant. And that would have some truth in it because of some of the work that I have done, and continue to do. I currently guest-blog for "Women & Africa", which focuses on the issues faced by African women, and the wider impact.
But I am really intrigued by the dynamics of relationships, because nobody is an island. I'm currently working on a TV series that has men at its core. For me, it's a learning curve that I am massively grateful for, because it's helped me be even more aware of what the subjects of the TV series represent. So I find that I'm looking even more closely than I used to at things like triggers and psychological make-up. It's not to be stereotypical but, to a large extent, people will do certain things that they are predisposed to
The stories I tell, particularly fiction, are character-driven purely because I like being able to gauge what makes a person tick. When I'm creating a character, I will consider even the tiniest of details – what position are they in their family? What kind of background did they have? What quirks do they have? I find the flawed or outrightly twisted characters the best to work with – because I believe that 'good' or 'evil' do not just exist in a vacuum.
RCA: With the benefits of technology, how do you see things moving forward for the kind of service that you offer?
Chioma Nnani: Technology makes it easier for me to be more accessible to potential clients. It also means that my work is more readily available. I also don't actually have to physically be with someone in order to liaise with them – Skype and Google Chat are amazing inventions.
Furthermore, I'm on a number of social media sites and Facebook, Twitter, and LinkedIn are the ones I use the most at the moment. It's also incredible because I find that people sometimes already have an impression before they meet you. I remember taking a copy of my book to a meeting with someone that I eventually did some work for. And he said, "You don't have to prove anything to me. I've seen your work. I've been on your blog, and I've already seen a copy of your book. If I didn't like what I had seen online, I wouldn't bother setting up a consultation with you."
So, technology has been good to me. I cannot complain :)
RCA: What advice would you offer to aspiring entrepreneurs with strong communications skills who are trying to make it today?
Chioma Nnani: Treat it like a real business! Sure, you either have talent or you don't. But even when you have talent, you need to appear the way you want to be addressed. If you treat it as a passing fancy, that is an invitation to people to look down on you/your gifts/your skills/your talent. I am an entrepreneur and have a cold business streak that I inherited from my father. I'm currently putting the finishing touches to my own publishing firm and independent production outfit.
Be resourceful. I remember that when I started writing scripts, I knew I needed help – that didn't come as naturally to me as writing prose. I looked at my options. The first, and most obvious, was attending Film School. But when I saw the £11,000 tuition fee, I knew there had to be other options. I went online and was able to download (free) the shooting scripts of award-winning movies and television shows. I made the library my new best friend.
I also make sure that I work with the best I can find. I may be able to write and produce, but I don't direct that well – so there's no point irritating and isolating every director in my line of vision. I still read books and watch shows (stage, and screen) in order to better myself. Being at the TOP of my game is very important to me. My worst fear, professionally speaking, is that anyone will have cause to say I couldn't deliver.
Other suppliers/entrepreneurs/artistes aren't the only ones you have to work well with. Potential clients are very important. Appearances can be very deceptive. You never know who's testing you and who's genuine. I always remember something that I read from Yemi Osunkoya (of Kosibah) along the lines of – "Treat all clients well. Whether they're spending £1 or £1 million is immaterial. You cannot consume your own services. And even if someone doesn't order today, they may be the sister of the cousin of the person who eventually will. The way you treat them will determine whether they send business your way."
Also NETWORK – you would be very surprised what and who's out there. If you never ask, the answer will always be "No". If you don't know who to ask, because you don't know they are there, you would have done yourself a huge disservice.
Chioma Nnani calls herself a Blood-washed, God-chasing storyteller. She holds a Law (LLB) degree from the University of Kent, Canterbury; and a PGCert in Food Law from the De Montfort University, Leicester. She is the author of FOREVER THERE FOR YOU, which is available on all Amazon websites (UK, US, EU),
www.waterstones.co.uk
, and
www.word2print.com
.Readers based in Nigeria and Ghana, can purchase it from
www.walahi.com
.,and selected bookshops. She is also the author of upcoming THE TRIPLE-R SERIES (a Christian series aimed at teenagers). She is a guest blogger for WOMEN & AFRICA, and MATKOUB. Chioma is a ghost-writer, and is putting finishing touches to her publishing firm, and her independent production outfit. For more of her work, as well as updates, please visit and sign up to
www.chiomannani.blogspot.co.uk
@ChiomaNnani.