……. As a leader, always take full responsibility publicly when things go wrong – you can kick your team's collective butt behind closed doors.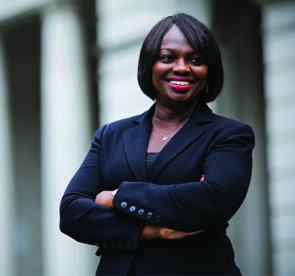 Rosalind Kainyah MBE
Managing Director,Kina Advisory Services
I was educated at....
…. Holy Child Secondary School, Cape Coast, Ghana; Wesley Girls' High School, Cape Coast, Ghana; Aburi Girls' Secondary School, Aburi Ghana; University of Ghana, Legon; University College London….and I continue to be educated every single day of my life.
My first job was....
…… My first paid job ever was a holiday job in Lagos, Nigeria doing admin work for a company – I can't remember the company, but the experience will stay with me for the rest of my life! I was 18…
What I do now is....
….. I run my own company, a socio-economic advisory firm. We work with businesses operating and investing in Africa to help them achieve their business objectives and contribute to deeper and more inclusive national economic growth. We provide strategic advice on and execution support for intelligent and commercially focused socio-economic, governance and organisational development strategies and programmes.
Rosalind Kainyah MBE has extensive experience in government relations, political risk management, social investment and corporate and environmental law, focusing on the mining and oil industries in Africa.
She has held senior positions with Tullow Oil plc and De Beers and advised governments on policy and legislative matters. She has a BA in English from the University of Ghana and an LLM from University College London. She was called to the Bar of England and Wales (Gray's Inn) in 1988 and is a member of the Chartered Institute of Arbitrators.
Rosalind has a strong reputation for advising companies on how best to contribute to the socio-economic development of the countries in which they operate, to ensure the long-term profitability and sustainability of their businesses. In 2013 she established Kina Advisory Limited to help her clients navigate their way through the economic, political and social risks of working in Africa in order to strengthen the in-country relationships required to establish the companies as long-term partners of choice and underpin their business success.
Combining her legal, relationship and issues management skills, Rosalind has effectively represented companies in negotiations with governments in Africa.
Alongside legal advice, she ensured that they identified and managed the political and social risks required to achieve their business goals, while contributing to national development goals and aspirations.
She also provided advice and assistance to Kofi Annan, former UN Secretary General, and his Africa Progress Panel (APP) on how best to engage the private sector in implementing recommendations of the APP's 2013 report on the extractives industry.
Rosalind sits on the Global Advisory Board of The Africa Leadership Network, is a Non-Executive Director of Invest in Africa, and a Trustee of The Africa Centre (UK) and of The Resurgo Trust, which helps communities tackle complex issues and overcome social challenges through social ventures. She has been Trustee of The Africa Center for Economic Transformation until 2011 and of The Africa America Institute until 2009. Rosalind has participated as a speaker and panellist in numerous conferences and workshops on the private sector and development in Africa.
In 2014, she was awarded an MBE for services to corporate social responsibility for the benefit of young people in Africa.
What I learned along the way is…
….. Never stop learning and curiosity is a good thing… I don't need to know everything but I need to know enough people who collectively know everything.
Sometimes, just sometimes, the crowd isn't always heading in the right direction, and even if they are, it isn't the only right direction. There is so much unoccupied space and although it can be a little scary exploring, it is worth the risk. But always have a small council of wise ones around for advice and input. You don't have to take their advice, but you should take their advice into account
The greatest influence on my life has been……
…It's been a collective 'greatest influence' – my mother (85 and still fabulous!), my last four bosses (stretched me, threw me in at the deep end because they believed in me), my coach (he's amazing!), my best friend ('the QC') and a small but very close (to me) group of exceptional women who tell me as it is – all the time!
The best advice I ever received is…
…. As a leader, always take full responsibility publicly when things go wrong – you can kick your team's collective butt behind closed doors. But let your team take all the praise when things go right.
My top tips for succeeding in my career area are…
….Working hard(est).
Sticking to what I believe in and the values I have set myself – integrity, integrity, integrity.
Thinking about ways in which I can create or contribute to real value for the businesses I work for – realising that making money and doing good are NOT mutually exclusive but rather mutually sustaining.
Hiring the very, very, very best people
Being brave and believing in the fullness of my potential – I am still learning that!