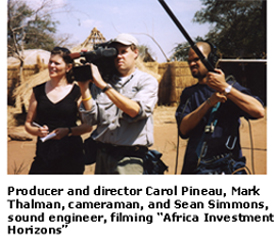 A new film by award winning producer Carol Pineau shows enormous investment opportunities in a continent that many least expected.
A new documentary, "Africa Investment Horizons", which premiered at the New York Stock Exchange in April 2007, shows the tremendous gains being made in Africa's vibrant emerging markets and proves one surprising fact – that the highest rate of return on direct investment is found on the continent most people think of as an economic wasteland.
With the current U.S. economic downturn, investors are looking for new markets. This one-hour documentary, produced by Carol Pineau, director and producer of the award-winning documentary, Africa Open for Business, shows that Africa may be the next untapped investment destination.
A Mutual Fund in Ghana that has averaged 60% Returns
"Africa Investment Horizons" presents compelling narratives from international and African business leaders on the tremendous potential of Africa's emerging markets and how their investments have succeeded beyond expectations despite the challenging business climate. Stories range from the largest equity fund in Africa where the price of entry is $5 million, to a mutual fund in Ghana that has averaged 60% annual returns and requires a minimum investment of about $55.
Big investors have been investing in Africa for more than a decade, but most have kept quiet about the astonishing returns, preferring to keep the investing world's final frontier to themselves – until now.
"Most people think of Africa as a region rife with wars, disease and poverty, but that is not the Africa of today," said Pineau, a journalist with more than a decade of experience reporting on Africa for CNN and other major media. "Today's Africa is a continent with challenges, but it is a continent on the move and an attractive investment destination. More important, investment may be the best means for addressing Africa's challenges."
Big investors have been investing in Africa for more than a decade, but most have kept quiet about the astonishing returns.
Pineau's filmmaking has been hailed for showing a more balanced vision of Africa. She is the producer and director of the award-winning documentary, 'Africa Open for Business', a groundbreaking film voted BBC Documentary of the Year. The film was also screened at the Cannes Film Festival, World Economic Forum, US Congress, and other top venues. It aired on BBC World and public television stations in the US. She recently directed and produced Kenya Stories, a film on Kenya's aspiring young entrepreneurs.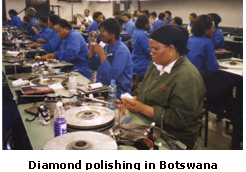 "African Investment Horizons" features the three major avenues for investment in Africa: capital markets, equity funds and launching a business. The first half of the film shows a kaleidoscope of opportunities throughout the continent, while later segments address the issues around investing, such as corruption, political risk, currency devaluation, and the trade versus aid debate.
The film chronicles inspiring stories of dynamic and committed businesspeople working to create a new economic future for Africa. Among the featured stories are two Ivy League educated Ghanaians who left top jobs on Wall Street to return home. With $25 million from institutional investors, they walked into the Ghana Stock Exchange and did what is now referred to as "the big bang" that put the Exchange on the map.
Also featured is the Governor of the Bank of Botswana, whose prudent management of her country's vast diamond income has not only resulted in one of the highest per capital savings rates in the world, but also allowed the country to offer free education to all and anti-retroviral drugs to people living with HIV/AIDS.
ome of the Fastest Growing Economies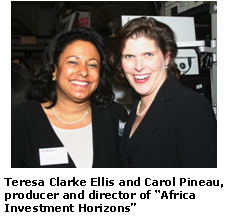 Africa boasts more than 20 stock exchanges and the some of the fastest growing economies. China, Russia and India are investing heavily in the continent, and yielding impressive returns. Those returns average 30 %, compared to 16 to 18 % in other developing countries.
"Typically, one gets high returns where there is little information and little competition," Teresa Clarke Ellis, Goldman Sachs's Managing Director of Investment Banking explains in the film. "The capital markets in Africa are a fraction of the size of the more developed markets," continues Ellis. "However in the last few years we've seen substantial returns outpacing those in the developed markets by a large measure," she adds.
Africa's role as a major player in the global economic field is underscored by the fact that film production funds were generated solely from African sources, including: Noah A. Samara, CEO of Worldspace; Sasol; Coca-Cola Africa; Industrial Development Corporation; Trust Africa; and Open Society Foundation for South Africa.
The NYSE event was sponsored by IBM's Global Innovation Outlook and the African Development Bank. After premiering in New York City, the film was launched at the US Chamber of Commerce in Washington in May followed by the London Stock Exchange later that month. The documentary will be screened throughout the U.S., Africa, Europe, and Asia, thanks in part to funding from USAID.
For more information and to view the preview, please visit www.africainvestmenthorizons.com