CNN and Interims for Development partner to promote responsible coverage of Ghana's elections
The role of the media in educating and informing the public as well as in keeping Africa's democratic representatives accountable in the process of development is critical.  For journalists to report responsibly and effectively, there is a recognised need for continuous training to ensure best practice in journalistic ethics and in the techniques and practices of good reporting.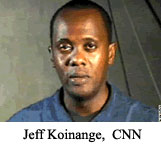 For CNN, a leading broadcaster with a major presence in Africa, the recent political elections in Ghana offered an opportunity to contribute to the development of journalistic skills and ethics. Sally Perry, Head of the Community Engagement Programme at Turner Broadcasting System Europe, the European arm of CNN's parent company, turned to Interims for Development to develop a concept for implementing a CSR project in Ghana.
In collaboration with Turner/CNN, Interims for Developmentdeveloped the concept of a one-day Journalism Workshop entitled 'Election Coverage in Africa, Lessons learnt with Jeff Koinange'The Workshop, which was sponsored by CNN via Turner's Community Engagement Programme, offered a rare opportunity for Ghanaian journalists to engage with seasoned journalist, Jeff Koinange, to address the challenges of reporting on political elections in Africa and with specific reference to the impending elections in Ghana.
As CNN's bureau chief in Lagos, Jeff Koinange is responsible for coordinating all news output from West Africa and also for covering events throughout the rest of the African continent.   With an illustrious journalistic career, Koinange, a Kenyan, joined CNN in 2001 and has reported extensively across Africa.  Among the electoral milestones which Koinange has reported are Sierra Leone's first presidential elections held in May 2002, following a decade of civil war, Zimbabwe's last presidential elections and the Zambian elections in 2001.  Prior to joining CNN, Koinange worked for Reuters and reported on the election of Thabo Mbeki in 2000.
 The one-day workshop, held in Accra in mid-November, and opened by the President of the Ghana Journalists Association, was attended by senior and junior editors and reporters from print, radio and television. 
Participants covered a wide range of topics including social commentary and journalistic ethics, conflict prevention in election coverage and maintaining national rather than partisan interest.  Editing and writing techniques were addressed as well as the challenge of meeting deadlines during election coverage.  Participants were also shown selected video clippings by Koinange from a number of elections he had previously covered.
"The event was a big success", confirmed Sally Perry, who has successfully overseen CSR projects in the UK since the recent creation of her department. 
While Turner has a well-established community engagement programme in the USA, this workshop provided an opportunity for its European arm to demonstrate the breadth of its commitment to engaging with its market globally and, in particular, within Africa.