Vincent Owen, Senior Training Consultant with Interims for Development proposes that the old adage of "Those who can, do…those who can't, teach" is outmoded, and offers a few tips for trainers on how to manage their self-development.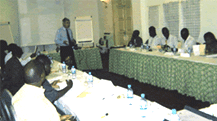 The old adage goes "Those who can, do…those who can't, teach." There is another even less complimentary follow-up, which says, "Those who can't teach, consult"!
As someone who has done, taught and consulted, I feel there is something of a problem here. To suggest that teaching and training are options for those people who are incapable of doing anything else could not be further from the truth.
Who's Training the Trainers?
One of the key areas on the HR agenda these days is that of developing people. If this is to be the case then it is a sine qua non that the people charged with developing others will need to be highly skilled themselves to have the ability and credibility to carry out their mandate. One of the areas in which these people will need to be skilled is, of course, that of training and facilitation.
If we take a quick look at the role of the trainer we can distil it into two key areas – "skill/knowledge" transfer and "ideas" transfer. To be effective in either of these areas, the trainer will not only need to acquire the skills and ideas to be "transferred", but must also possess the facilitation ability to make this happen.
All too often, trainers are inadequately trained themselves in the facilitation element of the role which, arguably, is the most critical skill required. After all, with modern technology – e-learning and the internet – a reasonable level of pure knowledge acquisition can be acquired without the intervention of a physical being.
Building Facilitation Skills
So what can "under-trained" trainers do to help themselves if they feel insufficiently prepared to facilitate effectively?
Whenever the opportunity to go on a presentation or facilitation programme comes up, welcome the opportunity and attend. There is always something to learn both from the presenter, in terms of their content and how they actually present themselves, and also from fellow participants

Review the feedback from programmes you deliver critically and intelligently. A well-designed level 1 feedback from will enable you to elicit where you might be able to develop your strengths further. The feedback form should not be used just to give yourself a pat on the back for a job well done, but as a useful means of self-development.

If you have a participant on a programme you are running who is a close and trusted colleague, ask them to give you a critical appraisal of your performance at the end of the programme. You may not like everything you hear, but this can also be very useful.

If you are co-running a programme with a colleague, rather than just go home at the end of the day having delivered your sessions, take out 15 minutes or so and give each other feedback. After all, when you are delivering your sessions, your colleague will probably be in the room as a listener. As co-professionals you can both give each other feedback in confidence and both learn from each other's successes.

Whenever you attend any kind of training programme yourself, in addition to using it as a learning experience from the content point of view, take on board how the presenter actually operates. There may well be things done by the presenter which you can add to your own box of tricks - and less successful elements to avoid using yourself.

Use the internet as a form of self-development. By intelligent surfing, you can find any number of sites which cover aspects of training, staff development, people's different learning styles and the like.
Good luck with your training and your own self-development. Let's re-write the old adage as "Those who can, teach"
For further information about Train the Trainers programmes and Facilitation Skills training, contact Interims for Development at info@interimsfd.com