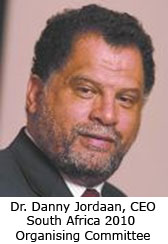 As South Africa gears up to host the FIFA 2010 World Cup, ReConnect Africa reports on the recent visit to London by Dr. Danny Jordaan, CEO of South Africa's 2010 Local Organising Committee.
"Just over two years ago, South Africa won the right to host the FIFA 2010 World Cup and, with it, a wonderful opportunity to showcase the achievements of South Africa since our hard-won democracy," said HE Lindiwe Mabuza at a briefing held in central London by Dr. Jordaan.
The South African High Commissioner to the UK opened the programme by underlining how the 2010 World Cup offers the "opportunity to change negative perceptions of our entire continent and promote trade and investment in Africa."  She described the briefing as an event intended to dispel misconceptions about South Africa, which has already successfully hosted both the 1995 Rugby World Cup and the Cricket World Cup in 2003.
Dr. Danny Jordaan, CEO FIFA 2010 Organising Committee South Africa
"Danny Jordaan is passionate about 'the beautiful game'," said Mabuza, in introducing the South African leader of the country's Organising Committee.  With numerous leadership and sporting credentials gained at the highest levels, Danny Jordaan has become the face of South Africa's determination to host a World Cup to exceed all others.
A former lecturer, politician, sports administrator and businessman, Jordaan was also a political activist in the struggle against apartheid in South Africa.  Once a strong advocate for a sporting boycott against apartheid South Africa – "we cannot have normal sports in an abnormal society" – Jordaan served as a Member of Parliament under President Mandela before being appointed as Chief Executive of the South Africa FA in 1997.  He was instrumental in transforming the economy of South African football, raising revenue from the sport from US$3.2 million to US$35 million.  Jordaan led the country's bid for the 2006 FIFA World Cup gaining invaluable experience for the country's subsequent successful bid for the 2010 games.  In 2001, he was the recipient of the Presidential Sport Achievement Award from President Thabo Mbeki.
Addressing the Myths and Perceptions
"This is a World Cup for South Africa to celebrate – and we will celebrate," declared Danny Jordaan in his address to a packed hall in South Africa House.  He quickly tackled what he described as the question he is constantly asked: 'with all its other issues and priorities, why does South Africa want to host the World Cup?'
Pointing out that while the World Cup will be taking up only a small percentage of the national budget for infrastructure, ensuring that the event became part of an integrated strategy was a clear challenge for the country.  "The World Cup is going to test the fiscal muscle of South Africa; the technology and skills of South Africa.  It will also test our Government's ability to deliver on all those things; our construction capability and our IT capability.  The World Cup is really a test for all of us in South Africa."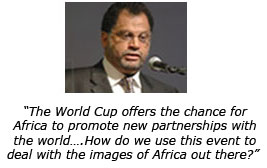 Setting out the progress made to date, Dr. Jordaan outlined the key steps that have been have taken.  A registered company has been set up to manage the event and is run by an Organising Committee comprising representatives from football, business, government and the labour union, COSATU. 
The World Cup offers the chance for Africa to promote new partnerships with the world, said Dr. Jordaan.  "How do we use this event to deal with the images of Africa out there?" 
The World Cup is a huge commercial undertaking and part of Dr. Jordaan's remit is to debunk the myths about fiscal competence in Africa.  "The message across the world has been that Africa cannot provide a profitable World Cup," he remarked.  "South Africa 2010 is already the highest revenue earner among World Cup hosts in 100 years," he added.  "This is the country that people argued would generate the biggest losses."
Progress to Date
2007-2008 represents the operational phase of the planning.  To date, reported Dr. Jordaan, the selection process for host cities has been completed, host city fora have been established and contracts signed.  All the stadium contracts have been signed and Government guarantees finalised.  New stadium construction is underway and the 2010 FIFA World Cup emblem has been unveiled.  In addition, the match schedules have been finalised and 11 commercial affiliates and sponsors have signed up to US$3.2 billion of sponsorship, with three years still to go – a noteworthy achievement when compared with the World Cup in Germany which raised a total of US$2.8 billion in sponsorship.
"The World Cup is not only South Africa's World Cup, but Africa's World Cup.
"This event must also make a contribution to football across the continent."
To date, 95% of broadcasting rights have been sold and the slogan and posters finalised.  All the senior staff members have been appointed and operating costs are currently around 30% below budget.
While conceding that South Africa, as a long-haul destination, will expect a lower number of visitors than those Germany hosted, 3.4 million tickets will be made available for the event and he was confident that the South African event will attract many more viewers worldwide than the 26.4 million that watched the 2006 World Cup.  "TV revenue for the 2006 World Cup was about Euro 1 billion," he said.  "We have already generated Euro 1.4 billion for 2010."  Furthermore, he said, "2010 will be the first World Cup to offer full broadcasting on mobile phone and will be broadcast in HDTV (High Definition TV)."
.
Mix of African Experience and World-Class Delivery
South Africa has a well developed infrastructure and the Organising Committee is committed to ensuring high quality transport and technological infrastructure.  A new airport is under construction in Durban while 10 stadia have been allocated for the event; five of which will be new, one in line for a major upgrade and four needing minor refurbishing. 
"Transport has been a major area of focus because our country is quite vast and we want to be the first World Cup to include lodges and game parks into our offering," said Dr. Jordaan. 
The Committee plans a World Cup that offers a mix of African experience and world-class delivery, said Dr. Jordaan.  "This will be the first World Cup where you can watch the game in the stadium and, fifteen minutes later, you can take a walk near the lions in Kruger National Park!"
Ensuring an African Legacy
The investment needed to stage a successful tournament is considerable and South African companies including MTN, Telkom and FNB have been at the forefront of sponsorship, a clear commitment says Dr. Jordaan, of the country's business sector to the World Cup.  The pressure for a developing economy to justify this expense is immense, said the CEO. "We have to ask the question, 'what happens to that investment on 12 July 2010?'
The World Cup is not only South Africa's World Cup, stressed Dr. Jordaan, but Africa's World Cup.  "This event must also make a contribution to football across the continent," he said, noting that in terms of football revenue, all 53 African countries currently generate less than one premiership club in Europe.
"Come home….you are not expats, you are South Africans."
South Africa's broadcasting corporation, SABC, will provide a free feed to most African countries' broadcast networks, said Dr. Jordaan. In addition, the country will be supporting training and other capacity building for sporting administrators in other African countries. Furthermore, presenting a positive picture of Africa's capabilities through a successful South African World Cup will, he said, benefit the whole continent.
Dr. Jordaan also took the opportunity to urge South Africans in the UK to become ambassadors for the event and to bring their skills back to South Africa. "Come home," he said. "You are not expats, you are South Africans. After you have seen the world and have the experience to make a contribution, we encourage you to come home and make a difference."
Staging a World-Class Event
Addressing the issue of crime in South Africa and how this might impact on the event, Dr. Jordaan pointed out the country's positive record for safeguarding visitors at its sporting events.  "Over 13 years, there has not been a single incident of crime to do with the sporting events we have held in this country," he said. 
Dr. Jordaan expressed his optimism about the possibility of an African team winning the Cup in 2010.  "Europe hosted in 2006; a European team won.  As long as an African team can lift the trophy for the first time in 100 years, then our event will have been a success!"
"This will be an African event, a world-class event.  We can't wait to show that there's no contradiction."
The issue of Africa's credibility is what is really at stake with the World Cup, intimated Dr. Jordaan.  "The believability of an African country to deliver the event is what we are talking about," he said.  "We waited 100 years to be the first African country to deliver and we have to say never again should we have to wait for so long."  The commitment of all the stakeholders will be crucial, he said.  "Our workers who are building the stadia say to me, 'we are not building a stadium; we are building our country'."
Acknowledging the frustration of Africans in the face of the persistent doubts expressed in the West about a successful African World Cup, Dr. Jordaan urged restraint.  "You have to be patient," he said.  "Some people take longer to believe than others.  You have to be patient until everyone believes."  Confounding the doubters is a challenge that his team is ready to meet.  "We have to be ahead of the game; if we are equal, we lose."
The vision and mission of the World Cup for Danny Jordaan and his team is to strengthen both South Africa's and Africa's image.  "This will be an African event; a world-class event.  We can't wait to show that there's no contradiction."
For further information about the 2010 FIFA World Cup: www.sa2010.gov.za/