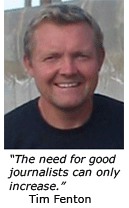 Journalism – and especially TV and radio journalism – still has a reputation for being almost impossible to break into if you don't have contacts in the industry. Not so, says Tim Fenton, a former journalist and senior manager with BBC News.
Why be a journalist? The pay – except for a tiny minority at the very top – is not great. The hours are generally long and unpredictable. And, in countries like the UK and US, journalists are regarded as almost as untrustworthy as politicians.
The answer for most aspiring reporters will have something to do with a belief that successful societies need good journalism.
Anthropology suggests that an idea of 'news' – a shared awareness of events beyond our direct experience is common to all societies. It gives us a sense of security, control and confidence. It's an important part of the 'glue' that bonds societies. Journalism is the system created to supply this news.
Engaging the Reader
Moreover, as societies get more sophisticated and complex, the need for quality journalism increases. As people work harder and have less spare time, so they need the information necessary to run their lives in as tightly focused a form as possible. As governments and corporations get bigger and more powerful, so the need for independent monitoring of those with power becomes more and more important.
The need for good journalists can only increase.
One of the earliest forms of journalism was the acta diurnal reports of proceedings in the Roman Senate and written journalism remains the first step for many. That makes sense because an ability to write clearly, concisely and in a way that engages the reader is fundamental whatever the medium. Writing for a website requires slightly different skills from printed newspapers but both teach the same basic skills.
As well as being able to write, reporters need a flair for storytelling, an original, inventive mind, enthusiasm and dogged determination. You'll need to be able to deal with simple software packages and recording equipment, but nothing that's too complicated.
Broadcast News
If you're going to move on from writing to broadcasting, you'll need a good voice. Radio is a good place to start - it helps a reporter learn to write for broadcast and to polish his or her voice. Television introduces the requirement to be able to tell a story primarily with pictures.
But is it worth starting any of this if you're not white, Oxbridge-educated and middle-class? The answer is 'yes'. Organizations like the BBC are acutely aware of the fact that their newsrooms do not reflect the diversity of the audiences they seek to serve and commercial news organizations know that if they can't reach every sector of society they won't be able to maximize their advertising revenue.
To get a first job, you'll need some talent and persistence. Interviews with reputable organizations are rarely 'stitched up'. If there is dishonesty, it is usually in the form of a willingness to interview candidates who have little realistic prospect. Two golden rules for interviews: keep your answers short and focused and prepare, particularly by reading or watching the relevant output.
Almost all BBC journalism jobs are advertised on the Corporation's website here: https://jobs.bbc.co.uk
Tim Fenton was a BBC News correspondent and, later, as Managing Editor of BBC News Online was in charge of recruitment and training in a department of around 200 journalists. He left the BBC to travel with his family. A registered Interim Manager with Interims for Development (www.Interimsfd.com) Tim is now a freelance trainer, writer and consultant.