Training programme in South Africa for Human Resources Managers and International Recruitment Executives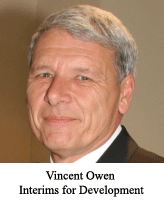 As local skills shortages impact on business development globally, many businesses must recruit internationally to increase their competitive edge.But identifying skills that are globally transferable is only the first step. Successfully integrating talent from overseas can be the greater challenge.
In association with the South Africa Institute of People Management, the African Human Resources company Interims for Development will be delivering a 2-day training programme designed for international Human Resources and Recruitment executives as well as those responsible for talent development or graduate recruitment within their companies.
"Recruiting and Integrating Global Talent" will take place from 19-20 July in Johannesburg and will assess the business case for global recruitment and how effective integration of international skills can successfully impact on business competitiveness and performance.
Successfully integrating talent from overseas can be the greater challenge.
Recruiting internationally brings its own set of challenges and, as many recruiters will attest, careful selection processes are critical to ensure not only technical, but cultural and personality compatibility.  Once hired, integrating talent from overseas, whether of African origin or not, into companies in Africa can impact adversely on employee performance if this process is not handled properly.  New employees can disrupt the status quo while local employees can feel overlooked or undervalued.
The continuing technical and management skills shortages in many African countries leaves many companies reliant on external skills, both African and expatriate, to meet the demands of their business.  Developing an effective international recruitment policy requires line managers to work closely with Human Resources to select the right talent.  Once a company has invested in international talent, ensuring that it retains these assets will call for clear integration and reward policies for those hired, as well as continuing and positive communication of a career path within the business.
With years of experience of working in Africa, Vincent Owen, a Senior Consultant with Interims for Development, can attest to the effects of poor integration on the business.  "Recruiting into the business from overseas without taking steps to coach new recruits into the home country's business culture is a sure fire recipe for disaster," he says.
The South African Institute of People Management, sponsors of the training programme, recognizes that this is a timely issue for their members. 
"Globalisation has nullified geographical boundaries in as far as matters such as business location and talent are concerned", says Elijah Litheko, Vice-President Stakeholder Relations and Interim CEO of the IPM.  "It is within this background that IPM and Interims Development are collaborating to present this two-day programme in South Africa.  This is the first of its kind in South Africa and IPM has taken the initiative to introduce something new, something innovative and timely into the South African market."
This comprehensive two-day course will enable participants to review a range of approaches to identifying talent, improve results through building effective relationships with external suppliers and sources of talent, structure effective induction programmes and integrate globally recruited talent into the business.  A working case study will provide a practical opportunity to put into practice the approach needed for increasing performance and optimising the value of external skills to the business.
'Recruiting and Integrating Global Talent', 19-20 July 2006 Johannesburg, South Africa.
For further details and to book a place, click here: