A ground-breaking 3-day programme of international Nigerian Cinema will take place in November 2016 at the BFI Southbank as part of BFI BLACK STAR.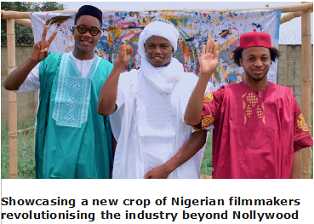 A ground-breaking 3-day programme of international Nigerian Cinema will take place in November 2016 at the BFI Southbank as part of BFI BLACK STAR.
The Beyond Nollywood weekender will showcase a new crop of Nigerian filmmakers who are revolutionising the industry beyond Nollywood with art house, documentary, animation and experimental films. The event has been curated by Nadia Denton in association with BFI African Odysseys.
Beyond Nollywood will open with Green White Green: And All the Beautiful Colours in My Mosaic of Madness (Dir. Abba T Makama) a hilarious coming of age piece, the first art house film of its kind from Nigeria. Green White Green had its world premiere at Toronto International Film Festival to much acclaim. Variety described it as 'kinetic and colourful'. Accomplished painter, Makama will be present at the screening.
One of Nigeria's most sought-after actresses, screen queen Nse Ikpe-Etim will be in discussion about her career and the Nollywood star system. Ikpe-Etim has acted in over 20 films and was voted Best Actress at the Africa Magic Viewer's Choice Awards in 2014.
UK premieres of 14 short films will be shown over the course of the weekend including; The Women of Nollywood: Amaka's Kin, (Dir: Tope Oshin) an intimate look at the careers of a handful of female Directors referencing the late doyen filmmaker Amaka Igwe; I Believe in Pink (Dir: Victoria Thomas) a documentary about men who tattoo their lips pink in Lagos; futuristic animation The Golden Chain (Dir. Buki Bodunrin); and No Good Turn (Dir. Udoka Oyeka) a thrilling glimpse into the ramification of a deadly Boko Haram attack.
From Highlife to Afrobeat
Guerrilla-style music documentary Faaji Agba (Dir. Remi Vaughan-Richards) tells the history of the music scene of Lagos from highlife to juju and afrobeat; featuring Fatai Rolling Dollar, Alaba Pedro, SF Olowookere and Ayinde Bakare.
Eight filmmakers will be present over the course of the weekender to participate in post screening Q&As including Abba T Makama, Tope Oshin, Ishaya Bako and Remi Vaughan-Richards (who will be joining us from Nigeria); as well as Victoria Thomas, Sade Adeniran, Andy Mundy-Castle and Cherish Oteka.
The Beyond Nollywood Weekender opening gala screening of Green White Green on Fri 18 November will be followed by an Afrobeats set with DJ Cuppy in the BFI Riverfront Bar.
Beyond Nollywood will take place as part of the BFI's nationwide BLACK STAR season, showcasing the earliest years of cinema through to the present day and celebrating the range, power and versatility of black actors BLACK STAR will be available to audiences everywhere in the UK; in cinemas including BFI Southbank, on BBC Television, on BFI DVD/Blu-ray and online via BFI Player from 17 October – 31 December.
The BFI is the lead body for film in the UK with the ambition to create a flourishing film environment in which innovation, opportunity and creativity can thrive by connecting audiences to the widest choice of British and World cinema, pPreserving and restoring the most significant film collection in the world for today and future generations, championing emerging and world class filmmakers in the UK, investing in creative, distinctive and entertaining work and growing the next generation of filmmakers and audiences.
Tickets for Beyond Nollywood are on sale now. For more information or to view the trailer visit www.nadiadenton.com or www.bfi.org.uk/black-star