What's on in May/June? Take a look at our listing of free and paid-for events and activities and take advantage of discounts available to our subscribers.

The following is a listing of some events taking place in the UK and overseas in May and June 2017. For further information, please contact the organisers directly.
PLEASE NOTE
: ReConnect Africa accepts no responsibility for any of the events listed and/or any dealings with the event organisers.
May 2017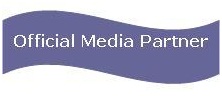 3-5 May - Mining Investment Africa, Abuja, Nigeria

Mining Investment Africa is the foremost West African Mining Forum for the global mining community. It is a strategic mining conference and exhibition for the leaders of the mining, quarrying and construction materials industries, bringing together 1000 attendees from 20 countries.
Ministers, mining companies, investors and service providers travel from all over Africa, Europe, Asia, North America and Middle East to Abuja, Nigeria from 3 – 5 May 2017 for three days of partnering, networking and business matching. The event will cover topics on mining finance, investments, technology and innovations as well as roundtable discussions on selected countries and topics.
For more information, please visit Mining Investment Africa homepage here
3-4 May - 3rd Annual State of Education in Africa Conference, Nairobi, Kenya
The SOE Africa 2017 Conference will bring together educators and innovators from around the world to help advance the progress of primary, secondary, tertiary, technical, vocational and post-graduate higher education in Africa.
Join AAI with esteemed thought leaders, educators and policy makers from the public and private sector advancing education across Africa and around the world.
Speakers Include:
Kofi Appenteng - CEO and President, The Africa-America Institute
Dr. Philip Clay - Professor, Massachusetts Institute of Technology (MIT)
Dr. Olaf Hahn - Senior Vice President, Robert Bosch Stiftung
Matthew Mugo Fields - Head, McGraw-Hill Education Consumer Group, Founder, Redbird Advanced Learning
Ivy Mwai - Program Manager, Education & Learning, The MasterCard Foundation
Dr. Sidy Ndao - Assistant Professor, Mechanical & Materials Engineering, University of Nebraska-Lincoln
Hilary Pennington - Vice President for Education, Creativity and Free Expression, Ford Foundation
Tumelo Seaketso - Director, Deloitte Consulting
Vivienne Yeda Apopo - Director General, East African Development Bank
Dr. Paul Tiyambe Zeleza - Vice Chancellor and Professsor of the Humanities and Social Sciences, United States International University-Africa (USIU)
For more information, go to soeafrica.org
6 May – The Diaspora Challenge, London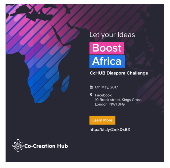 Africa has one of the largest and progressive diaspora communities in the UK. Engaging this cerebral community is critical to Africa's development. This May, Co-creation Hub (CcHUB ) will be launching a bold new initiative called the CcHUB Diaspora Challenge, aimed at reversing brain drain for the good of Africa.
It is an open innovation challenge intended to engage entrepreneurs, innovators and scientists from the diaspora communities across the UK to source scalable business solutions to social challenges in Africa.
★★★ Saturday 6th of May, 2017 | 11:00 | Facebook London,10 Brock street | Kings Cross, London, NW13FG
7-10 May – 2nd People Development in Africa Conference, South Africa

According to the International Monetary Fund Sub-Saharan Africa will have more people joining the labour force in 20 years' time than the rest of the world combined! This is a major opportunity for growth. However, if industry fails to create sufficient jobs and develop the right talent, severe economic and social problems could result.
How will you deal with this challenge?
Synthesise the best insights, from local and international business leaders, researchers and people practitioners at the 2nd People Development in Africa conference.
7-10 May 2017 Skukuza, Kruger National Park.
10% discount for groups of 4+
CPD available for HPCSA and SABPP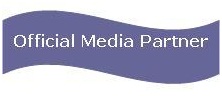 8-11 May - Africa AgriWeek 2017, Lagos, Nigeria

The foremost African Exhibition and Conference for the global agriculture, aquaculture, livestock and veterinary community
Africa AgriWeek exhibition and conference unites global and regional leaders of the agriculture, aquaculture, poultry, livestock and veterinary industries for four days of intensive networking and deal making. The tradeshow brings together heads of agribusinesses, food and agro-allied businesses, representatives of regional government authorities, distributors, resellers, importers, traders, investors and industry associations. They travel from all over Africa, Asia, Europe, the Middle East, North & South America to network, exchange ideas and meet buyers and investors at this event.
From launching of new products to showcasing the latest examples of technology and machinery for the industry as well as food commodities, Africa AgriWeek is a platform of commerce and innovation for the agriculture, aquaculture, poultry, livestock and veterinary sector. It is an opportunity to engage in conversations with more than 50 exhibitors, 1000 visitors and 25 speakers.
We look forward to welcoming you to Africa Agri Week in May 2017!
Who should sponsor or exhibit
Governments and Investment Boards
Agribusiness and related industries
Consultancy
Technology and Equipment Providers
Banks and Finance Providers
Law firms
For details and to register: https://www.africaagriweek.com/
Sponsorship, exhibition, speaking & registration enquiries:
Daniel Radziszewski +65 6717 6018 | daniel.radz@spire-events.com
Marketing and Media Partnership enquiries:
Ng Chin Chye +65 6717 6014 | marketing@spire-events.com
8-9 May – Africa Regional Internet and Development Dialogue, Kigali, Rwanda

The Internet Society will hold the first ever Africa Regional Internet and Development Dialogue in partnership with UNESCO and Republic of Rwanda Ministry of Youth and ICT.
The two-day meeting will bring together experts including government and inter-governmental organization officials, business and educational leaders from throughout the continent to discuss how Africa can use the Internet to advance education, innovation and job creation. The event aims at gathering various organizations working on Internet and development across the region to identify synergies and create opportunities for coordination and collaboration.
This conference is part of a global series of Internet development conferences organized by the Internet Society with the aim of furthering the United Nations Sustainable Development Goals (SDG) that aim at tackling the world's main development challenges by 2030.
For more information on the conference, please visit: www.InternetSociety.org/ridd/africa/2017.
20 May – Women4Africa Awards, London
Join in the celebration of Africa's finest ordinary women who are doing extraordinary things. The night will be packed with some amazing speakers, networking opportunities, red carpet, music, comedy, dance, exhibition area and more.
Time: From 17h00 till 23h30 with awards at 19h00.
Where: The Great Hall, Kensington Town Hall, Hornton Street, London, W8 7NX
Tickets: From £30pp (includes light snacks and drinks but not dinner) or £70pp VIP tickets including a 3-course dinner from their website.
23 May - Ghana 60 years On: Mobilizing for Ghana's future, Brunei Gallery Lecture Theatre, London
Ghana was the first country to gain independence from British colonial rule in 1957. This event, celebrating the 60th anniversary of Ghanaian Independence, will be conducted Ghana's Hon Minister for Foreign Affairs and Regional Integration, Shirley Ayorkor Botchwey.
The event will premiere the documentary film From Gold Coast to Ghana, a Glorious History of Self Determination. The historical film depicts the processes of Ghana's independence struggle, from the Imperial Britain's model of colonisation, to the intense and sometimes violent negotiations that attended the challenge to imperial rule. How did the controversial plan produced by the British at this historical moment allow the progress of decolonisation but ensure the ground was laid for the forces of neo-colonialism? From Gold Coast to Ghana tells the history of Ghana through its constitutions - from the bond of 1844 to the constitution of 1992 - which has now produced five presidents and seven parliaments.
Join us for this film screening, and an evening of discussion, dance and drumming. With contributions from Hon. Minister for Foreign Affairs and Regional Integration Shirley Ayorkor Botchwey, Baroness Valerie Amos (SOAS Director), Richard Dowden (Director of the Royal African Society), Paul Adom-Otchere (Filmmaker) and others to be announced.
Please reserve your seat on the Eventbrite link: www.eventbrite.co.uk/e/ghana-60-years-on-mobilising-for-ghanas-future-tickets-34471832178
Tickets are £8, and free for RAS members, SOAS staff and students
This event is organised in collaboration with the Royal African Society and the Ghana High Commission
Contact email: cas@soas.ac.uk
23-24 May – African Construction and Totally Concrete Expo, Gallagher Convention Centre, Johannesburg, South Africa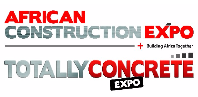 The 5th annual African Construction and Totally Concrete Expo - Africa's mega construction and infrastructure show and biggest gathering of 9000 qualified buyers and sellers for the entire built environment value chain. In 2017 the event features an indoor/outdoor exhibition with 6 new dedicated zones including Concrete and cement, MEP, Surfaces and Finishes, Tools and Equipment, Digital Construction and Construction. With a robust workshop programme, the event provides FREE HOT (hands on technical) training for professional development and skill building to create Africa's leading event for built environment professionals.
For details and to register: www.totallyconcrete.co.za
Contact: Tamsin Collins: tamsin.collins@hypenica.com , +27 21 700 4354
24 May – TMT Finance Africa 2017, Hilton Tower Bridge Hotel London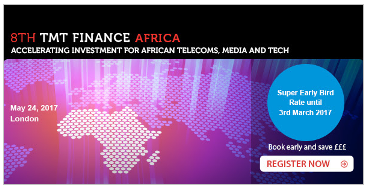 Over 70 speakers to be announced, with 20 unique sessions to choose from. Join and help influence Africa's telecom, media and tech future.
Attend and meet over 200 senior executives: CEOs, CFOs, Heads of M&A, Investment Bankers, Private Equity investors, Dealmakers, Legal Experts and Professional Advisers.
African telecoms, media and tech investment is accelerating fast and the next wave of deals will shape the sector for the next decade. Don't miss out on the most important annual meeting for senior Telecom, Media and Tech Executives, Investment Bankers, Investors and Professional Advisers active in the biggest investment deals in TMT across Africa.
Featuring one full day of:
5 Leadership Panel Debates
4 Visionary Keynote Presentations
10 Peer to Peer Round Table Sessions
5 Hours of Networking Breaks
Watch video highlights of previous years and find out more
at www.tmtfinance.com/africa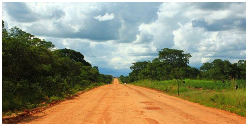 In 1980, Zimbabwe was the second most industrialized country in Sub-Saharan Africa (after South Africa) and GDP continued to grow well into the 1990s. Following Zimbabwe's independence, Julius Nyerere made the memorable comment to Prime Minister Robert Mugabe, that he had 'inherited the jewel of Africa'. And yet, the government had also inherited a paradox: a majority of its population remained among the most impoverished in the world, virtually untouched by 'growth without development'.
In the transitional and post-Brexit period, we ask what has been achieved in the years since, and investigate whether – and through what means - Zimbabwe could once again become the 'breadbasket of Africa'.
★★★ Wednesday 24th May, 2017 | 19:00 - 20:30 | Khalil Lecture Theatre SOAS

Journey to West Africa this summer with Litro Magazine's latest world series instalment – an inaugural Literary Weekender – exploring the cultural and literary landscapes of Ghana & Nigeria: A Literary Highlife.
The four-day Literary Highlife Weekender will be kicked off on the 25th May at 12.30pm by the actor Clarke Peters, who will be joined by an array of other actors and writers for a special reading in St James's Square, supported by the London
★★★ Thursday 25th of May – Sunday 28th of May | Waterstones London Piccadilly | 203 – 206 Piccadilly, St. James's, London W1J 9HD
June 2017
1 June – The African Public-Private Partnership Forum, London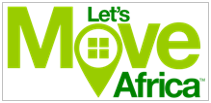 The African Public-Private-Partnership Forum organised by will take place from 6pm at De Vere Grand Connaught Rooms, 61-65 Great Queen Street, Holborn, London, WC2B 5DA. The event will be attended by African High Commissioners based in the UK, Private Equity Firms & African based Property Developers.
The conference will cover:
New policies and the future prospects for PPP's in Africa,
How national governments are promoting PPP's and establishing enabling environments for projects to flourish,
Review of case-studies and global success stories within the region,
How developing regional and country-specific projects compare,
Discover innovative infrastructure funds and available financing instruments that are shaping infrastructure investment in Africa.
For further details: www.letsmoveafrica.com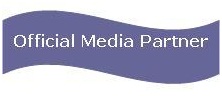 7 June 2017 - Invest in Data Center Africa, co-located with Datacloud Global Congress, Grimaldi Forum, Monaco Africa Theater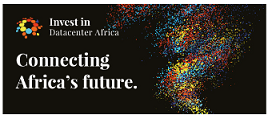 The Africa Summit will once again take place at Datacloud in Monaco June 7-8 2017. With a reputation as the leading international deal making forum for senior data center and cloud executives, the summit promises to bring fresh impetus to businesses looking to invest in the continent's data economy.
Invest in Data Center Africa -collocated at Datacloud Europe – will meet at the Grimaldi Forum, Monaco on 7th June 2017 to discuss current and future investment in Africa data centers, connectivity via subsea cables and dark fiber, energy supply, cloud, IT investment, risk and the availability of funding.
Infrastructure investment and challenges faced by Africa will take center stage during the Summit with energy being among them. Case studies and empirical examples will be showcased, contributing to a realistic perspective for data center investors.
Data center owners, cloud service providers, energy firms, law makers and regulators will participate alongside investors in what will be EMEAs largest networking event including this highly-targeted summit for Africa.
Contact us for further information
Topics Include:
Market Assessment and Outlook: Africa Data Centre Landscape: based on new research by BroadGroup
Infrastructure Investment and Challenges 1: Energy - a realistic perspective for data center operators and investors
Infrastructure Investment and Challenges 2: Fiber and Connectivity – subsea and terrestrial fiber connectivity in Africa and planned developments
Investor Roundtable: criteria for data center funding, valuation, and security of debt servicing for Africa
Africa Data Centre Leadership Panel: The first ever leadership panel for the continent
How will Data Centre companies scale in Africa? - The development of pan-European data center businesses has revealed the value in scale and country coverage. Will the same business model apply to Africa?
Invest in Africa - Pitches for data center, cloud, hosting investment.
Data Center Taxonomy for Africa: Build, Prefab or Modular? – what is the right approach?
Regulatory and Legal Developments impacting data center development in Africa - Regulation at country and regional level will impact datacentres. The panel highlight new developments across the region.
Datacloud 2017 is Europe's foremost networking and business deal making forum for data center and cloud players, their customers, investors and suppliers. Attracting 1800+ executives from more than 60 countries as well as 100+ exhibiting companies, delivering a unique networking opportunity to secure real-time deals.
Details and registration: http://www.datacloudcongress.com/africa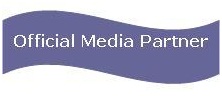 13-15 June - ConMin West Africa Exhibition and the National Mining Summit, Abuja, Nigeria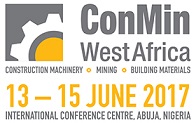 Due to the recently announced planned closure of Abuja's airport in March, ConMin West Africa Exhibition and the National Mining Summit has been moved from April to 13 - 15th June 2017. With a large proportion of attendees and speakers travelling from Lagos and internationally, we believe the event cannot be run without use of the airport.
ConMin West Africa, is an Exhibition to service the rapidly growing construction machinery and mining industries in West Africa. The Exhibition is organised by Afrocet Montgomery, who run Africa's largest mining show, 'Electra Mining' in Johannesburg and IMAG who own the global construction brand 'Bauma'. The event is running in partnership and with full endorsement from the Ministry of Solid Minerals, Deloitte and Asoko Insight. It will be held at the International Conference Centre in Abuja between 13th - 15th June 2017 and will act as a platform for key stakeholders, both regional and international, to converge and discuss business prospects and display leading technologies and equipment in both the construction and mining sectors. ConMin West Africa 2017 is expected to attract over 150 companies in 2017 who will exhibit their products and upwards of 3000 visitors from the West African Mining and Construction sectors.
The National Mining Summit, running alongside ConMin West Africa, will see top level participants from the Nigerian government and the country's mining industry converge in Abuja. With the Honourable Minister set to open the show, Afrocet Montgomery is also expecting Governors from key mining states; Ministers from other West African countries, Partners from leading law firms and key financiers including the African Finance Corporation.
Topics to be addressed at the Summit will cover all pertinent issues facing the sector and will seek to stimulate interest from international and national investors through clarification of policy and industry developments by principle stakeholders and decision makers. The Summit has been designed to accommodate sessions from experts and government representatives and will also host sessions on 'lessons learned' from Ministers and Operators from other African nations which are further ahead in their mineral sector development.
Participants will benefit from unparalleled exposure to national and international prospective operators, policymakers and suppliers. It will be a strong platform to encourage investment into the country and is set to become the preferred deal-making platform for mining in Nigeria.
For more information, visit www.conminwestafrica.com.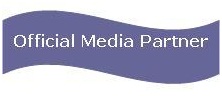 13-14 June – Sustainable Properties Africa Conference & Exhibition, Nairobi, Kenya

The Sustainable Properties Africa Conference & Exhibition (SPACE) is a two-day agenda that will contain interactive workshops, panel sessions and keynote speakers designed to educate, stimulate and further an attendees' knowledge and network.
This pioneering conference and exhibition will be the only event that brings together the most influential decision makers from African real estate with the clean energy sector.
If you're involved in real estate development and want to understand the return on investment from sustainable projects, then this conference is for you.
Energy
Learn more about the options open to you for managing your energy consumption. Become operationally more efficient and create more value in your property.
Water and Waste
Discover new ways of managing your water and waste usage. From small tips to large scale infrastructure options learning how to scale down your usage now is essential in the current market.
Materials and Design
What does a building of the future look like? How to source, build and create your building to sustain future changes. Can you build with an eye on the future and still make it work economically? Explore the return of investment and the operational costs savings from design techniques.
For further details and to register: http://www.space-conference.com
13-15 June – Nigeria International Trade & Investment Conference (NITIC), Abuja, Nigeria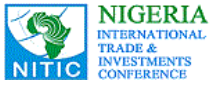 How can Nigeria develop a sustained strategy to facilitate the practical diversification of the economy by attracting intra-Africa and foreign investment alongside, non-oil export to strengthen, her economy?
Africa International Trade and Development Trust (AITDT) believe that a holistic approach that brings all stakeholders to a common platform is a necessary catalyst to diversify the economy. Hence, AITDT is organizing the Nigeria International Trade & Investment Conference (NITIC) with the theme "Multiple Frontiers – moving away from oil".
NITIC, 2017 is a three-day conference that will strengthen the positive contributions of international trade and investment in the non-oil and gas sector with specific focus on AGRIBUSINESS, MANUFACTURING and FINANCIAL SERVICES.
Increasing the awareness of opportunities in the non-oil sector;
Creating an interface between local entrepreneurs, potential trade counterparts and investors;
Enhancing the potentials of local business to attract foreign partners;
Attracting investments of about USD20 billion over a 4- year period;
Creating awareness of government policies for mutual access by local and foreign entrepreneurs
Promoting real sector economic dialogue and cooperation on relevant trade and investment context.
http://nigeriatradeandinvestment.com/portal/booknow/
22 June – The Economist Events' 2017 Nigeria Summit, London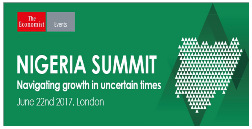 Will Nigeria become a top 20 economy by 2030, as many prominent economists predict it could? The administration of President Muhammadu Buhari has made much progress in equipping and inspiring the army to take forward the fight against Boko Haram. It has also brought new energy in the struggle against corruption. But is he pursuing the right economic policies for Nigeria?
The country has faced a prolonged fall in the price of oil, the main source of its export earnings and government revenue. The central bank's decision in June 2016 to scrap the naira's peg against the US dollar saw the currency fall sharply, but there are still persistent shortages of foreign exchange.
Against this backdrop, how can Nigeria navigate these complex policy challenges successfully to ensure an economic revival? How can businesses ride out the current slump, mitigate the risks and impact on the bottom line? What are the consequences for regional cooperation and what, if anything, can foreign investors do to help? What do these new circumstances mean for foreign investors engaged in ongoing or planned projects in Nigeria, and where do the key opportunities lie? How can the government deliver on its bold promises- from increasing ease of doing business to making it easier for firms to raise capital—to improve the climate for foreign investment?
With this in mind, The Economist Events' 2017 Nigeria Summit will be held in London for the first time to highlight Nigeria's economic opportunity to an international audience comprised of policymakers, business leaders, academics and finance professionals to debate what must happen now for Nigeria to overcome its challenges, mitigate the risk in a downturn, and ensure its lofty hopes for future prosperity are met.
Chaired by Jonathan Rosenthal, The Economist's Africa editor, the summit seeks to encourage an intelligent, stimulating discussion of Nigeria's social, political and economic future. The Economist Events' Nigeria Summit 2017 will be held in London for the first time in order to highlight Nigeria's economic opportunity to an international audience including policymakers, business leaders, academics and finance professionals for a vibrant discussion on the way ahead.
The summit will provide an open platform for dialogue on how the Nigerian economy can turn the new, seemingly less benign environment, to their advantage. Join the conversation @EconomistEvents #NigeriaSummit.
>> Click here to reserve your place
27-30 June - 2017 IEEE PES PowerAfrica Conference, Accra, Ghana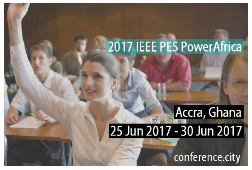 The 2017 IEEE PES PowerAfrica Conference offers this premier international forum on advances in the development and deployment of technologies and business models that are realizing Africa's energy future. PES provides the world's largest forum for sharing the latest in technological developments in the electric power industry, among other things. This year's conference will emphasize the emerging opportunities to leverage ICT to build solutions for both on-grid and off-grid systems across the continent that are economically, environmentally, and socially sustainable. The role of current and future regulations, investment frameworks and policies will also be addressed. The IEEE PES organization brings together more than 14,000 people all over the world for their annual T&D shows and 3,000 people for General Meetings in North America.
PowerAfrica 2017 Accra, Ghana will be a platform for participants from academia, telecommunication companies, technology companies, electric utilities and the entire energy industry to discuss experiences, best practices and associated technical developments that can be applied towards the electrification of Africa, enabling socio-economic development. Power delivery regulations, investments, and policies will also be addressed. The technical program is designed to highlight innovations and challenges facing the power and energy industry in Africa. The Conference will provide attendees with practical, solution-oriented topics, including case studies and lessons learned, via a diversified technical program consisting of tutorials/workshops, keynote/plenary speeches, poster and oral presentations.
For further information, please contact the organisers directly.
PLEASE NOTE: ReConnect Africa accepts no responsibility for any of the events described above and/or any dealings with the event organisers.
To notify us of your event and discuss advertising and marketing options, please contact us at: editor@reconnectafrica.com