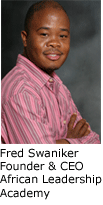 Opening in South Africa in 2008, African Leadership Academy will be the first secondary school of its kind focused on developing and supporting the next generation of African leaders.
ReConnect Africa speaks to Fred Swaniker, the Ghanaian founder of ALA, about the vision behind this unique institution that aims to build ethical leaders for a prosperous Africa.
Fred Swaniker was born in Ghana and, at the age of four, began the first of a number of international moves to countries including Gambia and Botswana.  After attending high school in Zimbabwe, Swaniker went on to college in Minnesota, enrolling at McAllister College (Kofi Annan's alma mater) from where he graduated in Economics.  Swaniker then moved to South Africa and joined McKinsey and Co., working for the company in Ghana, Nigeria, Tanzania and South Africa.  During this time, he also helped to start up a biotech company in Cape Town, which is now undertaking leading edge research.  Returning to the USA, Swaniker studied for an MBA in Stanford and it was during this time that he came up with the idea for the Academy.
Africa Leadership Academy

The Academy will offer students aged 16-18 years old from all 54 African nations and around the world the opportunity to attend Swaniker's two-year, co-educational boarding school in South Africa.
The Academy has a Board of Advisors with extensive experience in business and education, including Sam Jonah, the Ghanaian former Chairman of Anglogold Ashanti, Issac Shongwe, Chairman of the African Leadership Initiative in South Africa and Ralph Townsend, Headmaster of Winchester College.
Fred Swaniker and his team have already received recognition of their efforts and, in June 2006, co-founders Swaniker and Chris Bradford were named Echoing Green Fellowship winners and described as two of the "15 best emerging social entrepreneurs in the world."
RCA: RCA: What inspired you and your team to set up African Leadership Academy?
FS: The original vision for the Academy started in 2003 and we have been working on it full-time since June 2004. The first stage was a pilot summer programme that we ran in 2005 with 70 students from 16 different countries. We repeated this in 2006 with 100 students from 25 countries.
The vision behind ALA was to set up an institution to develop the future leaders of Africa.  My personal experience of growing up and living in different parts of Africa made me realize that what Africa really needed to achieve its potential was a new generation of leaders.  We can do all the work to change Africa, but if we do not have a good group of leaders, it will not be for the long-term.
It often seems that in Africa, we are in crisis management mode. Unless we take a step back and develop leaders to prevent these crises happening in the future, it won't change.  We don't always have to rely on the West to solve our problems – why should we need Bill Gates to come to Africa to solve our problems, why don't we develop our own leaders who can do this?
But leaders are not developed overnight; it takes a whole generation.  My vision was to build an institution to develop young leaders and then to work with them to continue to develop them over their lifetimes.
RCA: What made you decide on the approach of building a school?
FS: Education runs in my family and members of my family have been involved in starting schools for several generations.  My Grandpa was a headmaster, while my Grand-Uncle started Accra Academy, one of Ghana's leading secondary schools.  My mother, who is a teacher, started a school in Botswana and I worked in the school for a year.
RCA: What do you aim to achieve with African Leadership Academy?
FS: We believe that ethical leadership is the key to a prosperous and sustainable future for Africa. The Academy is a catalyst for change in the way we educate young people in Africa.  Once we are fully operational, we will have 250 students (125 per year on a 2-year programme).  Our goal is to stimulate innovation. We will be bringing in teachers from other schools so we can teach them our methodology.  This will enable them to replicate our curriculum within their own schools and environment, using our methods to develop leaders in their communities.  In this way, the Academy will have a broader impact on more than those who are able to attend.
RCA: When does all this start?
FS: The school will be operational in September 2008. During 2007, we will be hiring a headmaster, finalizing the curriculum and recruiting our first group of students. We are looking for Africa's most outstanding young people to join the first class of the academy over the next year. The selection process will be open but rigorous. We are open to anyone and we are looking to cast our net far and wide to give as many people as possible a chance to apply for a place. Applicants will have to go through a number of processes, including an interview, submission of a written essay as well as having to provide recommendations from teachers and from their community. The selection process will also be about assessing the applicant's entrepreneurial skills, their commitment to public service and their leadership potential.
We are looking for people who really have the potential to change the world and are passionate about Africa; people who understand that whatever they have and whatever networks they develop, are not only for themselves, but for the good of their communities and countries.
With an innovative curriculum in leadership, entrepreneurship, and African studies, we will be preparing talented youth from across Africa for a lifetime of leadership on the continent. This curriculum will be integrated alongside an international Baccalaureate academic program and the Academy will offer college counseling, career placement, and ongoing alumni support.  We are also assembling a larger network of like-minded mentors, partners, and leaders to provide alumni with the long-term support system needed to lead Africa toward equitable and lasting development.
Our team is currently made up of eight full-time people and we are hiring three people to involve in our recruiting efforts as well as a Headmaster and faculty.  I have to say that we are looking for the best African faculty.  (See ReConnect Jobs)
RCA: How will the Academy be funded?
FS: Our funding has come from private individuals; a combination of high net worth individuals throughout the world and leading business people have contributed to the academy.  We have raised $5 million in financing to build our campus, at the Cradle of Humankind World Heritage Site outside Johannesburg, South Africa, from individuals in South Africa, plus close to $1 million from individuals throughout the world to fund the staff costs.  We still need to raise another $2 million or so over the next two years to get through the starting costs.
To learn how you can help make the African Leadership Academy vision a reality, contact Fred Swaniker (fswaniker@africanleadershipacademy.org) or Chris Bradford (cbradford@africanleadershipacademy.org)
Editor's Note: Since this article was produced, Christopher Khaemba, the Principal of Alliance High School, one of Kenya's top secondary schools, has been selected as the Founding Dean of African Leadership Academy.