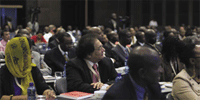 As we look ahead to the forthcoming African Business Leaders Forum taking place in Accra in October 2007, we bring you David Christianson's report from the Leadership for Growth conference, organised by Business in Africa and held at the Sandton Convention Centre in October 2006.
'At the Conference, it was repeatedly stated that there is little intrinsically wrong with Africa's leadership talent pool. But the way it has been developed and the environment in which it has to operate came in for much criticism.
There was a robustness to the debate. Much more forthright than in previous years, the tone was set during the opening plenary session addressed by three prominent African political leaders: President Yoweri Museveni of Uganda, President Paul Kagame of Rwanda and ex-president Kenneth Kaunda of Zambia. During question time Nigerian Ndidi O Nwuneli, founder of leadership training NGO LEAP Africa, asked about the succession issue. Addressing her question to President Museveni, recently re-elected for a third term after necessary changes to the constitution of Uganda, she pointedly stated that one of the things great leaders do is create a succession. In Nigeria there had been popular mobilisation against the idea that President Obasanjo should stand for a third term. Some of it had been facilitated by the new electronic media, including SMS petitions. What possible justification could there be, she asked, for hanging onto office?
Robust Debate
The question was characteristic of the robust nature of much of the debate. Many delegates had decided what points to make and were determined not to hold back. For the most part, the high-profile political leaders dealt with issues with more circumspection than many delegates. But President Museveni, in response to the question, did ultimately speak bluntly. After talking about how the presidential succession in Uganda "is guided by politics and strategy … what programme the party wants to push and who can best champion it", he did state that he "does not agree with term limits". "After all", he argued, "programmes are not limited in terms of time so why should political terms of office be?"
After President Museveni's robust statement, President Paul Kagame of Rwanda spoke diplomatically. He referred to the need for institution-building and how, in the leadership context, "you (have to) develop others to be part of the processes that are taking place". But despite his diplomatic language, it was ultimately clear that President Kagame did not agree with President Museveni's position. He placed an emphasis on institutions because "ultimately you don't want to emphasise individuals" and concluded that "in Rwanda, we want to see leaders come and go".
The director of Johannesburg's Gordon Institute for Business Science (GIBS), Prof Nick Binedell, suggested afterwards that views on leadership in Africa are shifting. Museveni's position, he implied, is becoming outdated and less popular. "Museveni has done a great deal for Uganda," he argued. "In the context of what has needed to be done over the last 20 years, he has indeed been a great leader." Museveni is indeed a huge historical figure and one that needs to be accounted for in any assessment of leadership in Africa. But as a number of delegates pointed out, he may have done his reputation a disservice "by hanging on too long".
Choices facing Africa's Leaders
In terms of the overall conference, the "term debate" was something of a diversion from the issues that most concerned delegates. It did not come up again in a strong way after the first plenary. What did emerge though was a thorough discussion of the choices facing Africa's leaders. A very distinctive private sector view on Africa's problems came through clearly over the course of the conference. Bill Egbe, Coca-Cola's East and Central Africa president might have been summing things up when he said in the opening session: "There is no question that there is a role for governments in African development. But there is also a role for the private sector."
It was in the course of discussion about the interface of these two sectors that some of the most animated debate was heard.
Ali Mufuruki, Chairman of Tanzania's Infotech Group, argued strongly that "there is no excuse" for Africa's relative underdevelopment. He examined each of the popular excuses — the colonial legacy, a history of civil war, climate, the absence of connections to the global economy — and using comparative examples (Korea, India, Vietnam, Botswana) proceeded to reject each of them. He said Africans "need to examine our role in keeping our continent behind". Also criticised were the "development partners" of African government — multilaterals and corporates — for being too "polite".
Dr. Matthews Chikoanda, a former head of both the Treasury and Reserve Bank in Malawi, and now head of the country's biggest private sector enterprise, Press Corp, traced the historical development of business corporations in this context. Originating as pure profit maximisers, corporates tended to become restructured to realise shareholder value and then, later, move on to a Corporate Social Investment view of the world. He made it clear that this was a sort of democratisation of big business. But what is the appropriate role of these corporate businesses? Chikoanda says that in the compilation of Malawi's Poverty Reduction Strategy Paper (PRSP), it became apparent that growth was necessary for poverty reduction and that the private sector alone was an adequate 'engine' for the realisation of that ambition. The same insight applies to the whole continent, he implied.
Private Sector and Development
Perhaps not surprisingly for a business leadership conference, there was little dissent from this view. The consensus included Presidents Museveni and Kagame, who both made robust statements in favour of private- sector-driven development. President Kagame argued that "the private sector has to take the lead". He went on to point out that "things have to be viewed in an integrated way. Development cannot move ahead (very) fast, unless government puts certain things in place. However President Museveni, on the same point, appeared to step away from a pure market approach. "There may be a need to intervene to kick-start things," he said. "You can always privatise later."
Lynette Chen of Nepad pointed out that 9 out of 10 jobs in Africa are located in the private sector, if it is accepted that family farms and household economies fall into this category. She presented the case for private-sector-driven development in its starkest form. "Corporate citizenship can easily become a matter of box ticking," she argued. "The most important thing business can do is business." Chen stressed that the primary pre-requisites were, first, a good investment climate, which meant private-public cooperation in tackling the 'binding constraints', second, investment in infrastructure, and third, the elimination of the constraints on intra-African trade.
Chen was certainly not dismissive of the virtues of corporate social investment. But she clearly made the point that many conventional aspects of CSI can more appropriately be seen as business initiatives — supplier development, capacity building and treating the continent's poor as "value-conscious consumers" rather than charity cases.
Corporates, especially as self-interested institutions, are concerned only to get ahead with establishing and running operations.
The limits of government policies were repeatedly emphasised by delegates. In this regard, these could have been the views of any group of businesspeople, anywhere in the world, presented with an opportunity to speak not only to each other but also to government leaders. Dr Chikoanda remarked on how easy it is to advocate a leading role for business but how difficult it could be to deal with obstacles in practice. He used the example of intermittent electrical supply — a very topical problem in drought-stricken East Africa where water shortages mean that hydro-electrical schemes cannot run at full capacity — and spoke of the operational chaos this factor had induced in a bottling plant operated by his company in Malawi. South African Mahadi Buthelezi, a property entrepreneur, spoke of a problem that is widespread and much less widely remarked on: the impact on business cashflows of slow payments from government. Alex Banful, the managing director of Ghana Social Marketing Foundation International remarked that this was a problem that would have its heaviest impact on smaller, indigenous businesses.
Banful pointed to a line of cleavage that perhaps did not emerge clearly enough at the conference: between large corporates, many but not all of them internationally owned, and local small and medium enterprises. He pointed out that the SME sector is a "distinctive challenge for Africa's growth agenda". A vibrant SME sector is an effective mechanism for mobilising savings and creating employment, he argued. The problem in much of Africa though is that most governments offer preferential treatment, not to smaller, but to larger enterprises. Subsidies are offered for large scale investment, for instance, frequently accompanied by tax concessions. The result, argues Banful, is the extensive use of inappropriate capital intensive technologies which restrict job creation.
The Sheer Weight of Regulation on SMEs
Banful zeroed in on a field that was perhaps not adequately discussed at the conference — the sheer weight of regulation that inhibits smaller enterprises in Africa. The topic of leadership, as dealt with by delegates, tended to be leadership in government and the corporate sector. Delegates spoke of course from personal experience and raised the issues closest to their hearts. But the voicelessness of SMEs could not have been more dramatically demonstrated.
This, perhaps surprisingly, was the case even when the topics of entrepreneurship and the development of talent were discussed. The personal attributes of the successful entrepreneur were discussed extensively. Entrepreneurship expert Brian Hattingh made the perfectly valid point that it was not necessarily appropriate to see small business owners as synonymous with entrepreneurs. He favoured Richard Branson's definition of entrepreneurship as "setting out to do something better or something no-one has ever done before, and in so doing to make a profit". He did go on to point out that in a world where life expectancy is rising, an increasing number of people — perhaps a majority — are likely to work in the informal sector, if only because their pensions will not carry them through their entire lives. "Africa needs to develop a substantial SME entity in each country," he concluded.
But Hattingh was something of an exception. Few delegates ventured down the SME development path that he opened up. South African leadership expert Reuel Khoza argued that equity — in corporates — should be transferred to youth in order to encourage shareholder activism. Coca Cola's West African head Larry Drake II argued that the challenge was not to train young leaders but to retain them — again a concern especially from a corporate perspective. Dr Manu Chandaria, chairman of Kenya's Comcraft Group, spoke of leadership as the ability to "create an environment of shared values, to take decisions and to believe in them". All of these points were appropriate. But speakers made it clear that they were approaching the topic from a corporate perspective.
The emphasis on corporate experience relates directly to Ali Mufuruki's earlier criticism that development partners tend to be "too polite". Corporates especially, as self-interested institutions, are concerned to get ahead with establishing and running operations. In their interactions with government, they will almost invariably be reticent about any business environment issue apart from those that impact directly on their bottom lines. Even in these cases, criticism will be circumspect.
This is another of those 'missing middles' that bedevils the continent. While political leaders might now have a better grasp of the concerns of corporate business leaders than ever before, there is a massive information gap when it comes to the problems of their own citizens trying to run their indigenous enterprises. This was demonstrated in the contrast between President Museveni's comments and those of Alex Banful. Banful — as reported above — had argued that capital-intensive investment is decidedly limited in terms of local impact. President Museveni on the other hand, criticised investment as not being capital and technology intensive enough. This is surely an argument impossible to sustain for any leader who is in touch with the needs and conditions faced by his or her own domestic SME sector.
It became apparent that the African diaspora is a major concern of the continent's business leaders. There is undoubtedly a visceral sense of disturbance at the idea that many of the continent's brightest and best feel compelled to seek greener pastures elsewhere.
On the evidence of these two days, a healthy — indeed robust — exchange of opinions between the continent's political and business leaders is not only useful but characterised by a willingness from both sides to engage. There was not much evidence of polite reticence at the conference. It has to be suggested that getting high profile political leaders together with business leaders creates the conditions for a worthwhile and potentially valuable debate.
*Photo: Suzy Bernstein