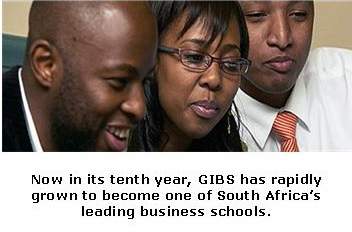 How the Gordon Institute of Business Science is placing leadership at the core of a new agenda for Africa's finance and banking professionals.
The Gordon School of Business Science (GIBS) is situated in Johannesburg, South Africa's economic hub, and has been, since its establishment in 2000, a business school that is from and for the community. As a place of learning, however, it challenges its students to stretch their thinking and to re-evaluate existing ideas by looking beyond not only South Africa and the African continent, but across the globe.
According to Jonathan Cook, Executive Director of GIBS, in addition to developing South Africa's leaders, there is also a broader need to equip a community of leaders beyond the country's borders.
"Executive leadership is a critical component in organisational success," he says. "The impact on employees and on the bottom line of a good leader with a clear strategy for his/her business can be very substantially different from that of an ordinary leader. One strategic decision can make or break an organisation. Similarly, organisational climate under good leadership can increase performance by 20% or more. The importance of having an organisation's leadership up to the task cannot be emphasised sufficiently."
Leadership in Finance
Managing in a world of enormous complexity is no easy matter, says Nick Binedell, Director of GIBS, and, for those open to the experience, South Africa provides a remarkable place to learn the business knowledge and insights needed to take a lead in business.
"At the Gordon Institute of Business Science we have always believed that we can play a significant role in South Africa by ensuring that leaders in our business community have the opportunity to develop their skills and business acumen to meet the enormous opportunities that a dynamic and rapidly changing world presents."
Managing in a world of enormous complexity is no easy matter and, for those open to the experience, South Africa provides a remarkable place to learn the business knowledge and insights needed to take a lead in business.
GIBS offers three executive development programmes (EDP) and in a more recent development, GIBS, in partnership with Cass Business School in the UK, has launched a newly created Finance Executive Development Programme aimed at senior finance and banking professionals. The first course takes place in London from July 16-24.
The Finance EDP will extend across all the core areas of finance and banking – capital markets and liquidity, private equity and asset management, ethics and governance, retail banking, investment banking and corporate finance.
Professor Mike Ward, who holds the ABSA Chair of Finance at GIBS, says the programme will look at some of the bigger strategic questions and the latest research on behavioural finance.
"The past two years have been a roller coaster ride and understanding the impact of these changes is critical for leaders and decision-makers," he says. "It's an intensive eight-day programme, presented at a very high level, and while we've tried to keep it quite broad, we trust it will give delegates insight into global financial markets and economies."
Seeing through Other People's Eyes
Cook says executive development programmes such as the ones offered at GIBS provide a superb opportunity to see things through other people's eyes. "So often we get caught up in the narrow perspectives of our own organisation or social context. The networks are invaluable – any good senior management programme is very much discussion-based and discovery-based. You form close relationships with people you have never met before, and whom you may not otherwise have met."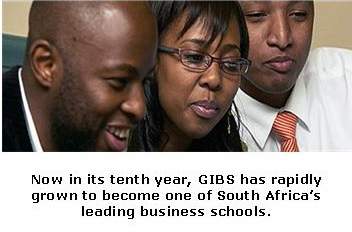 Recognising the limited time executives have to devote to studies, the GIBS programme has been designed to expose people to intense experiences and perspectives.
"To add to the richness of each programme, we try to include a good spread of delegates from different industries, disciplines and countries. Information is useful, but you can get it for free off the internet. What makes the difference with these programmes is the encounter, the experience and the challenge to one's way of thinking."
Senior level programmes will typically expose people to perspectives outside their normal experience, but it is also valuable to gain a global perspective, says Cook, and, in common with other GIBS executive programmes, the Finance programme has an international travel component.
In London, the finance modules will be led by hand-picked faculty from GIBS and other leading international business schools, who will provide teaching in key disciplines. A range of guest speakers, all leaders in their field, will also expose participants to local and international best practice.
"Although many executives will have travelled, it's different travelling as a study group. Even if you have visited one of our destinations before, we're able to set up meetings and encounters you wouldn't normally have if you were travelling privately," he says.
"Not only that, but by examining these other countries as a group we learn more about South Africa. Sometimes I think the international travel component of these trips is more informative about South Africa, doing business in South Africa and ourselves than it is even of the countries we visit."
GIBS – Passionate about Business Education
Now in its tenth year, GIBS has rapidly grown to become one of South Africa's leading business schools. In 2009, GIBS was again ranked as one of the world's top business schools by the UK's Financial Times and was the only African business school to be placed in the top 45 business schools worldwide for executive education programmes.
What makes the difference with these programmes is the encounter, the experience and the challenge to one's way of thinking."
Over the past decade, more than 70 South African and global companies have invested in the development of their leaders through GIBS, and the inaugural Finance Executive Development Programme will bring financial professionals into contact with cutting-edge thought leadership and the latest developments in global finance and banking.
For GIBS, its distinct advantage is its ability to design programmes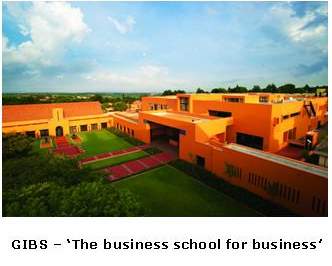 from an understanding of the unique potential and capabilities that Africa offers the international finance and banking community.
As 'the business school for business', GIBS is self-proclaimedly passionate about providing business education that is not only world-class, but also relevant to the times in which we live.
"In a highly competitive world such as the one we live in, it is critical that as South Africans we focus on being the best," says Director Nick Binedell.
"The habits of champions are a vital asset for nations. As GIBS embarks on the next 10 years of our journey, it is our commitment to remain true to our origins and to contribute to building a stronger, more competitive and more sustainable society through business education."
Find out more about GIBS at: www.gibs.co.za