by Frances Williams
Mmasekgoa Masire-Mwamba has been described as "dynamic", "in-touch" and "a breath of fresh air". And even a brief meeting with the newly appointed Deputy Secretary-General of the Commonwealth is ample evidence that she is all of these things.
From Botswana, Ms. Masire-Mwamba took up office on 2 June 2008 and reports to the Commonwealth Secretary-General Kamalesh Sharma on political affairs, legal and constitutional affairs and youth affairs. A graduate of the University of London and the holder of an MBA from the University of Pittsburgh, USA, Ms. Masire-Mwamba also oversees the Commonwealth Secretariat's Corporate Services Division, Human Rights Unit and HR section.
Formerly the Chief Executive of Botswana's Investment Promotion Agency (BEDIA), Mmasekgoa Masire-Mwamba has held a number of high level positions, including Group Manager of Corporate Business and Regulatory Affairs for the Botswana Telecommunications Corporation and UK Business Development Manager for the Commonwealth Telecommunications Organisation.
During the course of a fascinating conversation, I asked Ms. Masire-Mwamba to share her views about leadership, women and the changing face of Africa.
FW: Can you tell us about your career and what has brought you to this position?
MM-M: I always saw my role in development and I found it difficult to map out my career as I started in the science field and had difficulty in seeing how to apply this to development.

I then moved into telecommunications development; a sector which is not just an enabler but is also good for development of industry, which in itself impacts on development. I wanted to go beyond telecoms and to look at other challenges of socio-economic development. For a time, I was also engaged in investment promotion. This was fascinating as it causes you to look at the challenges of infrastructural and institutional development. This was the pull that really interested me in pursuing the Commonwealth as a further platform where I could continue to engage.
FW: In today's world, how do you feel that the role of Commonwealth is relevant?
MM-M: I think the role of the Commonwealth is extremely relevant and is highly appreciated by the membership. The testament to this is the continual engagement and interest by countries not in the Commonwealth to become members.
What draws people to the Commonwealth? It is a forum based on shared values and a communality of experiences and offers an opportunity for sharing best practice and learning and sharing from each other. The Commonwealth has 53 member states including both developing and developed countries. This results in a spectrum of opportunities and experiences from which countries can grow and learn and which also offers the freedom to associate with those you want to.
"From a professional point of view, being a woman at this level is really not such a big issue for me personally."
FW: How do you feel your gender impacts on your role as a leader?
MM-M: There are probably two issues here. Firstly, there are relatively few women at this level of leadership which raises the challenge of association and of being able to network with like-minded women.
But for me, from a professional point of view, being a woman at this level is really not such a big issue for me personally. Having a support structure, camaraderie and assistance in getting over certain things is more important. But then, maybe because of my background as a telecoms engineer, I have always been in a male-dominated sector so I have probably developed the 'tool kit' I need to manage.
FW: Women have been making headlines in recent times in terms of political leadership. Do you see this as an exception or the start of more to come?
MM-M: I think it is a fascinating and very welcome development. The perspective women bring to the table will benefit mankind much more significantly. It is fascinating to see women coming through into leadership roles in business and politics and we have short-changed ourselves by reducing women's contribution and role in business and politics.
FW: How do you believe that Africans abroad can support the drive to increase investment back into the continent?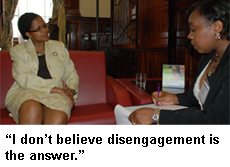 MM-M: In terms of investment, I think we all have a role to play. Development is about making a country more visible and engaging with leadership.
There are various levels of engagement that we can have with our home countries that will assist development. Supporting investment involves having a definition and a realisation of opportunities. It involves finding out about your country, knowing and appreciating what your country has to offer and making investors better aware of the opportunities.
We should ask ourselves "what are the challenges of my country and how can I help?" In parallel, we should consider how we can raise the level of awareness and define the opportunities we have to assist potential investors.
"In terms of investment, I think we all have a role to play. Development is about making a country more visible and engaging with leadership."
FW: How do you believe we can address the skills deficit in Africa?
MM-M: I think it is important that we look at investment broadly. With foreign direct investment where companies are coming to invest, this often provides, such as in the mining sector, opportunities to beneficiate and to develop down-streaming investment as well as the transfer of technical skills.
We have to find a way to bring our skills back home. Sometimes we lose potential investment because the skills are not on the ground. The challenge is that the Diaspora is contributing to the growth of host governments but our economies are also growing and facing similar challenges and therefore our skills bases are closer.
If you take the ICT industry in particular, this is a sector which needs the same skills in Africa as elsewhere in order to grow and develop the knowledge economy. A lot of this expertise is needed at home once our people have the experience and exposure.
FW: What about those who feel disenchanted with Africa and the pace of development?
MM-M: We need to take greater responsibility for our own development, both within the country and across the Diaspora.
I don't believe disengagement is the answer. You are the one responsible for the development of your country and for future generations. Now, with the advent of ICT, a lot of countries have official websites and other sources of information and in this day and age, I don't think anyone has an excuse for not knowing basic facts about their economy and the key challenges of their country. It is important to engage and engage meaningfully – and then coming back to see where we can engage further.
FW: How would you advise those in the Diaspora to deal with the challenges of living as a minority?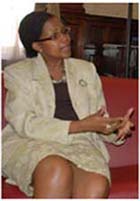 MM-M: You have to know who you are, where you come from, and what you bring. You may well find that this is not mirrored in the place where you are but you also have to know that 'I can go back'. I don't want to minimise the reasons why people choose to move overseas but, if we all approach the international labour market with a short-term perspective, we will see it as a chance to grow and contribute and then go back.
One of the key things that we have to appreciate and acknowledge is that Africa is not static, it's dynamic. There are overwhelming challenges but I'm continually encouraged by the policies and institutional systems being put in place as well as the political will across the continent as a whole. The challenge and frustration is that so much needs to be done but my sense of optimism stems from the fact that it has started to happen.
If we look at it with an objective eye, we should be able to see visible signs of progress.
FW: You have recently been appointed to the position of Commonwealth Deputy Secretary-General. What do you hope to have achieved at the end of your tenure?
MM-M: By the end of my tenure I hope that this optimistic sense that I have of Africa, and that I feel, will really have come to fruition; that it will be more general and not an exception to the rule.
I am excited that the portfolio I handle allows me to participate with the principal players in democracy, the rule and law and key governance issues. Democracy is not good for its own sake but for the benefits it allows to trickle to the people. By the end of my term, I will measure my success by the appreciable differences that will have been made in these areas.