A psychologically astute leader can improve employee retention, satisfaction and performance, says Leadership Coach Vera Ng'oma.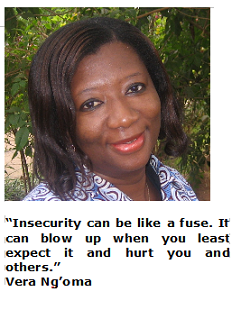 Now is the time to become psychologically astute in your leadership, says Leadership Coach Vera Ng'oma
The importance of psychological astuteness is critical because it enables you to improve relationships and to build a healthy, productive workplace and organizational relationships and culture.
Psychological astuteness helps you to communicate effectively, to manage your emotions well and to connect with others in order to make a positive impact on them. A psychologically astute leader can improve employee retention, satisfaction and performance.
Start with understanding you
Self-awareness is always a good starting point for building psychological astuteness because to be effective as a leader you must have a solid understanding and awareness of how your emotions and actions are working together to affect those round you.
An awareness of your own emotions, your way of thinking will help you work out how best to relate to those you lead. Constantly align your assumptions about what motivates people with what really does so that you can show care in a meaningful way.
Connect well with others
How you connect with co-workers is an important part of leading. Be aware of what makes others tick, better still how best to anticipate their potential reaction to issues so that you handle situations effectively and create a safe environment for people to be themselves and to engage with you with ease.
People in your circle of influence will be more impacted and encouraged by how you connect psychologically and how you are able to show empathy. Be aware of your own moods and disposition as a leader because these can easily be sensed by those around you and can become contagious for good or bad.
Avoid a one-size-fits-all approach
Whatever your leadership experience before now, don't try to just do more of the same. You are leading a different set of people and must lead in a way that will build them. Be clear how the kind of leadership required in your current context might be different to what you are used to.
Be aware of what makes others tick...so you handle situations effectively and create a safe environment for people to be themselves.
Hone your ability to notice, understand and interpret what's going on with people around you. Read between the lines. Don't be erratic, irrational or inconsistent in your behaviour. Have the courage to proactively seek psychology–based capabilities such as good listening, understanding the social situations where you lead, demonstrating sensitivity and ability to connect at an emotional level.
You might want to establish some mentoring relationships to learn from because you can't lead textbook style where getting on the same engagement wavelength with your team members is concerned. In tough times, show courage and mental fortitude so that the team may feel safe and secure under your charge.
Be your own best advocate
Don't sabotage yourself by wearing your emotions on your sleeve and letting them get in the way. Be a good example of someone who has things together and can hold yourself together when everything is stacked against you.
Show confidence in your team and let your communication show that they count. You can't get people working at their best if they are made to feel like they are just ''bums on seats'' doing tasks they feel little connection to. You cannot win the hearts and minds of people unless you can connect in a way that matters to them and which enables them to be secure in themselves and their roles.
Be aware of how you're evolving and developing as a leader and make sure that you're keeping your principles rooted and not being overtaken by emotionalism in a bid to "bond" with the team. Know what people respond well to and what to adjust as you work to find the right balance.
Tame your insecurities
Insecurity can be like a fuse. It can blow up when you least expect it and hurt you and others. Many times, insecurity can be difficult to recognize in yourself and difficult to remedy by yourself. No one is perfect so accept your flaws, but enhance your strengths so that your "warts" and insecurities don't stick out like a sore thumb.
Watch out that you're not inadvertently allowing damaging or insecure behavior on your part room to rear its ugly head and undermine your team's confidence in you. Don't laugh off your insecurities or play them down especially if they are in plain sight. Keep working on taming them as this takes time. People will forgive your imperfections if you show you are aware of them and doing something about them.
Have an honest dose of self-appraisal
Don't let insecurities be so obvious as to break your leadership stride. Possess a healthy, honest dose of self appraisal. If you don't, you are likely to end up with your not so positive personal traits becoming a burden on your team and to your leadership.
Find a confidant who can help you get to the root of any insecurities and to start the process of effectively addressing them. Protect your psychological attitude so that you can have the right mental processes that'll make your leadership positively deliberate, adaptable and effective for those you lead.
Vera Ng'oma
leads EXCELLICAgroup, an organisation dedicated to promoting and developing excellence in leadership, career and people development. Vera works with organizations and individuals to equip them to elevate their performance, achieve their goals and expand their impact. Contact
Verangoma@gmail.com