Editorial - Why Representation Matters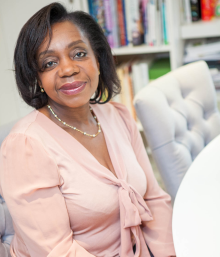 Lately, I've been writing a lot about the importance of diversity in the publishing industry. It's a subject that matters deeply to me because of my own journey from avid reader to aspiring writer to published author.
Growing up, I was a voracious reader, and it wasn't unusual for me to return from my weekly visits to the local library with five or six books under my arm. Most of the authors I know started writing because of their love of reading - and I was no different.
What was different, however, were the barriers to the type of stories I wanted to tell. When I started writing novels,it seemed UK publishers wanted books with Black characters to be non-fiction, literary, or steeped in trauma or gang violence. Conversely, I wanted to write contemporary romantic comedies about women who look like me. I was interested in stories that would feature Black women and explore themes such as culture clash, identity, and Black love; novels about women navigating relationships, family, social expectations, and careers. Unfortunately, I encountered a palpable lack of interest from the literary agents and publishers I approached.
Representation matters for our collective self-esteem because if you can't see it, chances are you won't believe it's possible.
While the USA has seen an explosion in romantic fiction by Black authors – many successfully self-publishing – the British publishing industry has largely been slow to invest in popular literature by Black writers. For the most part, the rejections I received praised the quality of my writing and referenced their enjoyment of the story, but it was clear the agents I was approaching didn't know how they could sell my work. So, it was no surprise when my own painful experiences and the anecdotes I heard from other aspiring writers of colour were later vindicated by surveys and studies about diversity in the publishing industry.
Rethinking Diversity in Publishing
The 2020 survey of the UK publishing industry entitled Rethinking 'Diversity' in Publishing was the first in-depth UK academic study of diversity in the industry. A key finding was the assumption about audiences. The core audience for British publishers is white and middle-class, and the industry essentially caters to this group. The report pointed out that across the acquisition process, 'publishers fear that books by writers of colour are too niche and will not appeal to their core audience.' The report also quotes one of the findings from a previous report (Writing the Future report (Spread the Word, 2015)) that writers from minority backgrounds feel steered into reproducing racial and ethnic stereotypes. Less rom-com and more 'immigrant narrative' stories which are supposedly more authentic to us.
However, the recent success in the entertainment industry of films like Black Panther and Get Out! as well as TV shows like the Netflix sensation, Bridgerton, is proof that increasing representation can also increase profits.
I got lucky. My first novel, From Pasta to Pigfoot, found a home with a publisher committed to bringing underrepresented voices to the fore. My tale of pasta-loving Faye, a Black British 'girl next door' in search of love and her Ghanaian roots, celebrated the humorous and sometimes chaotic impact of culture clash. Readers loved it, and it was selected as one of the Top 25 Summer Reads by British bookseller, WH Smith.
Cultural Connections
Drawing on my own bi-cultural background, several of my books are set in Ghana, offering an insight into people of different cultures experiencing the same struggles with life and love. In my latest novel, Strictly Friends, Ruby, a Black Londoner, takes a trip to a Caribbean Island with her young son in a bid to stop his improbable fantasies about his errant father. The journey leaves Ruby confronting the truth and facing a choice she could never have imagined.
Black characters don't need to be confined to side roles like the 'sassy best friend'; they can be the star. When I meet my readers, women of colour will often tell me how refreshing and affirming it feels for the central character to be a woman who looks like them and who shares the same cultural touchstones.
There is undoubtably a thirst for more books with protagonists who represent the breadth of cultures in Britain. There's space to represent Black women as fully rounded characters who deserve love and happiness and who get to navigate the mundane, the extraordinary, the painful and the hilarious, just like their white counterparts. Representation in all genres of literature matters for our collective self-esteem because, as with everything in life, if you can't see it, chances are you won't believe it possible.
Literature can be a great unifier by presenting us with new perspectives on the familiar, and 'mainstreaming' different cultures. In the process, books reveal how much more connects than differentiates us.
Founder & Managing Editor, ReConnect Africa
Author of Imperfect Arrangements,
'Imperfect Arrangements'
'From Pasta to Pigfoot'
and
'From Pasta to Pigfoot: Second Helpings'
and the books
I Want to Work in… Africa: How to Move Your Career to the World's Most Exciting Continent'
and 'Everyday Heroes – Learning from the Careers of Successful Black Professionals'