Black Lives Should Have Always Mattered r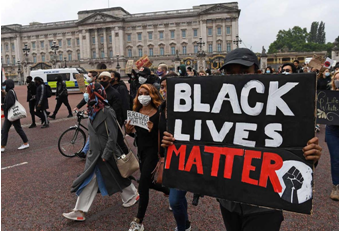 We live in a society that values wealth and property over everything, perhaps most notably black and brown bodies, but there is hope, says blogger Isabelle Owens
As we tiptoed into March and hurtled through April, COVID-19 had begun to creep itself into our lives, instantly bringing everything that we normalised down to an abrupt halt and drawing us further and further into our homes. It seemed that everything had slowed down; school and university, national exams and holidays, religious rites and social gatherings were all put on hold as we were marshalled into a state of emergency.
For a moment, it seemed as if the world had stopped turning and everything was brought to a standstill. Everything except for violent and bitter injustices.
On the 13th of March, in the middle of the night, Breonna Taylor was shot at least eight times by the Louisville police who used a battering ram to enter her apartment.
On the 5th of May, a video began circulating of the brutal murder of Ahmaud Arbery as he jogged unwittingly past his murders.
On the 25th of May, George Floyd died as a white police officer knelt on his neck for 8 minutes and 46 seconds, despite the fact that he was already handcuffed. In the video that circled viciously through social media, Floyd struggled for air, crying out "I can't breathe" the words echoing those of Eric Garner six years ago.
As I watched the video for the first time, there was a distinct feeling of déjà vu - I felt like I had seen this scene before; someone wailing frantically in the background, begging the police officer (the supposed authority in the situation) to get off yet another black man as he struggled for his life. I would like to say that the situation evoked righteous anger in me immediately and I leapt into action by donating and signing petitions.
'… as we sit locked inside our isolated and individual homes, we may have become closer together than ever before, united in the fury at the death of yet another innocent black person.'
But the ugly truth of the matter is that I was exhausted. Deeply exhausted of explaining my existence to people, exhausted of scrolling through the BLM hashtag and being told all the ways in which the movement was ineffective and "inflammatory", and especially tired of being told that it was divisive and that "All lives matter."
Every 3 years or so, there is an unavoidable conflict that sparks a rekindling of the BLM movement and we are forced once again to justify and defend our humanity to our white friends and co-workers.
Floyd's indisputable murder seems to have opened the eyes of many people who were previously unaware of the movement or benefited from the privilege of not needing to engage with it. His barbaric death crudely showcased the flagrant disregard the system holds for life in general and black lives in particular and perhaps in watching and following this movement it will shock those around us to evaluate their actions and their treatment of other human beings and see how they contribute to the wider issue of racism.
Surprisingly the movement reignited itself, as gracefully and as startlingly as a match in a powder keg, protests and riots erupted all over America as black and brown people flooded the streets to express their humanity and their anger as yet again their fundamental right to live was being violated. Undeterred by the state of uncertainty, people swept through in waves to show their solidarity not just for George Floyd, or Ahmaud Arbery or Breonna Taylor but to demand an end to police brutality.
In retaliation, the Trump Administration activated The National Guard across 15 states and Washington DC.
Unsurprisingly, the presence of the police at protests condemning police brutality and excessive force was not received well. Despite the majority of protests having been peaceful, there were riots and widespread looting - of which there seems to be excessive and disproportionate media coverage on the news. The damage to property has been extensively reported, as people begin to frantically bring up the "revolutionary" idea of peaceful protest to discredit the protests occurring, as though people have not been peaceful for decades.
But from where I stand watching the fire, it seems to me that people are upset about all the wrong things; we live in a society that values wealth and property over everything, perhaps most notably black and brown bodies, and it is manifested in the outrage over the widespread concerns about looting and rioting as opposed to the most pressing issue at hand - police brutality towards primarily black people at disproportionate levels.
Police brutality is the symptom of a wider issue - a society built on white supremacy, sustained by ignorance, and fed by a lack of education and willingness to engage. Police brutality might be the symptom, but the diagnosis is decades of feeling unheard and disrespected by our white counterparts.
However, despite the bleakness of right now and the valid feelings of anger and injustice, we should recognise a spark of hope, because as we sit locked inside our isolated and individual homes, we may have become closer together than ever before, united in the fury at the death of yet another innocent black person. Despite everything, people are discovering their voices and as a result, there is a renewed sense of unity, a renewed passion to do better and a renewed thirst for justice building amongst us, and it is up to us to continue to make the change.
Ultimately, as far as protesting goes - we must be aware that we are only scratching the surface level. To create real, long-lasting, and prominent change there must be reform in the education system and subsequent greater awareness of what has led us to this point. It is critical for all of us to unlearn racial stereotypes perpetuated from slavery and colonialism and to begin to finally listen to the reverberations that continue to echo in our society today.
Some excellent books to start with are:
Brit(ish) by Afua Hirsch
'An unflinching look at race, identity and belonging from the Black British perspective.'
Black, Listed by Jeffrey Boakye
This is suitable for a more light-hearted yet equally eye-opening read that effortlessly takes you through Black British Culture and the many slang words we have accumulated.
Back to Black: Retelling Black Radicalism for the 21st Century by Kehinde Andrews
The book guides you through the world of black radicalism and its politics, despite the subject being somewhat intimidating the book seamlessly guides the reader into different political theories and how they relate to us today.
Isabelle Owens blogs at:
https://isabelleowensblogs.wixsite.com/the-corner
and can be contacted via:
isabelleowensblogs@gmail.com