Are Black women doubly disadvantaged in the European workplace? A unique study about the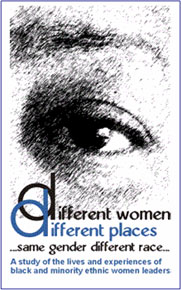 experiences of Black and ethnic minority women at work, 'Different Women, Different Places', reveals what women of colour really think.
'Different Women, Different Places' evolved from the discussions and experiences of a small network of successful women and the realisation that they were not just women or just black but women with multiple identities that were inextricably inter-linked. What also emerged, however, was that being a Black or Asian woman meant different things to different people.
Intent on finding more information about the experiences of women of colour in Europe, Caroline Harper Jantuah, Director of The Diversity Practice, formed a study group with two other professional women. The goal was to move beyond previous studies that focused on problems and barriers faced by Black Women.
Black Women – Doubly Disadvantaged?
"The objectives of the study were to improve our knowledge about the experiences of Black and Minority Ethnic (BME) women at work and challenge the notion that Black women are doubly disadvantaged," says Harper Jantuah. "We wanted to explore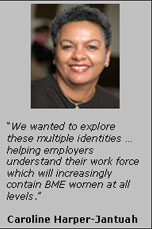 these multiple identities and produce case studies of role models for the next generation, helping employers understand their work force which will increasingly contain BME women at all levels."
The 'Different Women' study is a partnership between The Diversity Practice and Katalytik, two UK-based organisations committed to equality and the celebration of diversity in the work place. Carol Compayne is the Equality & Diversity Manager for London South Bank University and a Principal Lecturer in Strategic Management, and Marketing while Jan Peters is a leading authority on women and science.
The Process
The study gathered information, through the career histories of black and minority ethnic women, of visible difference, from across Europe and also used an on-line questionnaire, face to face interviews and discussion dinners to focus on emerging topics. Dinners, sponsored by investment banking group, Credit Suisse, were held from late 2006 to January 2007. Forty-two women took part and the essence of the first dinner - the issues raised, the atmosphere and the energy were captured by ethnographers and graphic recorders.
A range of themes were explored at the dinners including individual success strategies and the notion of 'double disadvantage' and organisational style and culture as barriers to career progression for BME women. Also explored were the leadership styles of BME women and how they differ from their white counterparts, and participants debated the ideal workplace for BME women and what they considered the added value characteristics of BME women.
Findings from the Survey
Some of the findings from the online survey: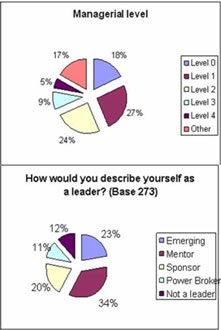 Managerial level:
More than half of the respondents are at levels 1 and 2 in their organisations, in other words hold positions akin to director, partner or senior executive (level 1) or manager, senior associate or principal scientist (level 2) category.
Leadership Maturation:
This refers to one's stage of leadership development (courtesy of the League of Black Women).
Survey respondents identified themselves predominantly as in the mentor leadership category followed by that of emerging leader.
Education:
41% of survey respondents spent the whole of their educational period in Europe and 19% came at a later stage for their University education.
Job Satisfaction
The women were asked about how satisfied they were with their careers to date - satisfaction levels are high! 25% were very satisfied, 50% were satisfied. This is less to do with the support of their organisations and more to do with the progress they have made in spite of the challenges many of them have faced along the way.
Important Influences
While family was seen as an important influence on career and career choice by 57% of respondents, only 12% felt a strong influence from teachers. In fact 54% refuted that their teachers had any influence on their career.
Other Statistics
65% believe that their race and gender plays a role in how their leadership is perceived
36% do not perceive their race and gender to be a double disadvantage
38% are looking to leave their organisation in the next three years this should be a source for concern for organisations that have invested in developing this talent
A New and Dynamic Perspective on Successful Black Women
In response to the findings, Caroline Jantuah said, "This study presents a new and dynamic perspective on the factors that guide successful BME women, bringing to light findings of value to HR and diversity professionals, government bodies, business and organisations, as well as BME women themselves. We have met and heard the stories of some amazing women and want to ensure that their voices are heard and that their strategies for success are shared as widely as possible"
Data analysis of the findings and the drafting of the report have been completed and dissemination of the findings will commence during December 2007. Fundraising activities are underway to promote the work of the project.
Organisations interested in sponsoring the project are invited to contact the Diversity Practice office 020 8408 7172 or email results@differentwomen.com