Different Women, Different Places
…same gender, different race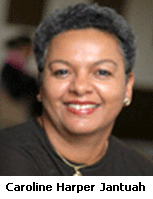 A new study is launched on the lives and professional experiences of black and minority ethnic women working in Europe in 2006.
"What little research there is about black and minority ethnic women in the workplace tends to focus on the barriers and challenges we face. Yet we believe there is much to be learnt from the career experiences of those BME women who have been successful at breaking through what is sometimes called 'the concrete ceiling'," says Caroline Harper Jantuah, a UK-based Diversity specialist and one of the research team behind a fascinating new study into the careers of senior Black and Minority Ethnic women in Europe.
'Different Women, Different Places' aims to gather primary data to explore the perspective of black and minority ethnic women working in Europe today. By gaining an insight into their lives and examining the influences of family, friends and colleagues, the researchers seek to explore and understand what motivates and drives these women in the workplace and what if anything constrains their success and progression. In addition it will examine what resources external to these they draw on – or borrow – what influences them; and what else needs to be in place to enable them to realise their full potential.
Successful Women in a Bicultural World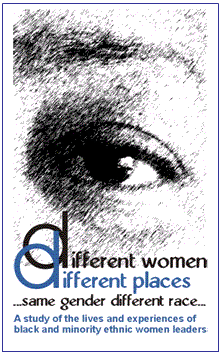 Harper Jantuah, who runs a successful Diversity consultancy, Diversity Practice Ltd, holds an MBA and is a master practitioner in Neuro-Linguistic Programming (NLP). She has 20 years experience of working with teams and individuals in Europe, North America and Africa and reflects the profile of many successful working women in the UK and across Europe.  Increasingly her portfolio has included work with Women and Black and Ethnic Minority professionals seeking to enhance their success in their chosen careers. 
"These successful women have developed effective strategies and acquired a range of skills that enable them to skillfully navigate the bicultural world they inhabit," she explains.  "They have learned how to manage the differing role expectations others have of them and retain a sense of who they are and what they want to accomplish."
The output from the research which is being handled by Harper Jantuah, her co-Director, Carole Compayne, and women and science expert, Dr. Jan Peters, will share these experiences widely and provide role models for younger Black women through exploring the impact of multiple identities of senior BME women and how these have shaped and influenced their career directions. The stories of these women, gathered through discussions and interviews, will provide a resource for Black and other minority ethnic women as well as managers and HR professionals wanting to understand better the diversity of women working in Europe today.
Different Women
Carol Compayne, currently the Equality & Diversity Manager for London South Bank University and a Principal Lecturer in Strategic Management, and Marketing, has specialised in the race and gender diversity dimensions and has led and managed a number of key strategic/research initiatives in the area of equality and diversity
"It will be an invaluable resource to other black and minority ethnic women who are trying to plot their pathways to career success."
Pointing out that there have been many studies of women and their career progress in the workplace, but few have focused on ethnicity as a related dimension of difference, Compayne and her team see this work as specifically adding value to gaps within the current body of knowledge.  Crucially, it will have an action oriented focus to ensure that there are practical recommendations to illustrate the value that Black women bring to the workplace.
The study will not only improve the knowledge of the equality and diversity community of BME women's experiences, it will also challenge the notion that BME women are doubly disadvantaged.  By exploring the impact of multiple identities, the researchers will produce role model case studies for the next generation and help employers better understand a workforce that will increasingly contain Black and minority ethnic women at all levels. 
Research Objectives and Methodology
The research is intended to produce fifty case studies of women working in senior and middle management positions across a variety of sectors in Europe.
A web based questionnaire and semi structured face to face interviews will be used to gather primary data. The preliminary findings will then be used as the basis for discussion dinners with smaller groups of women. A framework will be developed to consider the difference of experiences across European Union countries with a colonial history as a comparator to the US situation.
Positive Role Models and Celebrating Success
A report and series of workshops will present an analysis of the data and be illustrated with the images and stories of the women who take part in the study.
"This study will provide positive role models and celebrate the success and achievements of these women," explains Harper Jantuah. "It will be an invaluable resource to other black and minority ethnic women who are trying to plot their pathways to career success. It will also be a useful resource to forward thinking employers seeking to recruit, retain and develop the largely untapped potential of women like these in their organisations."
For further information about 'Different Women Different Places' www.differentwomen.com