Equality and Diversity Charity calls for Nominations for the 2007 Breakthrough Award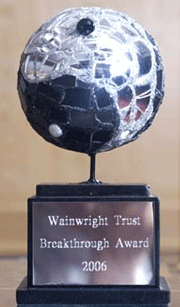 The hunt is on for the next unsung hero or heroine of equality in the workplace. Equality and diversity charity, the Wainwright Trust has been presenting a Breakthrough Award since 1999 and is now calling for nominations for the 2007 Award, with a closing date of 30 November 2006. 
The Breakthrough Award, initiated in 1999, was created to reward those unsung equality champions, whose personal efforts have had a real impact on equal opportunities in the workplace.
The Wainwright Trust, whose members include personnel and training practitioners, trade union officials and management consultants, was established in 1987 as an educational and research charity to commemorate and continue the work of David Wainwright, a pioneer in the field of workplace equal opportunities, who died that year.
Criteria for the Award
Nominees might be law centre workers, trade union officials, individual employees or managers.  They could be personnel, HR, equality and diversity managers, although, where equal opportunities is part of their 'day job', they would be expected to have gone way 'over and above the call of duty' and obtained seriously spectacular results.
In short, the Trust is looking for unsung heroes and heroines, who have worked with dedication but without public recognition to further diversity and equal opportunities in the workplace.   As well as putting forward nominees, individuals can also nominate themselves.
The Breakthrough Award
The award itself consists of a cheque for £1,000 and a trophy designed by celebrated sculptor and jeweller Andrew Logan, whose work is exhibited all over the world.
Past winners through open competition have been a manager from Barclays Technology Services, a trade union official from Amicus (then MSF) and the lawyer who worked with her, a worker in a Bristol project to help ethnic minorities into work, a Welsh civil servant who got a gay helpline going and a woman who helped black and ethnic minority nurses to advance in the National Health Service.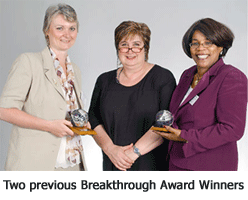 The Trust has also made special awards to two 'backroom' workers whom it judged to have made huge contributions to equality in the workplace, but whose names were not well-known outside the world of equality and diversity practitioners and, this year, to the ex-Ford sewing machinists and their T&G convenor whose ultimately successful struggle for equal pay was a precursor to the Equal Pay Act.
These winners are typical of the kinds of people that the Trust hopes to seek out for the 2007 Award.   They need to have made a major contribution to furthering any aspect of equality and diversity in the workplace in the United Kingdom (gender, race, age, disability, religion, sexual orientation etc), and that contribution needs to have come to fruition in the last three years.   The Trustees will be particularly looking for effort, tenacity and commitment, taking into account factors such as the resources available, the duration of the commitment and the obstacles and resistance which had to be overcome.
Application/nomination forms are available from: 
Email: wainwright.trust@btinternet.com or
on-line at www.wainwrighttrust.org.uk
Photos: The Wainwright Trust