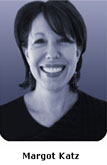 Research shows that Emotional Intelligence accounts for 85% of what sets outstanding apart from average.
In part two of this article, Margot Katz shows how developing empathy will transform your communication skills.
Lack of Emotional Intelligence generally, and the empathy part of it specifically, wastes time, erodes productivity and increases hurt and frustration; it closes people down and diminishes them in some way. And that impacts business results.
How do I stack up?
Here are to reflect on and to help you to clarify your own levels of emotional intelligence:
Answering, Often: Sometimes: Rarely: Never,
"The word for 'listen' in Chinese incorporates listening with the whole of you - ears, eyes, heart and undivided attention. "
How often do you stop and think before jumping to conclusions?
Are you able to influence others about the way things are done?
Do others trust and confide in you?
Are you able to raise morale and make others feel good?
How often do you offer help and support to others?
Do you disclose appropriate personal information to build trust with others?
Do you make a point of involving others in making decisions or finding solutions?
How often do you praise or recognise others?
How often do you give constructive feedback?
Do you really listen to others?
Do you speak openly about issues or concerns you have at the time they occur?
It's a crude indicator, but the more you scored 'often', the higher your EQ and empathy levels are likely to be. Another way to find out is to be brave and ask someone else to answer the same questions about you and then compare the ratings. By the way, asking for feedback is an emotionally intelligent thing to do; it shows you're building self-awareness and helps to build trust.
What do I do?
Back to basics
When communicating with others:
Show respect for them; tell them what's going on; give them positive and constructive feedback
Listen to what they have to say, don't talk at them. Ask questions and don't make assumptions
Be supportive; understand the issues they're dealing with and understand what they need
Get their ideas and don't just tell them what to do
Be open and honest, have integrity and share your views and concerns with them
Be organised; prepare for meetings, agree what needs to be covered and show up - on time
Follow through and do what you say you will do
Remembering not to have a personality transplant, following these simple basics will have an enormous impact on the effectiveness of your communication with others. Until they become habit, prepare in advance.
Don't just listen but really listen.
The Chinese explain what I mean perfectly. The word for listen in Chinese incorporates listening with the whole of you - ears, eyes, heart and undivided attention.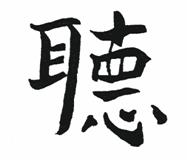 We need to stop listening to our own self-talk and start tuning into what others are saying and what they're not saying; noticing what they're saying with their body language as well as with their words. And being interested!
s….Go out and talk to people and don't be reticent about letting people know what you are looking for.
Act 'as if':
If it's true that we behave in accordance with our beliefs, then it follows that if we change our beliefs we may change our behaviour. In the context of empathy, here's an exercise to flex your thinking about other people and help you understand them better.
Select one of the beliefs below. You don't have to believe it to be true but if you try it on 'as if' it were true, then reflect on what is different:
Everyone has a unique map of the world
Everyone is doing the best they can with the resources they have
All behaviour has a positive intention
The meaning of communication is the response that you get
The person with the most flexibility of behaviour has the greatest influence on others
Take on a different belief and spend one day acting as if it were true and then reflect on what you've learned.
South African-born Margot Katz has a proven record of achievement, working as a board director, executive coach and business consultant. She has delivered results at organizations including Reuters, AMEX, BT, Coca-Cola, Coutts and Toyota. She is the author of 'Tarzan and Jane: How to Thrive in the New Corporate Jungle'.