Interim Developments speaks to Peter Oboma, Human Resources Director of Coco-Cola Sabco in Uganda about his company's transition from a local Ugandan business to a successful international African venture.
Eight years ago, Coca-Cola Sabco joined forces with Century Bottling Company of Uganda.  Prior to this partnership, the local bottling operation had a limited area of coverage and the company was struggling to meet demand and to acquire the necessary capital to expand the business.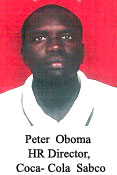 In 1996 CBC of Uganda was producing 7,200 cases per day, which today stands at 22,000 cases per day while sales have increased from 2.3 million cases per annum to over 8 million.  At the start of the joint venture process, there were over 15 South African expatriates in the Uganda business.  Today, only one expatriate remains, with the company being run by a Ugandan Chief Executive. 
ID:      What is your role with the company?
PO:      I have been with the company for over 5 years and my role entails building HR capability across the organization and creating a team based and process driven culture.  I am responsible for overseeing and implementing localization plans and accelerating the implementation of talent development plans.  I also manage the HR services functions and our staff performance management system.  My role also includes managing staff capabilities across the company and participating in formulating the country competency strategies in line with CC Sabco strategies. 
I also advise our management on HR related issues and manage the HR budget.
ID:      Looking back, what were the key drivers for the Ugandan business to establish a joint venture company with Coca-Cola Sabco?
PO:      There was a clear need for expansion by CBC but the company was constrained by a lack of resources.  At the same time there were opportunities in the market, the Government policy was favourable for outside investors and we had a stable political environment with macro economic growth in the country.  This made the launch of Coca-Cola Sabco's African adventure in Uganda a logical and timely development.
ID:    What was the original business in Uganda like prior to the joint venture?
PO:      It was a family owned business with a focus mainly on the Kampala urban market.  There was a shortage of supply in the market as there was only one bottling line.  Management was inefficient with poor internal business controls and our product range was limited in flavours and package size.  We sold only 2.3 million cases in 1994 and employed about 390 people.
ID:      How did HR assist in prioritizing the company's capacity building during that time and after the merger?
PO:      We were able to drive the change processes by introducing the performance management system and enforcing job and role profiles.  We introduced a competency/capability model to enhance the understanding of the new company's vision, values and culture.  We also developed a range of functional development programs to encourage multi-skilling and introduced various in-house needs based training programmes, including sales and supervisory skills.
"We were able to drive change by introducing the performance management system and … a competency/capability model to enhance the understanding of the new company's vision, values and culture."
ID:      What processes were put in place to transfer skills from the expatriates initially brought in to the company?
PO:      To ensure a smooth transition, we put together talent development programmes that enabled us to implement succession plans.  We established mentorship programmes and focused on recruiting high calibre staff.
ID:      What were the key challenges for you and your HR team in preparing the company for the change involved in moving from local to international?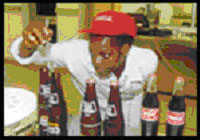 PO:      The key challenge was managing the change itself, i.e. making employees understand the new structures and direction of the organization. Another challenge was managing the resistance to change from some of the existing employees, while building capabilities for people to take new roles.
ID:      How successful has the transition form CBC to CCS been and what recognition has the business received to support this?
PO:      The transition to Coca-Cola Sabco has been successful and this is reflected in our sales volume growth, the growth in our market share and the reduction of our costs per case.  It is also shown in the management of the business by locals rather than expatriates.  The success of our new production facility at Namanve was confirmed when Uganda won the Coca-Cola Sabco Group's highest accolade, the "Country of the Year" award, in April 2002.
ID:      What policies or approaches does Coca-Cola Sabco employ to develop its African talent?
PO:      Our development strategy has been assisted the introduction of Bevserv company (our technical and capability building service provider which specializes in staff development for Sabco) to handle capability building. 
We also believe in providing exposure to management and supervisory staff and to using internal employment opportunities to offer movement throughout the group.  We share our best practices through joint training and development programmes and competency and capability focused programmes for skills development at all levels.  In summary, Coca-Cola Sabco has adopted an empowered business model and has demonstrated its commitment and belief in Uganda.
ID:      What opportunities are there within your business for talented African graduates or managers?
PO:      There are employment opportunities due to succession planning, business expansion and within the new SABCO territories in Africa and Asia.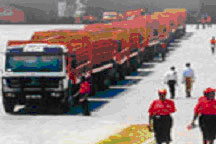 ID:      What impact has the continuing "brain drain" in Africa had on your ability to identify and recruit the best African talent?
PO:      This has led to quite a lot of recruitment being done outside Africa.  As it can be expensive to get talent from Europe to Uganda, this becomes a costly process.
ID:      How can interested people apply to you? 
PO:      By using the internet facility/career junction, sending in applications or by registering on our applicants' data base.  We also advertise in the press and offer industrial training attachments.

Coca-Cola Sabco (Pty) Limited is an Anchor Bottler in the worldwide Coca-Cola system. The company now operates in seven Southern and East African countries.   CCS employs more than 9,000 people.
For employment opportunities with Coca-Cola Sabco:
www.cocacolasabco.com