Dear Career Coach,
I've just returned to the UK after five years working overseas, most of it in Africa. Can you advise how I can convince an employer that I still have skills to offer, even though I've gained them outside the UK market?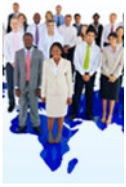 Dear Career Coach
I've just returned to the UK after five years working overseas, most of it in Africa. Since my return, I am finding it very hard to convince recruiters that my time away wasn't wasted. All the jobs I am being offered relate to the level I was at before my international experience and the agencies I have spoken to don't seem to understand the work I did while I was abroad. Can you advise how I can convince an employer that I still have skills to offer, even though I've gained them outside the UK market?
There are many benefits to working abroad and most good employers are keen to recruit people with a wider worldview and experience of working effectively in a multicultural and multilingual working environment.
As well as building your international network, working abroad offers you many advantages. These include the experience of different cultures, giving you greater cultural self-awareness, improved communication or language skills, enhanced self-reliance and confidence, and exposure to different working styles - all of which are increasingly important in a global economy.
However, it is also true that unless you spell out clearly the added value that your international experience is going to bring to the role or the organisation now that you are back, it can be overlooked, particularly for competitive jobs. You can demonstrate your competitive edge – and educate the agencies and recruiters that you enlist in your job search – if you consider the following tips.
Identify the right firms/organisations
If you want to take advantage of your international experience, you should focus your job search on companies that will find it advantageous. Having experience of working abroad is a huge benefit, particularly for multinational firms or those with international businesses, and you should target companies that are actively seeking people like yourself.
Clarify the skills and experience needed for the job
Make sure that you are clear on the essential requirements for the jobs you are responding to. A job that requires you to demonstrate an up-to-date understanding of UK employment legislation, for example, will not be the best type of role to target after a period of several years abroad.
Clarify what you have learned and achieved over your time abroad
Think through the key skills you developed and your achievements during your time abroad so that you can explain and present these in a way that recruiters and employers will recognise and appreciate. In addition to the technical skills you have gained from your time overseas, your foreign experience also shows that you are willing to take risks and that you have succeeded in challenging work conditions.
If you have a question for our Career Coach, e-mail us at
Link your skills and experience to the jobs you are targeting
Be ready to detail how your experience abroad makes you a great candidate for the roles you are targeting by making the link in your CV and applications between what the job requires and what you have learned and can deliver. Explain how your skills will ultimately benefit the organisation.
Research published in the Harvard Business Review shows that people who have international experience or identify with more than one nationality are better problem solvers and display more creativity. So, if the role you are after involves working on international projects or with international teams, for example, you can link your problem-solving and cultural awareness skills with this requirement. It may be that an organisation is expanding into new markets, giving you an opportunity to link your adaptability and experience of different cultures to the needs of the job.
Translate the experience you gained abroad
When writing your CV and LinkedIn profile, make sure you spell out what might not be obvious to a UK recruiter. For example, do specify what the overseas company you worked for does for the benefit of those who wouldn't otherwise know. Include some reference to company size, sector, etc. and contextualise the achievements you have on your CV for ease of understanding. For instance, budgets you've managed will make more sense if translated into numbers UK recruiters would appreciate.
While it can be frustrating to have to justify what you have been doing for the past five years, don't be defensive or impatient; use the opportunity to explain to those who don't know how your international experience is an asset and not a disadvantage.
Your experience of having worked abroad, in addition to being personally rewarding, can also be a springboard to greater opportunities and have a positive impact on your career if you take the time and make the effort to market yourself effectively.
All the best!
Need some help to solve your career dilemma?  Whether you are a recent graduate or a seasoned professional, our experienced careers coaches can work with you – on an individual or group basis – to help you get back on track with your career. 
From online CV checking to face-to-face coaching and presentation skills training to making the right impact at interview, our careers services will help you reach your goals. 
google_ad_client = "pub-8266222399114638"; /* 300x250, created 31/03/09 */ google_ad_slot = "5590648665"; google_ad_width = 300; google_ad_height = 250;