Nadia Denton talks about her career journey in film, the future of the industry in Africa and her forthcoming book, 'The Nigerian Filmmaker's Guide to Success: Beyond Nollywood'.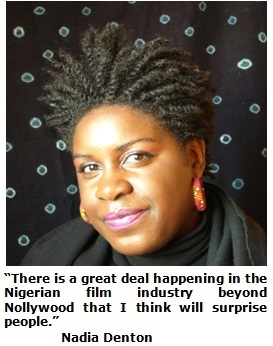 Nadia Denton has worked in the film industry in the UK for the past 10 years in exhibition, marketing and distribution.
In 2003 she established the Black Filmmaker (bfm) Film Club, a monthly platform for Black World Cinema at the Institute of Contemporary Arts and which became the largest and longest running platform for black world cinema in the UK.
ReConnect Africa spoke to Nadia about her career journey in film, her thoughts on the future of film in Africa and her new book, 'The Nigerian Filmmaker's Guide to Success: Beyond Nollywood'
ReConnect Africa: What is your background and what first inspired you about the film industry?
Nadia Denton: I grew up in a Jamaican household and studied Modern History at St. Hilda's College, Oxford. My entry into the film industry started accidentally and as a hobby really. The organisation that I was affiliated with – bfm – Black Filmmaker was invited to run a film club at the Institute of Contemporary Arts back in 2003. I was tasked with programming a monthly selection of films that would bring African and Caribbean audiences to the venue.
At first I took it up as 'something to do' but about two years in I realised that it was a powerful force to empower the filmmakers that I was working with and also to give audiences something that they felt they were not getting from the mainstream film industry. My involvement with the film industry comes more from the perspective of representation of African images as opposed to a sole love of films.
ReConnect Africa: What are your observations about the progression of Black film making over the past decade?
Nadia Denton: I feel that black filmmakers in the UK have been unable to adapt to the changes in government policy which have resulted in less grants and 'lip service' to diversity. The truth is there is less ready money for everyone, but I would have liked to see more interactions with the City and the use of tax schemes such as EIS by black filmmakers. There are an increasing number of African professionals in the City who are in powerful positions and have the potential to be engaged, if approached with the right project.
I am also disappointed by the lack of sophistication around the marketing strategies for the release of many a black film in the UK. Though we have more options than ever with social media and technology, filmmakers largely don't seem to be making a great match between which methods suit their audiences and spreading their marketing activity across the various platforms. Filmmakers know that marketing requires a certain amount of funds, but time and time again we hear that they have spent their entire budget on their production leaving them in a weak position when it comes to getting the word out, as it all becomes about what they can do for free.
There is very little free marketing. Even the time spent on social media costs something and sites like Facebook have changed their algorithms in such a way that you no longer have the reach you would have had  a few years ago unless you buy advertising.
I feel that black filmmakers in the UK have been unable to adapt to the changes in government policy which have resulted in less grants and 'lip service' to diversity.
ReConnect Africa: How far do you think Black film makers have progressed in accessing the funds they need to create new films?
Nadia Denton: Those that have looked further afield i.e. the producers of Half of a Yellow Sun where 75% of the budget was raised in Nigeria have been more successful. Those more reliant on the grant system in the UK seem to have fallen away.
Of course it is often the case that filmmakers self-finance their projects but, as a whole, this is not sustainable and makes them more vulnerable at the distribution stage of their projects. Apart from Filmmaker/Writer Yaba Badoe's campaign for the completion of "The Art of Ama Ata Aidoo", I am also yet to see any UK based crowdfunding campaigns that have achieved their targeted amount of funds, even in some cases when the overall amount they want to raise is as small as £5-£7K.
ReConnect Africa: Having directed Black film festivals in the UK, what challenges have you encountered in getting recognition and acceptance for Black films?
Nadia Denton: At the time when I curated bfm Film Club and directed the 2008 and 2009 editions of bfm Film Festival, I was in a quite privileged position as bfm had a track record of engaging black audiences and the venues (i.e. Institute of Contemporary Arts, British Film Institute) were under pressure to show that they had engaged this audience. So there was no immediate challenge apart from raising money for the festival, and all festivals have this problem.
In my experience any resistance – if it emerges – can be easily overcome if you are able to show that there is a credible audience for the event and able to actively bring people out. Whilst some of the venues that I have worked with may not artistically have liked the aesthetic of some of the films that I had programmed, they could not deny the audiences and box office figures. So, fundamentally, it comes down to the audience engagement and marketing strategy and driving attendance figures.
ReConnect Africa: You describe your first book 'The Black British Filmmaker's Guide to Success' as a reference manual with guidance on the finance, marketing and distribution of independent films. What inspired you to put this together?
Nadia Denton: I was inspired to write the book because I was seeing a number of talented filmmakers falling by the wayside because they did not have what, in my mind, was the correct knowledge about the business elements of the industry. I also felt that there was not enough circulation of good practice – what had worked for some filmmakers. Others would come along and make what seemed to me very obvious mistakes. It was as if they had not learned from the mistakes or experiences of their contemporaries. I also have a love of history and felt it was important for archive purposes to document their experiences.
ReConnect Africa: What advice do you have for Black professionals who want a career in film making?
Nadia Denton: Do your research and be clear about what you are good at. Is it a hobby or is it something that you can reasonably make money/a career from? It takes years to get to a stage of profitability during which time you may find yourself balancing other careers, like I have.
ReConnect Africa: Your new book, 'The Nigerian Filmmaker's Guide to Success: Beyond Nollywood' provides advice for those in the film industry in Nigeria.  As a person of African origin living and working in the UK, how do you view your personal responsibility to the development of Nigeria and of Africa as a whole?
Nadia Denton: I am very interested in documentation and the creation of infrastructure. Writing The Nigerian Filmmakers Guide has been incredibly rewarding (more so than my first book). I am just astounded that there is such a high level of achievement and expertise amongst film practitioners of Nigerian descent internationally, but that none of this has been captured in a way that will fundamentally improve the film industry and filmmaking practice.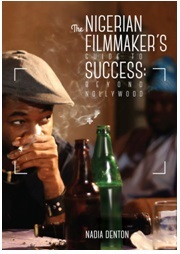 My view is that everyone is good at something and, in my case, this happens to be the writing and documentation and the analysis of what methodology really works for African filmmakers. How can they be true to their audiences culturally, while still making work that has an international appeal and that can sustain their careers?
I feel that not being directly of Nigerian descent has made me more objective in my findings. I am not romanticising or being sentimental but plainly presenting what I have found of the industry as I would of any other. There is a great deal happening in the Nigerian film industry beyond Nollywood that I think will surprise people.
I look forward to the opportunity to write similar guides for other African countries and/or regions.
ReConnect Africa: How can readers buy a copy of ''The Nigerian Filmmaker's Guide to Success: Beyond Nollywood'?
Nadia Denton: The guide will be out in early September and available from my website www.nadiadenton.com and via Amazon in Kindle. The British Film Institute will also be hosting the launch of my book and a weekend of Nigerian films from 20th – 21st September. Those that would like to stay more directly informed should sign up to the mailing list on my website.
Book Cover Image: OC Ukeje in Confusion Na Wa Dir. Kenneth Gyang, Nigeria/2013