The Gospel story re-told as a tale of corruption and redemption in contemporary Africa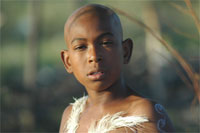 In the state of Judea in southern Africa, violence, poverty and sectarianism are endemic. The neighbouring Alliance has invaded to restore 'peace' at gunpoint. Bloody street battles accompany the neighbouring dictatorship's incursion into its weaker satellite. Promises of a transition to open democratic rule are accompanied by summary executions and brutal massacres.
So begins 'Son of Man', an extraordinary and powerful film that has already garnered rave reviews from film critics around the world. Set in contemporary Africa, 'Son of Man' re-tells the story of the Gospels, while revealing a tale of power, corruption, sacrifice and betrayal that draws parallels with many of today's political realities.
'Imaginative Re-telling of Christ's Life'
'Son of Man' is the story of Jesus, told in episodes from the New Testament, and set in present-day Africa. In the film, as the civil war reaches a new level, a divine child is born to a lowly couple. As he grows and witnesses the inhumanity of the world he lives in, his angelic guardians offer him an escape to the heavens. He refuses. This is his world and he must try to save it from the work of evil men and from the darkness working through them. As an adult, he travels to the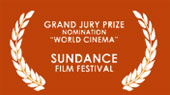 'More moving than The Last Temptation of Christ, and smarter than Mel Gibson's Passion' Seattle Weekly
capital, gathering followers from the armed factions of rebels that crisscross the land. He demands that his followers give up their guns and confront their corrupt rulers with a vision of non-violent protest and solidarity. Inevitably, he attracts the attention of the Judean tribal leaders who have struck a power-sharing deal with the aloof Governor Pilate. The Son of Man must be brought down and destroyed.
Although the movie has relatively little spoken dialogue, the soundtrack features rousing and emotional South African music. Its cast includes trained opera singer Pauline Malefane, who plays Mary and Andile Kosi, who plays the adult Jesus. The movie was directed by Mark Dornford-May and based on an improvisational collaboration of the Dimpho Di Kopane Theater Company, a theatre and film company of around 30 actors and singers.
Innovative Distribution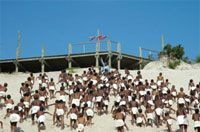 Son of Man' has been launched in the UK by Spier Distribution – a new arm of South African feature film company Spier Films. Taking a different approach by "challenging the vertical integration of film distribution", Spier has adopted a flat structure, building its reputation within the film market by focusing on the potential of new technology while rallying support of potential viewers.
This new method of distribution involves working the grass roots and reaching out to its audience directly, hence surpassing film executives that, the company says, "leave so many independent voices suppressed".
Initially screened within the South African High Commission in November 2007, Spier Distribution previewed the film again in the Warwick Arts Centre to potential partners. Described by the Telegraph as 'a vivid, thrilling, visually awe-inspiring piece of cinema", the roll-out of this extraordinary film is set to coincide with the remembrance of Christ's Passion at Easter and will be available for screenings at a number of venues across the UK and Ireland. For further information about 'Son of Man': www.sonofmanmovie.com