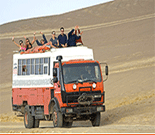 'It's 3000 km to Lake Malawi, we've got a full tank of gas, half a pack of cigarettes, it's dark, and we're wearing sunglasses....', says Damo Jones.
Lake of Stars has teamed up with Dragoman Overland Adventure Travel to produce an exciting itinerary for the 2007 Lake of Stars Music Festival.
A first ever.... A road trip from Johannesburg to Lilongwe based around music - a festival on wheels. Two overland trucks, roll into the Lake of Stars Festival together; one for the bands and film crew and one for the punters. Rock up at a village, set up the stall and pump out the music. This fantastic adventure starts in Jo'burg 26th Sept and finishes in Lilongwe 12th October.
Two trucks - Rockin' and a rollin' across the Plains of Africa
21 days from Jo'burg to Lilongwe, via South Africa, Mozambique, Malawi and Zambia. Think music, beaches, nightclubs, bars, wildlife, local villages, rhythm and culture. This is the Africa that the tourists miss (actually they wouldn't want to see it - not enough comfort), on a road trip of over 3000 km up the Indian Ocean to Malawi, the Warm Heart of Africa. 22 different languages, a thousand different rhythms (give or take one or two), a shed load of nightclubs and bars and, of course, the bands. Yes, for much of the way, we will be travelling with the bands, stopping en route at night in small settlements or large cities. Time to check out the local music scene and to join in.
The Lake of Stars Festival 2007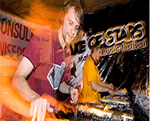 Starting with a gig in Johannesburg, we head up to the Lake of Stars Festival on the shores of the stunning Lake Malawi. Combining Western artists with acts from all over East and Southern Africa, the fourth lake of Stars Festival takes place in October. Since 2004, this unique festival has slowly been growing on the shores of Lake Malawi. The Lake of Stars Festival is a three day charity event that has already featured Felix B (Basement Jaxx), Groove Amanda's Andy Cato, Mikey General (Bugz in the Attic), DJ Yoda, Wamball Mkandawire and the Black Missionaries (a ten piece Malawian reggae group).
The Line-Up So Far?
Gilles Peterson (BBC Radio One / Worldwide), Annie Mac (BBC Radio One), Rob Da Bank (BBC Radio 1 / Bestival), along with: Joe Driscoll, Stuart Patterson and various local Malawian, South African and Mozambique acts. Not to mention, the Black Missionaries, The Wombats, Mulletover and Chibuku (not to be confused with International Shake-i-Shake).
Then there's Dirty Disco, Chew the Fat and Kid Blue, Bodytonic, Horse Meat Disco, Wax:On and so many more UK club nights involved.
What a hell of a line up; and that is just Malawi! We are going to gigs in Johannesburg and Lilongwe – well, hopefully, as it is still an overland trip. Things change, stuff happens, but the ideas are all there.
Day by Day – The Provisional Journey Plan
Just remember, this is Africa and while we know the place well and have run trips for over 40 years, you must remember that any journey here is about enjoying the here and now. Expect the unexpected and don't be too keen on following a rigid itinerary. This is a road trip and there are amazing days of travel;
Day 1:Arrive Jo'burg and settle into a small friendly hostel. Head out for the night for the first gig.
Day 2:Its 3000 km to Lake Malawi, we've got a full tank of gas, half a pack of cigarettes, it's dark, and we're wearing sunglasses.... and we are off to Maputo. Another country, another language and a big days drive. Overnight at Hotel
Day 3: A huge day's drive up the Indian Ocean to the awesome Morrungula beach. Overnight camping by the beach. Smell that seafood cooking.
Day 4: A day to relax. Beach, sand, lobsters, fish, check out the local villages, enjoy the Indian Ocean. Overnight camping by the beach.
Day 5: A short drive to the beautiful beach town on Vilankoulos. This is what dreams are made of, places like this. Overnight at Baobab Beach Camp.
Day 6: Another day to chill at Vilankoulous or to take an Arab dhow out to the Bazaruto Archipelago. Overnight at Baobab Beach Camp.
Days 7 and 8: On the road again heading through Mozambique, via the Beira and Tete corridor. Long days, camping or staying in local hotels, travelling across the interior of a country that few outsiders bother to visit. We will stop along the way to check out local life. Today we should meet up with the bands on the other truck and we will travel together through to the festival. Camping or local hotels
Day 9: Cross into Malawi and onto the city of Lilongwe for an evening of music with the bands. Camping.
Day 10: Drive up the stunning shores of Lake Malawi to Chincheche to the Lake of Stars Festival, and your first night at this amazing event. Campsite at the festival.
Days 11 and 12: The Festival, the Lake, the beach and the music; use your imagination. Campsite at the festival.
Day 13:We leave the music and bands behind and return to Lilongwe on our way to Zambia. Camping.
Days 14 - 16: South Luangwa National Park. We now embark on a 3-day stay in Zambia's best wildlife reserve. Elephant, lion, leopard, crocs, hippo, antelope, etc, etc, etc. Camping at Flat Dogs, we will have plenty of time for day and night safaris. We will also spend a day at the Kwasa village community to find out about rural life in this remote corner of Zambia.
Day 17: Head Back to Malawi and our last night in Africa at Lilongwe.
Day 18: Final day, get your stuff together and head to the airport.
The price for all this? …..£1000 for 18 days, including all land transport, accommodation, meals, ticket to Lake of Stars Festival, entrance to and game drives in, South Luangwa Nat. Park; visits to Kawasa Community project. Excluding flights, visas and personal spending. Flights from about £600 from the UK.
For the chance to be part of this remarkable journey, contact: www.dragoman.com or visit: www.dragoman.com/destinations/lakeofstars.php