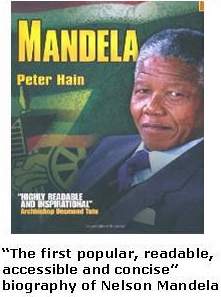 This newly published biography of Nelson Mandela is a delightful read for anyone who wants the story without all the footnotes.
'MANDELA' by Peter Hain tells the life and legacy of one of the twentieth century's most influential statesmen. Charting his development as a lawyer, a protester, and a political leader, Peter Hain has produced the first popular, readable story of Nelson Mandela's life.
This small, portable and extremely user-friendly book takes an in-depth look at Mandela's rise through the ranks of the African National Congress (ANC) and subsequent imprisonment on Robben Island, as increasingly vocal protests against the injustices of apartheid brought his struggle against overwhelming prejudice and fear to the eyes of the world.
Why Mandela?
Nelson Mandela, "the icon of icons", is renowned for his tireless crusade against racial inequality, outspoken social criticism, values of freedom and his anti-apartheid campaigning, making him an international hero. As a personal friend of Nelson Mandela, Peter Hain has managed to capture the humanity, humility and passion of a man so publicly revered, in this inspirational biography.
This small, portable and extremely user-friendly book takes an in-depth look at Mandela
Hain starts the journey from Mandela's rural childhood in the Transkei, through his early revolutionary activities and radicalization to his three decades in prison and the triumph of the human spirit that led to the victorious foundations of a Rainbow Nation.
MANDELA encompasses his inauguration as South Africa's first black president, his 'retirement' campaigns for human rights, a solution to AIDS and poverty and above all his compassion and humanity. Hain also reveals for the first time Mandela's thoughts on Iraq – when, he says, the former President was 'the angriest I had ever seen' - and how he perceives Mugabe's rule on Zimbabwe, whilst demonstrating how Nelson Mandela has truly become a legend for our time.
MANDELA features tributes from international icons including Archbishop Desmond Tutu, former Prime Minister Tony Blair and Lord Richard Attenborough and is packed with over 100 photographs of key figures and events in the formation of a new South Africa.
Mandela the Man
Peter Hain's biography captures the development of Mandela's personality and growth as a man and leader. Mandela's naturally regal bearing, a legacy of his royal ancestry, led him at times to receive more deference than the other prisoners during their long captivity on Robben Island and Madiba's strong sense of justice shines through.
When on the island, Mandela was given khaki shorts to wear – the expected 'native boy' attire – Hain writes that "Mandela protested about the shorts and had long trousers dumped in the cell. However, when the others were denied long trousers, he protested and his own were taken away. Only three years later were they all given long trousers."
Mandela became the undisputed leader and spokesman for the political prisoners on the island, not only from the ANC but from all the other parties, acquiring "a quiet authority" over them and, in the words of a journalist prisoner on the island, "he never seemed to be angry and would persuade other prisoners to cool off before they reacted to crises. He was a gentleman through and through."
Peter Hain's biography captures the development of Mandela's personality and growth as a man and leader.
Determined to wrestle peace from the apartheid government's reign of terror and isolated from his beloved wife Winnie – his "lifeline to the outside world" - and his children, Mandela's struggle was both personal and political, an example of which is seen in one of his letters to Winnie about a tomato plant he had tried to nurture but which died. "I did not want our relationship to go the way of that plant, and yet I felt that I had been unable to nourish many of the most important relationships in my life."
In the book, Hain quotes Mandela's decision to eschew anger and focus on the future once released from prison: "Yes, I was angry. But when I felt that anger well up inside of me I realized that if I hated them after I got outside that gate then they would still have me. I wanted to be free so I let it go."
'A Short, Popular Read'
There is no shortage of books and essays that have been written about this popular African icon and Hain is clear about the rationale for his book, describing it as "the first popular, readable, accessible and concise one on him."
Speaking at the launch of the book, fittingly enough within the liberated halls of South Africa House in London, Hain described the book as "a short popular read" that the average person, whether a student or a pensioner, could use to understand the situation and the life and sacrifices of Madiba and "without millions of footnotes".
As he writes: "I was not an impartial observer in his life but rather an activist participant: initially as an anti-apartheid activist and then as a British politician and friend."
Hain's own journey from a troubled and divided nation to witnessing "the vuvuzela World Cup" is probably worth its own biography.
An Activist Writer
Peter Hain, the Right Honourable MP for Neath, is an author who is almost as fascinating as his subject. A Labour MP who has held several prominent positions including Secretary of State for Northern Ireland, Secretary of State for Work and Pensions and Secretary of State for Wales, Hain was instrumental in many of the anti-apartheid campaigns during South Africa's struggle, both in South Africa and in the UK. His campaigning throughout the 1970's made apartheid a national issue in Britain, propelling white South Africa into isolation and making him a target of the regime's security services.
Born to anti-apartheid activists with links to Mandela that go back to the 1960's, Hain grew up in South Africa where both his parents were jailed and then banned by the regime. His mother so infuriated the apartheid hierarchy that a newspaper cartoon in the early 1960's depicted Vorster, the minister of justice, saying "Go and find Adelaine Hain, see what she is doing and tell her she mustn't."
An Extraordinary Story
As Hain writes in the book, "Mandela's story is an extraordinary one and an inspiration for humanity: from barefoot herd boy to world leader; from freedom fighter to revered statesman; from prisoner to president."
Mandela's irreverent sense of humour is clearly depicted in the book, as is his genuine interest in people and his recognition of those that supported him. In the book Hain relates how Mandela insisted on calling his mother Adelaine to enquire after her health when he heard that she had been unwell.
'"I must speak to her," he said. Out came my mobile and, when she answered from her bed, she was greeted with: "Hullo, Nelson Mandela here, do you remember me?"' – keeping then Prime Minister Tony Blair waiting in the process.
As Hain writes, Mandela's greatness is not simply from his extraordinary life story. "It comes from the humanity that he radiates his common touch, his humility, self-deprecation, sense of fun and dignity….throughout everything, Nelson Mandela remained his own man, not seduced by the trappings of office nor deluded by the adulation of admirers, always friendly and approachable."
Peter Hain is the author of 15 other books including Don't Play With Apartheid, Mistaken Identity: The Wrong Face of the Law, and Sing the Beloved Country. Mandela by Peter Hain is available online and from booksellers.