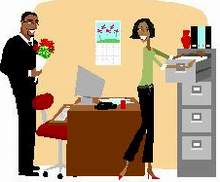 Dear Career Coach
I work long hours and don't have that much free time for a social life. I have started seeing someone in my workplace and so far things are going well. I don't know if there's any policy against us having a relationship but my friends think that I am risking my job and reputation by getting involved in this way. Please give me your advice.
Gilda
If you have a question for our Career Coach, e-mail us at
I would advise you to first check on your company's policy regarding office relationships. In many cases, these relationships only really become an issue if one or other party is directly managed by the other or can influence issues such as salary and promotion. It is not hard to see why this situation is not only inappropriate but could be harmful to the company and prejudicial to other employees.
While many office relationships can be successful, the other thing to bear in mind is what may happen if things don't work out. Most people are able to move on from previous relationships and don't have to see their former partners every day. You should think about how you might feel if this situation arises. While you may believe you can continue to behave professionally towards your ex, the break up of an office romance often results in one party or the other feeling compelled to leave the company.
Your friends may have a point about you risking your reputation if your new romance is married or is in your direct chain of command – or you in his. If the latter is the case, people's perception of you may be affected and all your hard work and future success in the firm may be dismissed as simply being due to your relationship. Conversely, if the relationship doesn't work out, you could find an adversary capable of negatively influencing the kind of future projects, promotions and salary raises you receive.
You will need to weigh the risks and rewards of your new relationship for yourself and decide whether it's worth it. My advice, though, is to create a better work/life balance for yourself and keep your home and private lives separate.
All the best!
Need some help to solve your career dilemma? Whether you are a recent graduate or a seasoned professional, our experienced careers coaches can work with you on an individual or group basis to help you get back on track with your career.
From online CV checking to face-to-face coaching, presentation skills training to making the right impact at interview, our careers services will help you reach your goals.