Aiming to Make a Difference?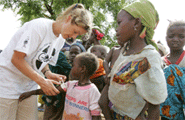 GOAL - Seeking Skilled Professionals for challenging International Opportunities
From the start of its operations in 1977, GOAL has bee committed to the task of supporting the poor and vulnerable around the world. Over the last 30 years the international humanitarian organisation has implemented relief and development programmes across 50 countries including the DRC, Sudan, Niger, Kenya, Malawi, Sierra Leone and Zimbabwe.
GOAL is seeking skilled professionals to continue its work and is launching a series of information events across the UK during October 2007.
As Olivia McGill from GOAL UK explains, "We need a variety of different people including accountants, doctors, nurses, nutritionists, logisticians and engineers, who are willing to devote at least a year to put their skills to good use while at the same time gaining tremendous life and work experience."
Accountants Needed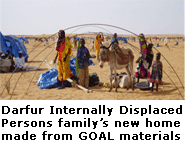 Claire Montgomery, a roving accountant for GOAL has chosen to work in Darfur. Her role has taken her through the length and breath of the largest country in the African continent. Based out of Khartoum in northern Sudan, Claire travels around the three GOAL field sites of Kassala, Abyei and Malakal.
"We need…. accountants, doctors, nurses, nutritionists, logisticians and engineers",
Sudan is a difficult and challenging place to work. The United Nations Security Council recently expressed "grave concern" over the deteriorating humanitarian situation in the Darfur region. This, however, has not fazed Claire who has developed skills across a broad range of financial management activities.
"The roving role is fantastic. You're right into it and see how programmes work first-hand," she explains. "I travel around three sites checking all systems are in place and making sure the cash book is in order and the correct paper work done. I am also involved in the capacity building of national staff, working with Finance staff is different in each site as they all have different levels of experience."
Mark Blackett is a CIMA qualified accountant who started with GOAL as Financial Controller in Uganda and has spent the past 19 months in North Sudan working first as Assistant Country Director and now as Country Director for GOAL. Mark has a message for any accountants who see a job with one of the Big Four as the biggest challenge of their career: "Try Sudan. If you really want to test yourself this is the place to come."
Logisticians Needed
Imagine having your water pipe cut because you have not paid your water bill. Reasonable perhaps? But what if you have been sent no bill, you have no idea how much you should have paid and you have been given no warning that you are about to be cut off? That is the situation logistician Aoife Cormacain faced when she arrived in Sierra Leone as a Logistics Co-ordinator for GOAL.
For Aoife, life has been what she describes as "very interesting" in the six months since she arrived in Sierra Leone. "It's pretty busy as there was a lot of work to do when I arrived. I get to see lots of different aspects of life here and how it all works. Something as simple as bill paying is so different, so I have to keep track of everything. The GOAL UK office in Sierra Leone is lucky because there are so many national staff in the office who already know how things work and help you to overcome most problems – and those you can't, you just learn to accept."
Engineers Needed
The tsunami and its devastating effects were observed worldwide, but Engineer Dyfed Aubrey wasn't absorbing the 24-hour rolling news being transmitted into his living room in the days that followed the tsunami. He was already on his way to Sri Lanka with GOAL UK to assist in the emergency and reconstruction process on a tiny island that was mourning the death of 35,000 of its inhabitants.
Dyfed was coordinating construction work - rebuilding and renovating 62 schools, as well as coordinating the re-housing project. "Of the 300 houses promised by GOAL, most of them were built on sites where the original houses were destroyed, so that people could continue to rebuild their livelihoods, mostly in fisheries," explains Dyfed.
At the emergency stage, in order to reinvigorate the local economy and help 1,000 fishermen and their families to get back on their feet, over 500 "day" boats were repaired. GOAL also distributed over 5,000 fishing nets along with ropes and floats to tsunami-affected fisher folk and deployed water bowsers for the distribution of drinking water.
"We've also built lots of roads, as most of them were affected by the tsunami," he continued. "The important roads used to get to schools and hospitals were repaired first. We built five bridges that were completely washed away by the tsunami or the railings were gone, so it made them unsafe," says Dyfed.
There is also an urgent need for engineers in Africa, as Laura Byrne, GOAL UK Recruitment Manager explains. "Engineers are always needed by GOAL after natural disasters where infrastructure has been destroyed or severely damaged, however there are also plenty of opportunities in our longer-term programmes in Southern Africa where we are improving housing, water and sanitation, healthcare and education facilities."
Health Professionals Needed
Sinead O'Reilly has been working with GOAL since 2003, imparting her invaluable nursing skills in developing countries. Sinead's first foray into the voluntary sector was a trip to a rural part of conflict-ravaged Democratic Republic of Congo (DRC).
"I was there to improve the capacity of the staff and there was a huge need for that at the time," explains Sinead. "I spent my time training staff, writing reports, supervising programmes, responding to outbreaks of disease, as well as working on community health, teaching the local people about healthy eating habits and good sanitation practices. I also managed therapeutic feeding centres for malnourished children in the area. It is a very interesting and challenging job, and it's impossible to get bored."
Sinead's second post was as Medical Coordinator in Darfur. "We set up emergency health programmes in Darfur," says Sinead: "Both static and mobile clinics, especially in internally displaced people (IDP) camps. The work was similar to the DRC except there was more of a displaced population to treat."
In July 2005, GOAL was one of the first agencies to distribute much-needed emergency food supplies to the most vulnerable in Niger, where as a result of drought and locust infestation, over 3.6 million of the 11.5 million population faced critical food shortages.
Sinead travelled as part of GOAL's emergency response team to the famine-ravaged region to supplement a feeding programme that GOAL was running. "I worked in a rural area where a lot of children under two years of age were dying of malnutrition. We also carried out research to ascertain what the underling causes of malnutrition were - bad sanitation practises and a lack of clean drinking water."
Now working as a Health Advisor for programmes in the field from GOAL headquarters in Ireland, Sinead has gained valuable exposure from her work in Africa. "Working with GOAL is a great experience and you get to see parts of the world that you wouldn't otherwise."
Travelling the globe and Making a Difference
GOAL UK is holding a series of information meetings around the UK for people interested in working or volunteering overseas with the organisation. For those with the right skills, working with GOAL could present an exciting opportunity to travel the globe and make a real difference to the lives of others.
To find out more or register for one of the information evenings, e-mail makeadifference@goal-uk.org or check the GOAL website: www.goal-uk.org