Recruiting for Africa
London Careers Event brings African professionals seeking careers in Africa with over 25 African national and multinational companies.
Finding effective methods to bring Africans outside Africa into contact with employers within Africa is critical to addressing the technical and managerial skills shortages facing African countries.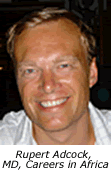 While traditional recruitment specialists and consultants offer a useful service, an increasingly successful approach has been through the use of recruitment events designed to bring national and international companies in Africa together with African graduates and professionals living outside the continent.
A recent recruitment event held in London by Careers in Africa attracted over 6,500 applicants with more than 500 African graduates and professionals seeking careers in Africa with multinational corporations, intergovernmental organisations and leading African companies attending the event.
Careers in Africa has been running its international recruitment events for three years, and the number of African companies that participate has increased from 11 companies in the first year to 27 companies at the April 2005 event.  According to its Managing Director, Rupert Adcock, the company has placed almost 2,000 professionals into Africa in recent years. 
To be considered for the Careers in Africa events, successful candidates must have an excellent academic track record (to at least undergraduate degree level), fluency in English, French or Portuguese, outstanding intellectual and interpersonal skills and work authorisation for at least one African country.
Adcock's passion for Africa stems from his involvement in 'Windows on Work', a 1997 initiative helping exiled South Africans find a career path back to the new South Africa.  This was followed by 'African Managers', a pan-African recruitment initiative for graduates in Europe looking for careers across Africa.  Today the UK-based company which, in addition to its British management, is staffed by nationals of South Africa, Kenya, Angola, Tanzania and Benin, is developing pan-African recruitment initiatives for Africans across 39 countries on the Continent.
"We are hoping to place over 500 people as a result of the Careers event," says Adcock. 
For someone who has helped to facilitate more than 1500 careers across the African continent over the past eight years, this seems eminently achievable.