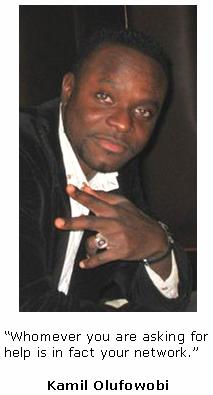 Nigerian networking supremo
Kamil Olufowobi
shares his strategies, tactics and the science to employ as you endeavour to network your way to success.
A clearly defined agenda is an essential factor when you want to network effectively - even for love! You must first identify your own agenda, your goals, your dreams and start networking your way to success, as defined by you.
From my interactions, I have discovered that many people don't realize the same basic rules of networking for success could be applied to finding love! I recommend, as a change, that you start putting the same amount of effort as you do in professional life into your personal life. I guarantee, or your money back, you will witness noticeable changes!
Again, there is nothing wrong with having a clearly defined agenda and letting people know what it is. One of the keys to success is directly tied to your willingness to ask people for help; for instance, 'I'm looking for a job, searching for a wife, interested in a promotion at work, help!'
Who's Your Network?
Whomever you are asking for help is, in fact, your network, your infrastructure of support. And the more you become a person of value to your network; the more people in your network will be willing to support your agenda.
So how do you identify your network? Everyone you know is part of your network, but it is not who you know that is always important. What is really important is what they know about you! It is what people know about you that will enable them to connect you to opportunities and set you up for success.
Everyone you know is part of your network, but it is not who you know that is always important. What is really important is what they know about you!
For a quick check of your network, follow these five steps outlined by George C. Fraser, Black America's #1 Networker:
Write down the name of people you regularly call for any type of information. To help your memory, check your address book, e-mail, phone logs or office directory. Don't forget your family, friends, and colleagues.
Next to people's names, write down the sort of information they have that you value. Also note the names of those people they know whom you would like to have as a resource
Now write down information that you need but don't have access to. Put down the names of anyone you think might have that information.
Next to your own name, write down the information or contacts you have that might be valuable to other people.
Congratulations! You are primed and ready to network for succes
Building a Success Network
A member of my network wanted me to explain what I mean when I speak about a success network. Here is the real life conversation between that member and me.
Chichi: Kamil, can you please explain what you mean when you speak about a success network?
Kamil: Your success network is the people you know and people who know you. All of the people who will be willing to assist you because they know you are willing to assist them. Friends and family provide support, stability and emotional balance. Mentors, role models, colleagues and business partners motivate and push you to achieve.
Chichi: How do I know if I'm plugged into a success network?
Kamil: To find out if you are plugged into a success network, list 5 or 10* people in your network, people you spend the most time with and break them into three categories: Business (money in), Social (money out) and Business & Social (money in/out). If more than 50% are in your business & social and social network combined, you are not YET plugged into a success network! *5 (1 person=20%) or 10 (1 person =10%)
This simple exercise seeks to give you an insight into what is going on around you, within you, and between you and other people. Based on such insight, you will have an increased awareness of the people with whom you spend your time. It is for you to make the changes as you see fit for your agenda as you network for success.
Chichi: I did your exercise and wow! Now I see why I'm always broke and unmotivated. How do I meet more people who will fit into my business and business & social network?
Kamil: NiPRO, for example, is a progressive global network of Nigerian professionals. It is a platform for young professionals, executives and entrepreneurs to meet, learn and connect with liked minded people who want to network for success. Join NiPRO today and get plugged into a success network.
As the old saying goes, "when the poor live only with the poor, they have restricted access to opportunities for jobs, education, and role models." They have no "success network" to plug into.
As the Co-founder and CEO of Nigerian Professionals (NiPRO) Global Network, Kamil Olufowobi is fast becoming known as one of Nigeria's youngest global networking gurus. He is living proof that networking for success works when networking becomes a way of life, in elevating yourself and the people around you.
NiPRO today is the #1 global network of Nigerian professionals with over ½ million professionals worldwide and a projected 1 million+ subscribers to the network by 2015. With a mission focused on the professional and personal development of Nigerian professionals, Kamil, via NiPRO aims to elevate professionalism in Nigeria to world class standards. In his role as ED, he works to inform, inspire, empower and celebrate young professionals, executives and entrepreneurs towards the advancement of Nigeria.  ko@niproevents.com