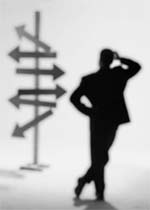 Human Resources professionals may have to implement redundancies but they are also just as likely to lose their jobs.
In arguably the toughest market for 20 years, Owen Morgan offers advice for HR professionals searching for their next job.
DON'T panic because there's a recession. Most of the rules of job seeking stay the same, whatever the economic climate. It might take you longer to find work, and you might have to be more flexible about the kind of role you will take. But, unless the wolf really is at the door, don't accept the first offer that comes along if it isn't the right position for you.
DO start making lists What skills do you possess? What are your interests? What work have you particularly enjoyed over the past few years? Why? Taking an objective look at your experience will help to shape your thoughts. Most people don't give enough thought to their careers and limit themselves by considering only roles that are very similar to their previous one. Professionals who are self-aware about their skills are able to move across a range of different roles throughout their careers.
DO draw up several CVs tailored to the different kinds of roles you're considering. Always start them with a strong statement about who you are, what you've done and what value you can add. This is easiest when you're going for jobs that are similar to your previous one, but it will need more careful thought if you're applying for something different. For example, if you're a resourcing specialist applying for a generalist role, your opening statement might say: "Skilled HR professional with experience of process management, performance evaluation and communication with a wide range of stakeholders." You've avoided overtly labelling yourself as a resourcing specialist in your first sentence, thereby encouraging the recruiter to read further.
DO consider a skills-based CV if you want to make a big change of direction. Break things down: what projects have you been involved in; what people management skills do you have; what financial experience? The "Star" acronym – situation, task, action, result – is useful to bear in mind when you're doing this.
DO network This is probably the most undervalued and underused method of securing a job. Don't forget all the contacts you have made – the friends whom you haven't seen for a while. A quick chat over a coffee can often lead to opportunities that you probably wouldn't have uncovered but for your network. Networking is not a talent that all of us possess, so getting some guidance here will help you to improve your skills in the long run.
DO make a plan Stick to a daily routine of research, networking, writing applications and following up leads on the telephone. Set yourself targets and review your progress regularly. Give yourself a few months to find your ideal job and, if that doesn't work, think more laterally.
DO stay fit Keeping physically active, even it's simply going out for a brisk walk every day, will help you to maintain a sense of well-being. It will keep your mind clear and give you time to reflect on the past and plan for the future.
DO seek financial advice Having been awarded a lump-sum redundancy payment, many people consider paying off a chunk of their mortgage. But don't be hasty. There may be more effective ways to manage your money.
DON'T enforce a rigid austerity plan on your family This will make the impact of losing your job harder for everyone to handle. By all means be sensible with money and budget accordingly, but don't ban all treats.
DO try to stay positive Many thousands of people lose their jobs each year and most go on to forge interesting and rewarding careers. Even in a recession, there are good jobs to be had.