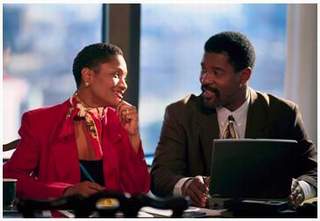 As Valentine's Day approaches, Tolulope Popoola offers some words of caution when it comes to romance at work.
Relationships in the workplace are becoming more and more common in our modern society. The majority of professionals, once they graduate from formal education, spend the bulk of their time at the office. We build a career with other people for years and maybe even decades.
While working together, we can learn a lot about our co-workers: their ambitions, background, likes and dislikes, etc. With the amount of time people spend working, and the increasing percentage of women in the workforce, it is inevitable that several couples will meet this way. Traditional meeting places such as church, the neighbourhood, family events, parties and leisure activities do not always present the same opportunities for continuous contact, or a similar pool of candidates. In contrast, the office provides a pre-selected pool of people who share at least one important interest.
Legislating Love
People who work together also tend to live within a reasonable distance to each other, and share the same office location, so they can see each other on a regular basis. Co-workers in similar jobs may also be approximately the same age, and share similar interests outside of work.
THowever, in spite of the opportunities that office romance offers, there are also several things to be aware of. Romantic involvement between employees can be awkward for both the employees and their employer. If they are handled well between the two parties involved, it can lead to a long-lasting happy relationship. On the other hand, if office relationships are handled badly it can lead to embarrassment for the couple, forcing one or both of them to leave their job. It can also lead to problems within the organization or even a sexual harassment lawsuit which the employer has to deal with.
Romantic involvement between employees can be awkward for both the employees and their employer.
With this in mind, some companies have tried to legislate against dating among their employees. However, most recognize that sometimes, relationships between two adult people who see each other often are inevitable.
What most companies try to implement are policies that restrict activities that are harmful to the business, such as adulterous affairs and inappropriate sexual behaviour in the workplace during company time and at company locations. Some explicitly state that the management expect all staff members to behave in a professional manner at all times and personal relationships or affairs must be kept separate from the work environment.
Tips on Dating a Colleague
If you find yourself attracted to a co-worker, you must be prepared to take appropriate actions to minimise any possible damage to your career should the relationship end badly.
These are a few common sense ideas that will help you to navigate the tricky line between balancing your relationship and your career at the office:
Know your organization's written and unwritten policies about romantic or dating relationships. Make sure you comply with the policy and stay within the law so as to avoid sexual harassment lawsuits. Be aware of what constitutes sexual harassment and avoid doing anything that can invite those accusations.
Keep the relationship private and discreet until you are both ready to publicly announce that you are a couple. Discretion may be a dying art but when it comes to office romance, it is much better to keep your relationship private than it is to flaunt it. This doesn't mean you should lie about it. Just don't put it out there for everyone to watch as it unfolds.
Keep public displays of affection off limits at work and try not to let your work suffer because of your relationship. Any romance can be distracting, and it's no different with an office romance. When your partner works with you, you may find yourself gazing at your sweetheart instead of minding your job responsibilities.
Limit the number of people at work with whom you share confidential information. Your co-workers shouldn't be privy to the ups and downs of your relationship. You don't want to become a subject of office gossip, rumours and speculation. It could backfire seriously if personal information that you never intended to share with everyone becomes public news around the office.
If your position and responsibilities require you to work together, attend the same meetings, and so on, behave professionally at all times. You are encouraged to be yourself, maintain and speak your continuing opinions, exhibit the same skills, and conduct yourself in the same manner as you did prior to the relationship.
If you are dating your supervisor, you may react to criticism differently coming from them. You might not be receptive to his or her critiques of your work. Try not to think of professional criticism in the office as personal attacks on you or your character.
Discuss, as a couple, the potential impact of your relationship on your work. Will one employee have to leave a department or the company? Will your organization respond favourably to your relationship? Make sure you and your partner are on the same page. Also figure out how you will handle it if your relationship doesn't succeed.
Set boundaries on what you discuss in and out of the office. Don't allow a disagreement at home to find its way to the office and a disagreement at the office to find its way home.
Keep in mind that if things don't work out for the relationship, one of you might have to change jobs. You shouldn't stay in a bad relationship because you are worried that ending it will damage your career, but seeing your ex everyday can be painful, even if both of you handle things in the best way possible.
Relationships and romance in the workplace will always be a possibility and will most likely continue to increase as time goes by. If your feelings about a co-worker are so strong that you can't deny them any longer, remember to be very careful and wise. If you are single, be prepared in advance to deal with this possibility if it arises.
Remember there is no perfect world and, as such, we all have to take risks sometimes with our romantic choices. If, however, things work out and the trend in office romance continues to increase, get ready to attend a lot of co-worker weddings!
Tolulope Popoola (aka Favoured Girl) is a writer and lover of books and all things literature. Previously an Accountant until she rediscovered her love for writing in 2006 and became a full-time writer in 2008, she is the creator and one of the writers for the fiction series and book, In My Dreams It Was Simpler. She is currently working on a novel and a collection of short stories.