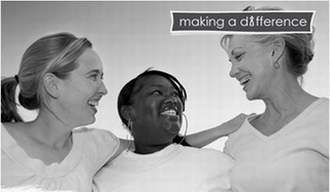 The ASPIRE Foundation is transforming the world, one woman at a time.
The Aspire Foundation seeks to make a difference to women suffering from injustice in countries within Africa, Asia and the Middle East through mentoring and coaching programmes for women working in charities, social enterprises and community projects in these locations.
Aspire is an internationally-recognized and award-winning leader in coaching, leadership education, events and research related to women as business, diversity and social leaders. The organisation was founded in 2001 by Dr. Samantha Collins, winner of The Women's Social Leadership Award 2010 and voted one of the Top Ten Coaches by The Independent.
ReConnect Africa spoke to Dr. Samantha Collins about the Aspire Foundation's work and how women are coaching other women to create a 'ripple effect of positive change across the world'.
ReConnect Africa (RCA): When was the Aspire Foundation established and what inspired you to set it up?
Dr. Samantha Collins (SC): The Foundation is very new and was established in November 2009, just after the birth of my second child. Watching a programme on CNN about pregnant women in Afghanistan who were struggling to get to the birthing clinic, I felt powerless and wanted to make a difference. I wanted to harness the power of the Aspire women – 50,000 women who want to make a difference. I came up with the idea of business mentoring women in non-profit organisations that benefit women and children in Africa and around the world.
RCA: Why did you choose coaching and mentoring as the process through which to effect change?
SC: I think that it's the key to change, the catalyst to change. Only by empowering people to create their own change does change really happen. Forcing or telling people to do something doesn't make change sustainable. Being a coach and running a coaching business, this is something that I strongly believe.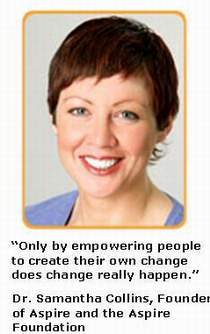 What differentiates the two processes? A mentor for me is often a more senior trusted advisor who will share their stories, ideas and experience about what has worked for them. This is how our mentoring programme works.
Our professional women (once a month by phone or face to face) mentor through sharing their stories. It's more of a telling approach. Coaching is more about drawing answers from a person without sharing your own story. I may make suggestions but I wouldn't tell or advise as such.
Not for profit organisations are making a direct impact on the lives of women and girls. Our professional coaches offer pro bono coaching to direct beneficiaries on the ground – women who are taking leadership positions in their communities. Access to phones and the internet makes the programme feasible without having to directly travel to those countries.
RCA: How do you identify and select your coaches and mentors and what skills and qualities are you looking for?
SC: The number one quality I'm looking for is passion; caring about the advancement of women, because I can't teach that. At Aspire that is the kind of person we tend to attract anyway. Over and above that, someone very well trained and accredited who has been coaching for at least three years and is good at what they do, in fact fantastic!
In terms of mentors, you have to complete an application in which we ask about previous experience, level of seniority, and the skills you want to offer so that we can make a good match. We then give the mentors the chance to choose a mentee based on an organisation they feel passionate about.
The organisations we support vary from women in prison to amnesty, water aid, international development or something closer to you. We want to try and make a match based on what people care about. We also offer monthly mentoring skills sessions to help mentors develop their skills and grow a sense of community and connect to each other. The mentors are really helping each other and we have some very senior women from top companies and at board level giving up their time. They obviously care enough to want to do it.
A Mentor's Tale
Jane Swift, a Programme Director with BT is using her 22 years experience to act as a mentor with the Aspire Foundation.
"I've been involved with Aspire for probably four or five years. A few years earlier, I had been one of the founders of Executive Women, a network for senior women within BT. Later, as the Chair of the network, I attended a number of Aspire's events to establish links and connections for Executive Women.
18 months ago, Sam Collins approached me to see whether I would be willing to be a member of the Aspire Advisory Board and to set up the Foundation. I helped with the launch of the Foundation and became one of the first mentors.
With the Foundation, we want to do something to change the world by helping women who are in organisations that are helping women and making a difference in the world. Rather than making the direct contact to African women that need help, we are making contact with organisations helping African women.
People like me offer free mentoring and the Aspire team offers free coaching.
I'm mentoring someone in a charity. Sian is head of fundraising and communications for a global women's charity that helps women in Africa, Afghanistan and others, working through local partners who in turn work with the women in-country.
My mentoring of Sian will enable her to better fulfil the objectives of her organisation and, in turn, impact the women in the country and then the women they are working with. It becomes, in effect, a ripple effect of support.
The great thing about our mentoring relationship is the benefits it has for both of us. For me, it's reminded me of all the areas that I can help with, looking at what I've been able to share with Sian from the experience I've gained. It has also spurred me on to urge my own organisation to look at how our talented women can also develop themselves by volunteering as mentors for Aspire.
For Sian, where I hope it has made a difference is in looking at her organisation's strategy, building her team and raising their performance by sharing my experiences as a programme director in setting strategy and some of the tools I've used to get buy-in and implement strategy within an organisation.
We have also had discussions around setting short/long-term aims, looking at broader definitions of success and wider lifestyle/personal and spiritual goals. It has been about thinking about her as a complete person as well as about her career and her organisation.
Sian joined up to make a difference to the women that her charity serves. Our work together has shown her that she has a direct relationship to her charity's ability to serve the women in the field. Without the funds she is going to raise through her strategy, without making the charity as highly profiled - even though she's one of a team - without her playing her part, her organisation is not going to be able to serve those women on the front line. The more messages and funding that gets out there, the more she is able to reach more women who, in turn, make the difference on the ground.
I'm able to look at things objectively and, as a result, to push and challenge things without any ulterior motive other than someone who wants her to be the best she can be for all areas of her life; her charity, the women it serves, her family, her role as a wife and mother and also what she wants for herself. If any of what I've done during this mentoring process means she is able to release potential and open her eyes to what she is capable of and grow as a person; if my self-belief becomes contagious to other women and I can transplant that self-belief to others, then that would be my intention fulfilled.
What should women realise about being a mentor? All your skills are transferable and can apply to other sectors. What you've learned is gold dust to others. To put your head above the parapet and say I'm going to help someone make a difference in the world brings a richness to me as a person and in my job at BT, because it's saying that BT has given me all these skills and that I'm going to share them with someone who's making a difference in the world.
Aspire is about releasing a woman's potential first and running a business second. Trying to make you realise the potential you have and giving you the freedom to fulfil it. That's why I really love Aspire and want to help them reach as many people as they possibly can.
Women, come and volunteer to be a mentor for Aspire; it's absolutely wonderful!"
RCA: How can professional women in the UK identify and successfully transfer their experience to women working in such economically and culturally diverse locations?
SC: I believe they can do a great job regardless of age, background and cultural difference because one of the wonderful things about coaching is that you come without assumptions, without judgement, without financial or other limiting beliefs. I've found coaches with the same background can be a disaster because of assumptions that become a limiting belief.
I feel that if we get the best coaches we can, they will create the right partnerships and relationships with the coachees. The questions that coaches ask are very powerful, and powerful questions can be very simple and very basic. People ultimately just want to be heard and, as coaches, we are trained to really listen.
RCA: have been the key challenges for the Foundation?
SC: When we launched, I didn't expect such an overwhelming response and we had to cope with that. We have the goal of positively impacting the lives of one million women by 2015 - being a coach, I like a goal! I think getting the word out about the Foundation continues to be a challenge, so getting the word out to women who want to be mentees or mentors is important. There's no money involved and we are not looking for any funding.
RCA: How do you measure your success?
SC: One measure is that we have a goal against which we can measure the number of women we impact. A more important measure is qualitative; stories, video diaries and testimonials will be a big part of this. These are already coming in and we will find better and more effective ways of using them.
When I see 500 plus mentors and can really feel and see change, then that will be the real measurement for me.
The Aspire Foundation is offering—FREE—one hour of mentoring per month for six months with a senior woman leader from a corporation. In essence, it's a ripple effect of change - helping those who are already making a difference for women so that you can make an even bigger difference to yourself and others. If you or someone you know is interested in becoming an Aspire Foundation mentee, fill out an application hereemail Laura with any questions alglover@theaspirefoundation.org. This is a pro bono opportunity and there are no costs involved for you. To find out more about the Aspire Foundation:www.theaspirefoundation.org