Opportunity Africa – Young Africans in the Diaspora build career skills to enhance African development
September 2004 saw the launch of Opportunity Africa, a project developed by the African Foundation for Development (AFFORD) to provide a gateway to Africa-related/international development careers, training and education for young people of African descent in the UK. 
"Opportunity Africa evolved out of the aspirations of young Africans who came to us and was a response to their need to align their careers with the development of Africa," explains Chukwu-Emeka Chikezie, Executive Director of AFFORD, the UK-based NGO.  The project lays equal emphasis on career opportunities related to Africa in both the private and public sectors.  "One of the key challenges was to widen their view of development from being just about aid and about reducing Africa's development to working for an NGO or aid agency.  A lot more is happening and needs to happen."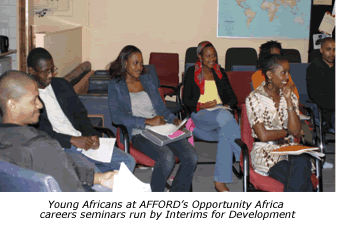 Since its inception, the project, which is supported by the Learning and Skills Council Central London region, has taken over fifty people through a series of monthly career seminars developed and run by Interims for Development to increase the understanding of young Africans of their career options and the implications of their career choices in terms of skills and training requirements.  The seminars are followed by individual career coaching sessions to provide further information about career opportunities related to Africa and guidance and support with chosen career paths. Support materials are also provided at AFFORD's Resource Centre in London.  Other components of the project include working with careers advisers in other institutions and with African community organisations to enable them to provide more help and guidance to young people. 
A key element of the project is the facilitation of volunteer, internship and apprenticeship opportunities for young people of African descent in organisations and institutions in Africa that will equip them for Africa and development related careers.  Christine Matambo, the Youth Programme Officer at AFFORD who runs Opportunity Africa, sees internships as an invaluable tool for young Africans living in London to gain a better understanding of contemporary Africa.
 "The internship opportunities we have sourced in Senegal, Zambia and Ghana, in collaboration with Interims for Development, will offer our young Africans with little experience of living and working in Africa a chance to get first-hand knowledge.  Although they have access to newspapers and books, the reality of Africa is often very different." 
An important benefit, from Matambo's perspective, is that the interns will be able to learn about the efforts being made on the ground and will be in a better position to assess the effectiveness of those efforts.  "Most importantly," she adds, "interns will be able to see what efforts national governments are making to develop their respective economies."