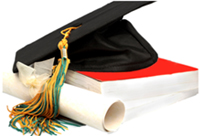 In the midst of weak economies and rising job cuts, it has never been more important to have a plan for your career than it is today.
Here are five tips to help you deal with the realities of a tight job market.
1. Invest in your Education
If you have just finished with one degree, it may not seem particularly appealing to return to University or college to study for yet another. But, in a climate where there is stiff competition for fewer jobs as well as greater numbers of first degree graduates for employers to choose from, a Master's degree or a professional qualification will give you an edge when you do go job hunting.
While college fees and other costs can be daunting, doing some research could lead you to opportunities for grants and scholarships to ease the financial burden. Investigate all options and negotiate with your chosen institution to identify flexible approaches to paying your tuition costs.
2. Renovate your CV
To make an immediate impact with recruiters and employers, whether you are a new graduate or an experienced professional, you must have a powerful CV or resume. Don't be content to add your latest job description to your old CV – this will not serve you well! The simple truth is that there is no such thing as having one CV. Each time you apply for a job you should tailor your application to make sure that you are highlighting the skills and experience needed for that particular role.
Writing a good CV takes time and careful analysis so throw away your tired old CV and write a new one that really highlights who you are today. A high-impact CV is one that shows your skills sets and the talents that you can bring to an employer to help them deliver their business goals.
For more advice on writing a CV, take a look at this advice from our Careers Coach or contact us to arrange a CV writing session.
3. Invest in an Internship or Overseas Experience
While we would all like to be paid for the work we do, an internship can offer you a great way to build your skills and increase your experience and to create or extend your professional network in your chosen field.
For a new graduate or someone seeking a career change, a well placed internship will be a worthwhile investment of your time and will help you reap greater dividends further down the line. Taking an unpaid role when money is tight is a challenge and you will need to be resourceful in terms of finding ways to make additional money in the short term.
Working overseas is another way to gain invaluable hands-on experience and there are a number of overseas voluntary programmes that offer not only the opportunity to experience working in a different culture, but that also provide accommodation and a financial stipend.
While we would all like to be paid for the work we do; for a new graduate or someone seeking a career change, a well placed internship will be a worthwhile investment of your time.
4. Strengthen Your Networks
During economic downturns and difficult job markets, having a wide and powerful network is going to be crucial to getting the job you want. Enlist your contacts, starting with your family and friends, and move on to include your professors, alumni and any former work colleagues. The rise of online networking also means that using networks such as LinkedIn can help you find people who work in the field you are targeting. Join relevant professional networks and build up your contacts list by attending industry events, careers fairs and other venues where you can mix with and meet the right people.
Making effective use of your networks will give you a chance to get in front of the people you need to impress. Bear in mind, however, that the key to leveraging your network is how well you articulate your message to your contacts. What are your areas of interest and what experience or expertise are you bringing to this? What type of job role are you looking for and how flexible are you about possible opportunities? The more specific you can be when you interact with your network, the more effective your contacts can be when putting you in touch with the right people or opportunities.
For more tips on networking, take a look at this article from a previous issue of ReConnect Africa.
5. Be Flexible
In a tough employment market, it is vital to be flexible and to look positively at every opportunity that comes your way. While what is on offer may not appear to be your ideal job, ask yourself if it will give you the chance to learn new skills that will be helpful for the job you really want or if it will put you inside an organisation that offers the chance of a lateral move in due course?
However lowly the position might seem, working hard and making a positive impact will get you noticed and moving up the ladder. Being flexible and showing yourself to be a team player will make you an extremely attractive proposition to an employer, while starting at the bottom can give you a great understanding of how the business works at all levels, making you a more informed and empathetic leader as you progress in your career.
Finally, however tough it looks out there, stay focused, show a positive attitude and keep your eyes firmly fixed on your ultimate career objective!