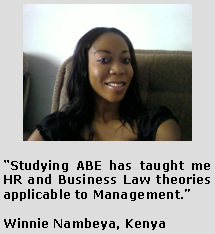 The Association of Business Executives (ABE) has been developing high-quality business and management qualifications for over 30 years. ABE qualifications have enabled African aspiring business professionals to achieve tangible progression in their careers, delivering added value to the businesses in which they work.
The Association, whose President Dr. Edward de Bono, is a leading global authority on lateral thinking, was founded in 1973 and has remained one that specializes in business qualifications. All ABE qualifications are structured to reflect the very latest occupational standards and the organization has been fully recognised as an awarding body for qualifications by the UK regulatory authorities.
Globally Recognised Qualifications
ABE works with over 500 accredited colleges in 70 countries worldwide to deliver Certificate, Diploma & Advanced Diploma level qualifications. The qualifications include subjects such as Business Management, Business Information Systems, Financial Management, Human Resources Management, Marketing and Travel, Tourism and Hospitality.Almost 50,000 students are currently working towards an ABE qualification and many of them will use their qualification as an affordable, fast-track route to a globally recognised bachelor's degree. ABE graduates with the right work experience can progress directly to a Masters or an MBA programme.
"In Kenya the ABE qualification has become very marketable and the vast subjects being offered help."
Many ABE graduates have used their qualification to develop their careers, with many employed by major organisations across sectors such as banks, hotels, government and airlines around the world.
'A Very Marketable Qualification'
For Winnie Nambeya, gaining her ABE Business Management Diploma Part 2 has made a major impact, both in terms of her ability to do her work better and the opportunities it affords her in her job as an Advances/Credit Officer for Cavmont Capital Bank in Kenya."My job involves interviewing customers planning to get loans from the Bank, appraising their applications and recommending them to our Head Office. I open loan contracts, fixed deposit accounts (investments) and prepare month-end returns which are then submitted to our Head Office and to our country's central bank."
Having heard about ABE from a friend, Winnie decided to pursue the Business Management Diploma. "In Kenya the ABE qualification has become very marketable and the vast subjects being offered help one to either specialise in marketing or finance (amongst others) and these are my interests," she explains. "Studying ABE has taught me to analyse our customers' financial statements when they come to borrow monies from the bank. I also now understand the HR and Business Law theories applicable to Management." Winnie is studying part-time and admits that studying each day after she leaves her job, although necessary, is hard work. "But I want to work hard and complete the course in the next year. I hope then I can get a promotion."
Onome Okwah - Chevy Chase Bank – USA

"Having progressed from my previous role as Account Manager for Sesema PR, Nigeria, I am now the Sales and Service Associate at Chevy Chase Bank in Washington DC after completing ABE Advanced Diploma in Business Management through self-study. I chose to study the Advanced Diploma in Business Management because ABE offered me the all-round knowledge needed to excel as a world class business manager. My business idea transcends Nigeria, and I want to be a world class business manager. ABE has taught me to work hard because it requires a special interest to pass eight courses with one month of self study. It has equipped me with all-round business management ability and specific knowledge of business communication, marketing, accounting and business law. ABE is an all-round managerial training organisation. I'm honoured and privileged to be part of this wonderful institution! I would continue to recommend ABE to anybody who desires an enviable career as a world class business manager."
The cost-effectiveness of the programme and the flexibility offered through the part-time studying option proved invaluable to Winnie. Many colleges offer the opportunity to study part-time or full-time. Alternatively, students can choose to study through distance learning or self-study options. In all cases, ABE offers its students extensive support throughout their course. Study materials for all programmes are available to download from ABE's website and members receive quarterly e-newsletters, Student Focus magazine – the Association's quarterly members' magazine- as well as access to the members' area of the ABE website and to an online social network where they can meet other ABE students from around the world.
Progressing Careers in Africa
Africa is a key market for ABE and the organisation has seen extensive growth in the demand for its qualifications across the continent.
ABE has opened new doors in Africa and around the world for professionals.
Marion Kimani works at the National Bank of Kenya and admits that the business course she studied, combined with her IT knowledge, has given her an edge in her field."I have put my learning to good use, especially the units I did in corporate finance and internet systems design," she says. "I never imagined I would receive the top paper prize and I am grateful that my hard work and efforts have been rewarded."ABE has opened new doors in Africa and around the world for professionals like Marion and can be what she describes as "a stepping stone to a fruitful career".
Having seen her career prospects significantly enhanced, Marion has no hesitation in recommending the qualification, and, she says, "I would encourage anyone considering joining the course to do so because it has been truly worthwhile." For further information: ABE, 5th Floor CI Tower, St. George's Square, High Street, New Malden, Surrey KT3 4TE, UK. Tel: 00 44 (0)20 8329 2936 Fax: 00 44 (0)20 8329 2945 Email: marketing@abeuk.com Web: www.abeuk.com