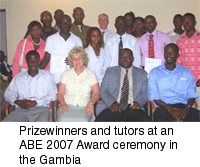 When it comes to business and management training, the ABE (Association of Business Executives) qualification has come to be associated with all the hallmarks of quality and excellence. The organisation, now in its 34th year of operations, has launched new qualifications to keep abreast of the rapidly changing global marketplace.
ReConnect Africa takes a look at the recent developments in ABE and the impact of the organisation's training on its ever increasing African intake.
2007 is proving an exciting year for ABE. ABE has launched its first QCA-accredited qualification in Business Management, as well as a new Marketing stream, and, with the updated and extended Human Resource Management stream, the Association has even more to offer its African market.
Association of Business Executives (ABE)
ABE is a not-for-profit awarding body and professional membership organisation which delivers high-quality business qualifications in Africa and around the world. As well as almost 40,000 members worldwide, a significant number of which come from African countries, the Association has over 500 accredited colleges worldwide and almost 40 agreements in place with Universities worldwide to accept ABE students onto degree and MBA courses.
The ABE mission is to enhance the intellectual, social and economic development of individuals and communities through the provision of relevant, high-quality, affordable qualifications. In this way, the organisation's vision is to be recognised as the qualification of choice for aspiring business professionals.
ABE today has students, members and colleges in over 70 countries worldwide and has an extensive presence throughout Africa, with representatives in Botswana, The Gambia, Ghana, Kenya, Tanzania and Uganda.
New Course Streams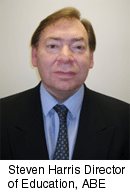 "ABE presents the first examinations in Business Management in December 2007," says Steven Harris, ABE's Director of Education. "The Business Management qualification supersedes the previous Business Administration qualification and represents the latest research and development from the world of business and education. Supported by the Management Standards Centre (the management standards setting body) and by QCA (the UK government regulator for standards in education), the qualification comes with the seal of approval from senior national organisations."
ABE's Marketing qualification was launched following requests from around the world. "Our first exams were held in June 2007," says Harris, "and it is fully anticipated that this will become an important qualification route for those seeking to develop a career in this area or to pursue a specialist area of interest within Business Management."
A key new course stream is the Association's Financial Management programme. As Harris explains, "the certificate level has been developed in partnership with IAB qualifications for business, and the Diploma and Advanced Diploma with the Institute of Financial Accountants (IFA), a highly respected financial education body with a distinguished history of maintaining rigorous standards in this field."
At the Certificate stage, many of the subjects are common to all of ABE's streams. This enables students to use ABE programmes flexibly and will help them to decide in which field of management they wish to specialise. After completion of the Advanced Diploma in any stream, those wishing to progress to a first degree or MBA have the opportunity to do so on degree programmes at many universities worldwide. A further option is to study by distance learning for the final year of a first degree or an MBA. Over the next 12 months, ABE intends to review the content of all its syllabuses to ensure that it continues to offer the latest and best in research and development.
ABE Africa Seminars
Africa represents a key market for ABE and during the past three years ABE has witnessed unprecedented growth in new registrations in African countries such as Botswana, Ghana, Kenya, Malawi and Tanzania.
With new qualifications now on offer in Business Management, Marketing and Financial Management, the Association has even more to offer its African market.
The Association's commitment to business education across the Continent is evident from the very top. During September 2007, ABE Founder/Chairman, Lyndon Jones, is taking part in a series of visits around the Africa. Accompanied by Dr Penelope Hood from Anglia Ruskin University, Jones will be visiting Botswana, Malawi, Zambia and Mozambique and holding seminars in Gaborone, Blantyre, and Lusaka. The seminars are intended to update accredited colleges within these countries on the latest developments at ABE.
A visit is also planned to Maputo in Mozambique where, accompanied by Professor Jack Makhaza from the Share World Open University in Malawi, Lyndon Jones will be seeking potential new colleges to add to ABE's portfolio.
George Akuffo Kodjoe of the Sierra Leone Diamond Company, Sierra Leone tells of his experience with ABE.
George Akuffo Kodjoe completed the Business Administration Diploma II examinations in 1998 and was awarded an associate membership status a year after. He went on to complete the Advanced Diploma in 2001 and was given a full membership status that same year.
After obtaining the Advanced Diploma qualification George traveled to the UK and obtained various qualifications including a Postgraduate Certificate of Business Administration from Heriot-Watt University in Scotland, an MBA (International Business) degree from University of East London and an MSc (Accounting with Finance) degree from London South Bank University.
George has been working in various capacities in Finance and Administration with companies in the African mining industry after obtaining the Diploma Level 1 certificate. He is currently the Finance Manager of the Sierra Leone Diamond Company (AIM listed company with interest in diamonds, iron ore and gold).
According to George, when he started studying for the ABE Business Administration programme, he never thought the ABE qualification could open so many doors for him until he obtained the Diploma Level I certificate and landed his first job.
He has this to say for anyone aspiring to positions in Finance and Administration "I will always recommend the ABE Business Administration program to anyone who wants a profession in Finance and Administration. Firstly, because it trains the individual as a total manager, providing wide knowledge in all areas of business and also an opportunity for specialization. Secondly, it is flexible and everyone can study at their own pace with support materials readily available on the website. Thirdly it is cost effective. Last but not the least, it could help in fast tracking members' careers by providing opportunities for promotion, better and well paid jobs and also the opportunity for further studies at reputable universities and educational institutions around the world".
ABE in Africa
Botswana offers an example of a country where ABE has established firm roots. The Association of Business Executives programmes were first offered in Botswana in the early 1990's by the Academy of Business Management, Professional Training Centre and the Gaborone Institute of Professional Studies (GIPS).
ABE tuition centres in Botswana are BOTA-registered (Botswana Training Authority) a pre-requisite today for any institution wishing to be accredited by the ABE to run its programmes. ABE stringent requirements for accreditation provide ample assurance that ABE centres operate within a well-regulated and closely monitored framework.
South African Theresa Robberts tells of her experience with ABE.
Aged 33, Theresa is officially registered as blind and has displayed exceptional courage in coming to study in a strange country.
"I am from South Africa and currently studying at Fulham Chelsea College in London.
I am studying Business Management and will be working towards a degree in Charity Marketing and Fundraising. I chose ABE because it is an international organisation, which means that no matter where I live, I can continue with my studies.
I would recommend Fulham Chelsea College for the flexible nature of the courses they present. One can choose what days in the week and at what time of the year you wish to take leave. This makes the task of finding part-time employment much easier. Both ABE and Fulham Chelsea College have been very supportive of my disability. Fulham Chelsea College has accommodated both me and my Guide Dog Sandy in every way possible and ABE has been very approachable and helpful in making my exams accessible.
"I had to give up everything to come to the UK. It cost a lot of money to relocate both me and Sandy. The one reason I wanted to relocate to London was because of the transport system which meant that I could be far more independent than I was at home in South Africa. It's been great using it and all though many locals complain about it, I love it!
At first getting a job in the field I wanted was difficult but after lots of hard work and determination I was given the opportunity to work on a contact basis for Guide Dogs for the Blind. I am really happy in my job and I am extremely fortunate to work for an organisation which I am extremely passionate about."
John Shaw, an ABE examiner who recently visited ABE accredited colleges in The Gambia, commends the professionalism and dedication of the staff, and the keenness of the students to learn how to improve in their ABE examinations.
"At every College, I spent time with staff, answering their questions and telling them about the changes and additions to the ABE programme. The lecturers I met are all very enthusiastic about ABE, and keen to hear about how our recent QCA accreditation will benefit them and their students too," he said.
Flexibility and Affordability
ABE programmes offer significant advantages. These include university progression, giving entry to the second and final years of Bachelors degree programme at universities around the world. With relevant work experience students can fast track to an MBA. Within an affordable fee structure, the ABE qualification offers a quicker route to a degree, while the qualifications give students the skills to make a difference in the workplace, from communication to strategy.
The qualifications are globally recognised and ABE is recognised as an awarding body by QCA (Qualifications and Curriculum Authority), an important stamp of quality in the UK. ABE have exemption arrangements with other professional bodies including ACCA, CIMA and BCS, saving students time and accrediting their learning. ABE students can study on a full-time or part-time basis and can join a local college, choose the distance learning option, or opt for self study.
For further information about ABE and details of ABE qualifications: www.abeuk.com