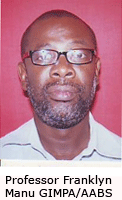 How the Association of African Business School is working to raise the standard of Africa's Business Schools.
When it comes to business and management education, with one or two notable exceptions, Africa still has some way to go to rival the business schools of Europe and North America. Established in 2005, the African Association of Business Schools (AABS) is on a mission to promote excellence in business and management education in Africa by supporting graduate business schools through capacity building, collaboration and quality improvement.
International Accreditation
AABS is a membership based association which serves and promotes the collective interests of its members, which include business schools based in Nigeria, Ghana, Senegal, Kenya and South Africa. By interfacing with other global and regional business school associations, AABS advocates management education and training needs across Africa. Under the Chairmanship of Nick Binedell Director of the Gordon Institute Business Sciences (GIBS) in South Africa, the Association's members are working together to develop their business schools and to provide the kinds of management education and training programs their countries need.
Key to the AABS's activities is helping members work towards accreditation by one of the internationally-recognized bodies that assess business schools. By linking schools so they can exchange staff, students and ideas and work jointly towards all-important international accreditations, the Association aims to raise standards around the continent.
ReConnect Africa spoke to Governing Board member, Professor Franklyn Manu, Professor of Marketing and International Business and Dean of the Ghana Institute of Management and Public Administration (GIMPA) Business School in Accra, Ghana.
RCA: What role do business schools play in Africa today?
FM:  They play a variety of roles depending on the country. In general the focus is on general management education. A few schools are focused on executive training as well. The issue really is the value of the traditional role, especially at the undergraduate level. We are beginning to question whether the schools are doing a good enough job of preparing graduates to be managers. That is the gap in African development that business schools should be addressing. At the graduate level I have the impression that the schools are seeing the light and focusing on this issue. Unfortunately, there are two areas where business schools have not played a meaningful role: contributing effectively to public policy and generating managerially relevant research.
RCA: What are some of the challenges that Africa's business schools face?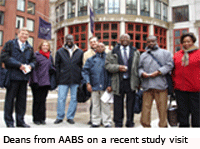 FM:  There are a number of challenges, for example, improving the resource base (qualified faculty, money and computers) and central administrations which have a hard time understanding what it takes to run an effective business school program. Other challenges are how to make the schools relevant to the business and government communities and to get them involved and also transforming curricula to make them relevant to African conditions.
RCA: Some of the AABS faculty recently visited a number of leading business schools in the UK and the USA as part of a global study visit to explore best practice amongst the schools and promote the AABS. What were the key lessons that this trip highlighted?
FM:  In terms of the study tour, I believe that what came out very clearly was the fact that the Business Schools we visited are very interested in collaborating with us to improve business education in Africa. They are also interested in enriching their own programs by incorporating some elements of an African perspective or experience particularly for their students.
RCA: What kind of faculty roles are member business schools seeking to fill and how can qualified applicants identify career opportunities?
FM:  We are all looking for faculty who can combine teaching, research and, in some cases, consulting. More importantly, they must be able to make all of this relevant to their particular environment. Africa will not be helped much by a focus on what exists in advanced countries. What we should be doing is looking at best practices elsewhere and exploiting them in Africa. This requires a new breed of faculty and faculty training. I believe AABS will do a good job of showing the career opportunities that exist in various institutions.
RCA: Is the AABS involved in any plans to utilize the skills of Africans in the Diaspora – whether long or short-term - to support the work of member business schools?
FM:  IIndividual schools have been doing this to a certain extent but we are now building a database of Africans in the Diaspora who are interested in collaborating with African business schools.
For further information about the work of the AABS: www.aabschools.com