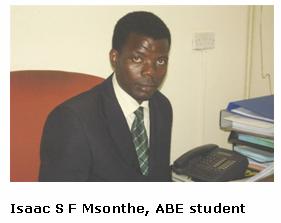 When it comes to business qualifications that offer both quality and an affordable price, ABE is hard to beat. We talk to Christine Gill, Deputy Chief Executive of ABE, about the company's latest developments.
ABE has successfully provided business education across Africa for many years, with representatives in countries including Ghana, Kenya, Tanzania, Uganda, the Gambia and Botswana. ReConnect Africa asked Christine Gill, Deputy Chief Executive of ABE about the organisation and how it is responding to the economic challenges faced by today's professionals.
ReConnect Africa (RCA): Who is ABE?
Christine Gill (CG): ABE is an awarding body of high-quality, low cost business management qualifications. ABE offers qualifications in six subjects: Business Management, Business Information Systems, Financial Management, Human Resource Management, Marketing and Travel, Tourism and Hospitality Management. These subjects are available at Certificate, Diploma, Advanced Diploma and, in the case of Business Management, Postgraduate Diploma Level.
RCA: What options are there for people who want to study with ABE?
CG: ABE qualifications are really flexible, they are available part-time or full-time. You can study privately or through an extensive network of colleges (over 500 worldwide) and you can take as much or as little time as you need to pass the exams. This makes them incredibly popular with those who need to combine work and study.
'ABE qualifications are really flexible, they are available part-time or full-time.... and you can take as much or as little time as you need to pass the exams.'
RCA: How well recognised is ABE?
CG: ABE was formed in 1973 and it is internationally recognised. Africa has always been important to us and our name is well established in many African countries where generations have taken our qualifications. ABE qualifications are fully accredited by the official UK regulator, the Qualifications and Curriculum Authority.
| | |
| --- | --- |
| | Ikechukwu David Nwibe, Nigeria |
Ikechukwu is studying privately for an ABE Certificate in Human Resource Management (HRM) whilst working as a project manager at the Future Hope Foundation of Nigeria.
"I have always been more interested in learning and mastering a skill rather than just a qualification and I believe ABE offers such opportunity. With my qualifications and work experience, I know I could have been considered for the Diploma level entry but I made up my mind to start from scratch because I want to know all the rudiments of that profession. I believe ABE is great value for money and faster than the conventional educational system (university and the rest) and I will be able to get my MBA started without a university degree.
I hope to go ahead with my MBA as soon as I am through with the ABE HRM program and I might consider working with an international development agency.
I have already recommended ABE to two of my friends and I did that because it is a solution to many problems.
I know the qualification will transform my career and my finances. With it I believe I will have easy access to some world class organisations."
RCA: What do you believe lies behind ABE's success?
CG: I think people recognise that now, more than ever, to succeed in the job market it is important to stand out with a good quality education, particularly in areas such as business management, but obviously cost is an issue for many.
ABE was set up as a not for profit organisation with the sole aim of enhancing social and economic development through the provision of relevant affordable qualifications. We are aware that many people are facing financial hardship and strive to keep our costs to a minimum. This means we offer one of the lowest cost routes available to gain a high-quality British management qualification.
RCA: Is there anything else that you do to assist those in difficult financial circumstances?
CG: As well as keeping our fees to a minimum, we also strive to ensure that our qualifications are available locally to as many people as possible. This means people don't lose out if they don't have the resources to go overseas to study. There are around 200 ABE Accredited Colleges running our programmes in 17 African countries and we are adding to this total all the time.
We also provide a wealth of free online support material and we believe in rewarding success so there are financial prizes for the highest performing students.
'We are aware that many people are facing financial hardship and strive to keep our costs to a minimum. This means we offer one of the lowest cost routes available to gain a high-quality British management qualification.'
RCA: What are ABE's most recent regional developments?
CG: In recent months we have newly accredited colleges in Nairobi and Botswana. We have also opened a local branch in South Africa. Here we offer ABE qualifications as part of a programme of continuing professional development for managers. And we are very excited by the recent opening of an ABE office in Cameroon and the accreditation of our first Cameroonian college.
It is particularly rewarding when a new area is able to benefit from easier access to ABE qualifications and the great thing about opening regional offices is that we are employing local people and doing local marketing and this is puts something back into the country's economy. Altogether we have representatives in twelve African countries.
Isaac S F Msonthe, Reserve Bank of Malawi
Isaac (see top) is working and part-time studying for a Diploma in Business Management at Sky Way Business College.
"After finishing my certificate in Construction Technician – City and Guilds of London, I thought of studying a management course. I chose ABE because it provides all the resources to its students and is open to different modes of study.
ABE has helped me acquire a broad knowledge of business management and specific knowledge in accounting, communication, business law, marketing and much more. Upon completion of a Advanced Diploma, I will boldly apply for BSc at the University of Malawi, or abroad, and then a Masters Degree.
I would recommend ABE because their fees are affordable, mode of study flexible and they provide all round managerial training. I have already introduced many friends and workmates to ABE and I will continue to recommend ABE due to its high standards.
Part-time studying had been tough going; however ABE study tips have been of great help. I encourage my fellow students to study hard and use the tips to successfully complete the course.
ABE has taught me to work hard and I have gained confidence."
RCA: Any other recent developments?
CG: Another exciting development for ABE is the launch of our Postgraduate Diploma in Business Management. This means that students can go straight onto an MBA and those with relevant work experience can get direct access to a postgraduate qualification. It's early days for this programme and we are working to accredit African colleges but we have already had a tremendous response from our students so, for those who can't wait for it to be offered locally, there is an online mentor to provide the necessary support to enable it to be done privately.
Tamanda Sauka

Business Management Student, Malawi
Tamanda is studying part-time whilst working in the human resources department of a company called Admarc.
"I heard about ABE from my sister who is also studying Business Management.
I chose ABE because:
I have seen so many people succeeding after attaining ABE qualifications.
ABE rewards hard working students through scholarships, this really motivated me and I rated ABE to be number one.
ABE's exams fees and membership fees are not expensive.
ABE is widely recognised and it is easier to get a job if one possesses an ABE qualification.
From my studies, I have gained wide knowledge such as communication skills and good report/letter writing. I have also greatly improved on my verbal/oral communication in terms of body language when speaking to clients and authorities at work. Because ABE is widely recognised I have already recommended ABE qualifications to two colleagues at work who are planning to enrol, and also to my cousin.
My aspiration is to go to university for a Masters level degree. I also expect that my ABE qualification will help me get promoted to management.
To other ABE students, there is nothing dear without sweat. Everything needs hard work. Indeed practice makes perfect and if we practice (accounting, quantitative methods) and study hard, we will succeed and ABE is here to help us be who we want to be."
RCA: ABE is well known as offering a fast track low cost route to a Bachelors or Masters University degree, what is the latest news on this?
CG: It goes without saying that we are constantly growing the number of universities which, in recognition of the quality of our programmes, sign formal progression agreements.
ABE graduates now have a fantastic choice of great universities that they can go to. And, as always with a mind for those who have limited funds, we now have several university partners who offer top up degrees by distance learning plus there are local options in Kenya and Namibia.
Find out more about ABE and its qualifications. Go to www.abeuk.com or call +44 (0)20 8329 2936 today.