Sponsored Trade Missions offer UK companies support in breaking into the Nigerian Market

The UK Trade & Investment is open to applications for its sponsored Trade Mission to Nigeria in October 2006.  UK Trade & Investment is the British Government organisation that supports British companies engaged in international trade and those wishing to locate and invest in the UK.
Based in London, the UK Trade & Investment aims to help small and medium-sized enterprises (SMEs) through their network of International Trade Advisers who offer experience across a wide range of different markets and countries. In addition to the advice available from UK advisers, companies also benefit from the network of commercial teams located in embassies around the world.
But for first-hand experience of doing business in Nigeria, the UK Trade Mission, delivered through the London Chamber of Commerce and Industry, offers an ideal way for small and medium sized companies that are looking to develop their export business in Nigeria or promote their goods or services in that market to visit and generate crucial business contacts.  
Doing Business in Nigeria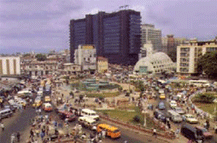 Trade Missions are organised business delegations and the forthcoming Trade Mission will provide participating companies with British High Commission support and advice through a team of dedicated commercial officers in Lagos and advice and assistance from a UK Trade & Investment International Trade Adviser.  The Mission is preceded by a pre-visit briefing in the UK which provides market information and advice on how to do business in Nigeria. 
Exploring business opportunities as part of a Trade Mission offers a host of support to companies.  Travel arrangements include secure airport transfers and safety advice and relevant business contacts are provided by the British High Commission.  In addition, networking opportunities and client entertainment is provided through a British High Commission hosted reception in Lagos.  Companies participating in Trade Missions have their companies profiled in a market visit brochure which is distributed to appropriate businesses in Lagos.  The Mission also facilitates local press coverage for appropriate companies and the services of an experienced market visit manager before and during the market visit.
For eligible companies looking at the Southern Africa region, a sponsored Trade Mission to South Africa is also expected to take place in March 2007.
Business Opportunities for Africans in the Diaspora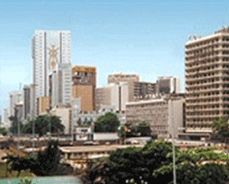 The UKTI Market Visit Scheme, or Trade Mission, targets smaller firms as these companies may not have the resources to undertake in-depth research of a new market and to find good contacts. 
Craig Pym, Acting Head of World Trade at the London Chamber of Commerce, has led several trade missions to Africa.  Participants on these missions have included businesses run by Africans in the Diaspora who are looking for opportunities to export and to establish business linkages in their country of origin. 
"Trade missions to Nigeria have been an annual fixture for some time and many Nigerians running businesses in the UK take advantage of these", he says. "Nigerian, and other African expatriates, have an obvious advantage in developing business in Africa and with the British Embassy support, they have a platform to promote their business interests."
Funding Support
To accompany the October Trade Mission to Nigeria, a business must be established within the UK and selling or marketing a British product or service. To qualify for British Government financial assistance, the company must have less than 250 employees and be new to export to this market, meaning that it has not yet proactively exported to Nigeria and has no existing representation in the country.
Companies within the M25 area can apply to receive the financial package from UK Trade & Investment London, while those based outside the M25, will need the London team to approach their local International Trade Adviser for funding from the company's own region on its behalf.  Eligibility for funding assistance will be assessed by a company's UK Trade & Investment International Trade Adviser and will also take into account the company's readiness to export to Nigeria. 
In return for the funding, companies are required to attend the British High Commissions' briefing and reception in Lagos, and to fill in a post-visit questionnaire.  Although businesses are required to pay a fee and the return flights and accommodation of their representatives on the Mission, eligible companies may be entitled to £550 in grants towards these costs.  Other than set briefings, Trade mission participants are free to arrange their own meetings in Nigeria between arrival on 29th October and the Mission's conclusion on 3 November.
Any companies wanting to find out more about the next Nigeria trade mission (30 October - 3 November 2006) should contact Craig Pym, cpym@londonchamber.co.uk for an information pack. The deadline for completed applications is Friday 8 September but companies applying for a UKTI grant are urged to apply as soon as possible as there are a limited number of grants available.