From Njoro to Washington
Kenana Knitters of Kenya receive recognition in opening address to the African Growth and Opportunity Forum
When US Secretary of State Condoleezza Rice gave her opening address in June to a house packed with African and American dignitaries at the African Growth and Opportunity Forum in Washington, she highlighted one AGOA success story from Africa, the remarkable story of the Kenana Knitters.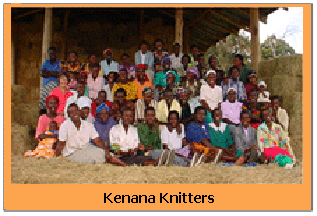 In 1998 Sarah Johnstone set up the Kenana Knitters group on Kenana Farm, in the mainly farming area of Njoro in Kenya, with the primary objective of helping the rural women of Njoro find some much needed form of income by using their spinning and knitting skills.  Life for women in this rural area is hard, with no running water or readily available fuel for cooking; no transport to the market place and little access to basic medical attention. 
To pay for school fees and purchase books and uniforms for their children, the need to develop their skills to increase their income is critical.  The group generates two forms of income; buying the wool from 160 local families, then creating more work by turning the wool into a marketable product. 
The group has grown from 2 to 220 knitters who buy locally produced homespun wool, colour it with natural plant-dye to avoid adversely impacting the environment, and knit it into toys, bed-covers, jerseys, socks, scarves, hats and other fashion and sports accessories. 
Export Success
Speaking to ReConnect Africa, Sarah Johnstone described the group's continuing success.  "We are exporting 90% of our products to the US, UK, Scotland, Denmark, Canada, Japan, and France.  We are supplying outlets like Sundance Catalogue, Green Mountain Coffee, Anthropologie, ABC Carpet and Home, and Ananse Village to name a few."
The Knitters have also become a source of social support in the region.  Funds generated by the group have been used to create a working area and to purchase storage and office facilities. The group's ethos is to expand their knowledge base and skills and social development activities at the Farm include daily newspapers, a radio, library and sponsored attendance on training courses for HIV/AIDS counselling. The office computer is also used to teach touch typing and computer literacy.

"We are offering a range of free welfare options to the women on a monthly basis, including family planning, homeopathy, VCT, worming and we have introduced a bi-annual eye clinic," says Sarah. "We have managed to gather together enough donations to enable us to buy quite a few pairs of glasses for women needing them.
"Since we started the group, our ladies have worked tirelessly to succeed."   Sarah Johnstone 
African Growth and Opportunity Act (AGOA)
The success of the Kenana Knitters would not have come about without the hard work and dedication of the company's Directors, Paddy Nightingale and Sarah Johnston, who have successfully tapped into the benefits offered by the AGOA Act.
In opening the Forum in Washington, Secretary Rice stressed the potential offered through the Act. "A keystone of our approach is this African Growth and Opportunity Act, or AGOA, which represents America's strong bipartisan support for Africa's development and prosperity," she said.  "AGOA is founded on irrefutable facts about how to fight poverty effectively. It is a fact that real development is only possible when economies are expanding and creating jobs. It is a fact that economic growth is driven by hardworking entrepreneurial citizens who are free to compete and trade in open markets."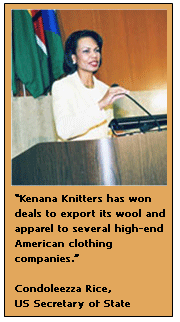 The requirements for membership in AGOA have now been met by 37 sub-Saharan African countries, enabling the United States to remain Africa's chief trade partner. While oil remains a key export commodity for Africa, there has been significant growth in other sectors including agriculture and machinery and electronics.
"These gains were driven in part," she added, "by our African Global Competitiveness Initiative, a $200 million program which President Bush announced last year to help African companies reach their full potential through free trade."
Kenana Knitters
Secretary Rice highlighted the success of Kenana Knitters who "because of AGOA and our African Global Competitiveness Initiative has won deals to export its wool and apparel to several high-end American clothing companies. In just two years the business has more than doubled its workforce," Secretary Rice paused and smiled when she added, "all of whom are women."
Proof, if ever it were needed, that these remarkable women, through innovation, hard work and persistence, have put Njoro on the map and made their mark on global enterprise.
Kenana Knitters: www.kenanaknitters.com